Night Cities
•
360° Aerial Panoramas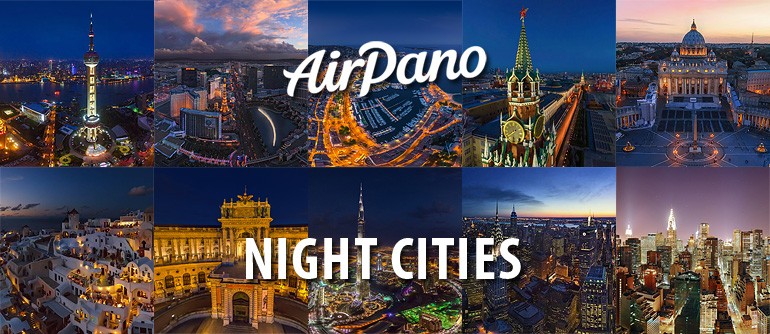 ---
What you see during the day, at night has a totally different view. A well-known object turns into a mysterious shadow-figure, the dusk erases the day colors but the night-lights produce new ones. And all of this will softly contrast the darkening sky. You can experience the view of the world's most beautiful cities in a new different way through our tour.
All works were done after sunset. You may find the panorama of Las-Vegas very familiar: the main trait of this city is its dynamic night-life. On the other hand, the blue-white Oia of the Greek Santorini Island or the sunny Cannes resort in France have little resemblance with darkness, so the change from day to night will especially surprise you.
Hofburg Palace in Vienna and Red Light District in Amsterdam, Old Town Square in Prague and Blue Mosque in Istanbul, Burj Khalifa in Dubai and Saint Peter's Square in Vatican, Kremlin in Moscow and Empire State Building in New York City and Obelisk in Buenos Aires: even the most experienced traveler may not have seen all the world's famous sights in the night-light. We are pleased to invite you to a new, unusual and completely safe despite the night time adventure.
17 September 2015
Comments
2015-11-13 15:34:34
5 from 5
"Âåëèêîëåïíî!!Î÷åíü êðàñèâî.Ïîëó÷èëà îãðîìíîå óäîâîëüñòâèå îò ïðîñìîòðà."
Ëèäèÿ Óòãîô, Russian Federation
2015-10-23 05:04:13
5 from 5
"I absolutely loved this! I wish there was one of London! But I especially love the panoramic views of the beautiful cities at night. THis has made me 91209223x more excited to go traveling to some of these places!"
Allyson Kocour, USA
2015-10-20 00:18:41
5 from 5
"excellent images close ups and movements. congratulations."
jose serrano, Venezuela
2015-10-06 22:40:35
5 from 5
"One of the Beautiful and great presentation"
bhanu khambhaita, United Kingdom
2015-09-21 07:53:07
5 from 5
"Unbelievably beautiful. I especially liked the 360 of Buenos Aires."
Ed Nelson, USA
2015-09-19 13:56:26
5 from 5
"Bravo AirPano!"
mira miksa, Serbia and Montenegro
2015-09-18 11:50:09
5 from 5
"beautiful nights...excellent !"
Naren Pradhan, India
2015-09-18 05:10:23
5 from 5
"Nice presentation."
dhanakoti rao, India
2015-09-17 17:56:05
5 from 5
"Beautiful and great presentation !!!"
Karel Hofmann, Czech Republic
2015-09-17 14:47:39
5 from 5
"Wonderfull#161#161#161 Good job."
daniel garcia rusca, Argentina