Unreal Aircraft of Ivan Roslyakov
•
360° Aerial Panoramas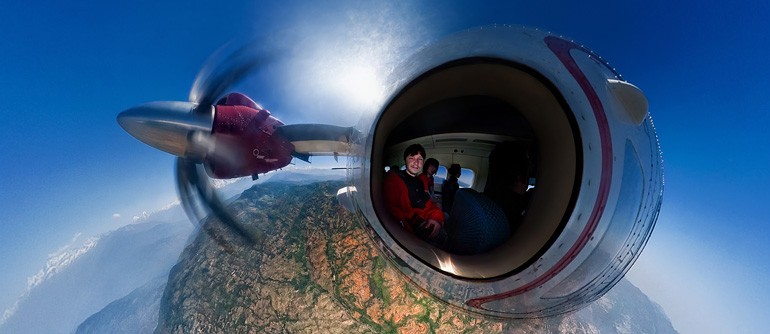 ---
No one knows how our colleague, Ivan Roslyakov, managed to shoot this panorama.
Witnesses say, it seemed that Ivan managed to open the airplane window to take some photos, before the co-pilot came running eyes full of terror, and grabbed Ivan's camera.
Others say, Ivan himself gave his camera to the co-pilot, and had him lean outside the small cockpit window to take some photos of Ivan along the way.
When Ivan came to visit me, I asked him how he shot this panorama.
— You can't figure it out on your own? — he laughed, while taking off his jacket.
Then I noticed a propeller on his back, the same as Karlsson had, and everything became clear at once :)
I'll let Ivan speak for himself.
On our way back from the 20-day trek to the base camp at Mount Everest, my friends and I decided to fly Nepal Airlines from one of the most famous mountain airports in the world — Lukla — to the capital of Nepal, Kathmandu.
Travelers visit this most popular part of Himalayas from all over the world to see the highest Mountain of our planet and to witness the beautiful landscape. Mountain trekking, though considered a serious challenge, is accessible to people of practically any age. Getting to the trailhead can be a challenging addition to the trekking itself, which can take a week by foot, a day by car, or 40 minutes by air in a compact airplane. However, it is the flight that takes the most courage!
In order to save time, approximately 100 national park visitors a year choose to fly. Aero taxis fly only in the mornings, when the wind is not as strong as in the daytime.
One of the unexpected surprises before our departure was that we had to switch airplanes. The local mechanic explained to us that the previously scheduled airplane would not be able to fly, as its motor wasn't powerful enough to fly under the conditions of the increased wind.
After arriving to the airport at 6 am, we had to wait for over two hours, until a new more powerful plane had arrived.
The flight through the mountains can easily compete with any rollercoaster ride! Unexpected shaking and air pocket falls are inevitable and add to travelers' extreme experience. However, the one thing that can distract passengers from the worrisome thoughts about the quality and reliability of these aero taxis are the views that open in front of their eyes!
Passengers can gaze not only at distant snow peaks, but also foothills with lots of villages and agriculture terraces widely spread throughout the mountainous country.
You can view the photo panorama that I shot during this flight here.
14 October 2011
Comments
2013-12-07 22:21:13
3 from 5
"THIS IS THE HEIGHT WHERE EAGLES DARE REACH.I RESPECT YOUR EFFORT TO LET US SEE THE BREATH TAKING SCENE THROUGH EAGLE'S EYES' VIEW.IT WOULD BE PERFECT IF YOU HAD POSITIONED YOUR VT CAMERA FAR AWAY FROM THE AIRCRAFT.THANKS A LOT !"
Mahesh Shrestha, Nepal
2013-10-02 15:16:51
5 from 5
Mohamed Abdulla, Kenya
2013-05-31 23:22:02
4 from 5
"Great .......a view of the earth at a click."
Antonio noronha, India
2013-05-05 16:23:00
5 from 5
"I am Speechless, there is not word to describe How beautifully Nepal is made with geography, history, forest as so many. Al thou, Nepal is my home country I was far to view like this scenery & this happened only because of airpano. Truly amazing website, thank you for sharing.... Awesome job."
Prajwal Sah, Nepal
2013-04-29 13:49:53
"nic planes images"
sahil sabherwal, United Kingdom
2013-03-14 22:47:47
5 from 5
Arlene DePaoli, Canada
2013-02-08 23:03:45
5 from 5
"No comments....you are the masters!"
ANDRITIANA Dewa Nirilalaina, Madagascar
2013-02-01 14:07:12
3 from 5
rutbil turan, United Kingdom
2013-01-31 15:47:40
5 from 5
"The best I've ever seen.
Thank you so much.

João"
João Sousa, Portugal
2013-01-08 15:46:25
5 from 5
"This 93 year old great great grandmother is having the time of her life traveling the world through your fantastic presentation..God be with you..and guide you in all you pursue.Geraldine"
Geraldine Spacone, USA
2012-12-16 11:56:25
5 from 5
"As a photographer I am totally amazed at however this is done. Cameras and airplanes make a great combination. Thank you for an extraordinary junket."
Jon Hallberg, USA
2012-12-12 17:16:56
5 from 5
"EXCELLENT. NO COMPARISON"
MADHU SHUKLA, United Arab Emirates
2012-11-12 14:19:29
5 from 5
"Spectacular...Super...Awesome....Amazing..........Great job! All the blessings!"
Sirvart Ghazarian, Jordan
2012-10-06 18:24:09
5 from 5
"A great time!

;-)"
RON HARMAN, USA
2012-09-14 16:49:53
5 from 5
"Imersive, impressive experience. Kim Komando published this link to your site. Thank her as I shall, as well as pass your site along. Bona fortuna."
Dave Cardillo, USA
2012-08-31 15:08:50
5 from 5
reza moradi, Iran
2012-08-21 15:34:10
5 from 5
"Simply amazing photography, music and so panoramic it makes one feel one has visited such wonderful panoramas, thanks for the opportunity."
Ken Ainge, United Kingdom
2012-08-18 15:26:06
5 from 5
"it,s amazing & fantastic.i wourld like at most like the places."
jitendra kasekar, India
2012-08-04 21:11:04
"les images sont vraiment belle."
reza sh......., Iran
2012-07-25 05:39:37
5 from 5
"next best thing to being there -
thank you
carolyn"
carolyn annerud, USA
2012-07-25 02:54:56
5 from 5
"About 50 years ago I flew to Namche Bazarre for a base camp climb, with a Dr Turner as our guide.
We were in a Polatis Pilot, all engine, and buzzed
the runway to scare off the goats.
Hiked up and back to Lucla for a return to the
yak and Yeti.
Is the wreck of a twin otter still on the lukca
runway?
Red"
Red Sheese, USA
2012-07-09 15:48:57
5 from 5
"I feel cool & relax thank you for making it available to view"
Nagasayana Reddy, India
2012-07-03 22:57:37
5 from 5
"I love flying, travel, and photography...the adventure you have provided is magnificent!! THANK YOU!!
David, Iowa, USA"
David Swanson, USA
2012-06-30 22:05:09
5 from 5
"Very nice panoair"
Balmiki Roy, India
2012-06-29 18:50:42
5 from 5
"I JUST SPENT TWO HOURS GOING THRU A FEW OF THE PLACES YOU HAVE PHOTOGRAPHED - THE REST WILL TAKE AT LEAST A WEEK - THEY ARE ABSOLUTELY AMAZING - I FEEL LIKE I HAVE BEEN THERE - THANKS SO MUCH. HOW ABOUT A SAFARI IN AFRICA?"
jackie gyte, Canada
2012-06-29 11:07:56
5 from 5
"Wow!! Simply fantastic!! Extremely amazing panoramic shot. I'm from Nepal but still could not visit Khumbu & Mt. Everest. This is like I'm flying over Khumbu, Mt. Everest (Sagarmatha), all highest peaks & beautiful landscape! Thanks a lot! good luck for new amazing projects in coming days ahead."
Niroshan Sthapit, Nepal
2012-06-26 03:19:32
5 from 5
"My dear i will not tell you how fantastic is the shot but i really need to ask how you did it....thanks for advice"
raed qutena, Jordan
2012-06-22 21:31:30
5 from 5
"Ohhh, dear amazing. Excellent. Lovely. I have no words!"
Janina Helldorff
2012-06-21 23:17:10
5 from 5
"Just fantastic"
jose Rivera, Puerto Rico
2012-06-21 00:41:20
4 from 5
"excellent and mind boggling"
giridhari bansal, USA
2012-06-15 22:40:32
"Wow.. its amazing .. Keep it up!!!"
Raaz Poudel, Nepal
2012-06-15 13:52:24
5 from 5
"It's Realy wonderful..Amezing !...nice yar.."
SHANKAR BS, India
2012-06-01 19:59:03
5 from 5
"Truly amazing! thanks for sharing with us OUR beautiful world! Please take some pano of Tikal Ruins - Guatemala, I would love to see them in this site. Blessings."
Jose Cano Villatoro, Guatemala
Varvara, AirPano: Dear Jose, thanks for your message. The shootings in Tikal are planned in December 2012. See you!
2012-06-01 16:01:35
5 from 5
"wow - thanks for the picture...as good as going near the place!!!!!"
Parvathy Anantharam, India
2012-05-15 21:19:59
4 from 5
"Just amazing, keep up the good work!!!!"
Joy Charmley, USA
2012-05-13 17:09:48
5 from 5
"Awasome...great job guys....heads up to you...!!!"
Gautam Prasad Shah, Nepal
2012-05-07 00:16:39
5 from 5
"You can give us the feeling of a Birdman,more the images are awsome.Gongratulations,keep the good work."
Luis Lopes, Portugal
2012-05-06 13:25:55
5 from 5
"Estas fotografías, combinadas con ese agradable fondo musical, nos transportan a un espacio espiritual donde podemos disfrutar más allá de nuestros sentidos..."
Ruy Salinas, Venezuela
2012-05-03 19:42:41
5 from 5
"شما بهترین هستید دوستون دارم موفق و سربلن یاشید"
میثم قلیچی, Iran
Varvara, AirPano: Dear visitor, please, write in English. This is the best way to understand you.
2012-05-01 19:27:06
5 from 5
"I experienced the most thrilling sights of mount everest very closely not once but three times by air taxies of Royal Nepal Air lines in 1996 then 1998 again in 1999.Viewing the mountain track from Namche Bazar right up to the peaks of Nuptse and Lohtse.Majestic Everest with the black top.one bows his head in obeisance to the GodAlmighty"
capt.surender mohan mehra, India
2012-04-30 02:20:42
5 from 5
"continue assim,DEUS te abençoe pelas belíssimas imagens e que continue a nos proporcionar sempre belas paisagens por este belo mundo."
joão carlos pinheiro, Brazil
2012-04-20 09:51:50
5 from 5
"absolutely incredible and beautiful! Thank you for making it available to view."
Kathrine Fenton-May, South Africa
Varvara, AirPano: Thank you for your frank and kind comment.
2012-04-19 07:09:04
"Felicidades...!, desde Pachuca.
Para deleitarse y compartir con el mundo.
M"
Miguel Fernando, Mexico
Varvara, AirPano: Thanks! We are glad you liked this pano.
2012-04-17 19:15:04
"BOM O QUE VOÇE FAZ, ME TRANSPORTA ATRAVES DE SEUS OLHOS E SUA CAMERA, A LOCAIS E LUGARES INCRIVEIS, QUE FECHO OS OLHOS E ME TRANSPORTO ATÉ O LOCAL.
PARABÉNS-CONGRATULATIONS."
EDNILSON OLIVEIRA DA SILVA, Brazil
2012-04-16 06:12:23
5 from 5
"magnifico, lindas imagens. Parabens"
Dagmar dos santos gehlen Dagmar dos santos gehle, Brazil
2012-04-15 09:58:35
"nice thank u"
kareem hadi, USA
2012-04-12 05:36:40
5 from 5
"gracias por regalarme este paseo"
Elvecia Alderete, Argentina
2012-04-02 10:13:43
5 from 5
"This site is amazing. Thanks for sharing your dream and passion with all of us. This site is most definitely in my top 5.

Now how this one was done ??? Great, great work!"
Donavan McDonough
Varvara, AirPano: We are grateful for your message.
2012-03-23 22:00:46
5 from 5
"awesome"
jamshid khojasteh, Iran
2012-03-14 18:19:44
"MUI BELO GRACIAS ."
JOÃO ANTONIO DIAS