Most Famous Mosques in Istanbul, Turkey
•
360° Aerial Panoramas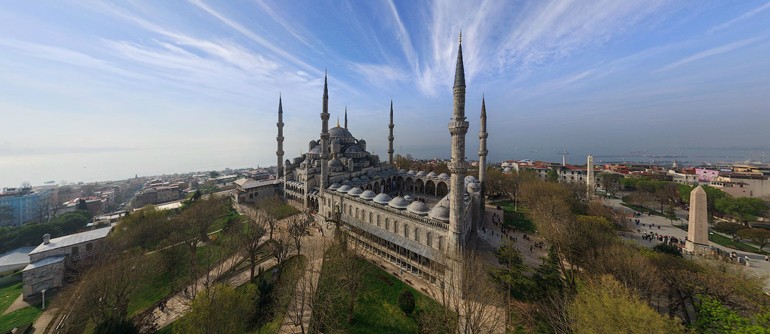 ---
Among the many landmarks in Turkey, the three famous mosques of Istanbul that deserve special attention. The most beautiful one — The Blue Mosque — is considered the greatest masterpiece not only of Islamic architecture, but also of the world.
The Blue Mosque was built after a series of Turkish military defeats. Sultan Ahmed I realized that no new mosque had been built in the city for about forty years, so he decided to please Allah and remedy the situation. The construction began in August of 1609 when the sultan was 19 years old.
They cleared out a large area for the construction, taking down several buildings of the Byzantine and the Early Ottoman periods. After that loads and loads of rock and marble were brought in. The name "Blue" was given to the mosque because of the huge (over 20 thousand!) number of white and blue ceramic tiles. An enormous dome 23.5 meters in diameter and 43 meters high was decorated with verses from the Koran and the sayings of the prophet Muhammad. The columns were entwined with decorative lilies, carnations, roses and other ornaments. There are over 50 different designs of tulips alone on the columns of the Blue Mosque in Istanbul! The floors are covered with carpets, and a soft light flows into the mosque through 260 windows.
There is a funny story about minarets of the Blue Mosque. The legend states that Ahmed I ordered to build the usual number of minarets — four. However, the architect made a mistake and built 6 instead. In year 1616, when the construction was finished, people realized that the new mosque had the same number of minarets as the greatest shrine of the Islamic world — Masjid al-Haram, the Grand Mosque in Mecca. It was considered a desecration, but fortunately it had no effect on the design of the Blue Mosque in Istanbul. Instead, one more minaret was added to the Grand Mosque in Mecca, and it again excelled among other such buildings.
Opposite to the Blue Mosque is one of the greatest monuments of Istanbul: Hagia Sophia Museum. The cathedral was originally built by Byzantine Emperor Constantius I in year 324-337 AC. After two centuries of fires and revolts, it was rebuilt again by Emperor Justinian I. The new cathedral was created with such grandeur that it inspired a legend of celestial powers helping the construction. Another legend, however, implied that three annual budgets of the Byzantine Empire were spent on the construction. Well, we see no conflict between the two!
The Hagia Sophia Cathedral in Istanbul had a hard life: it survived an earthquake, a plunder and, finally in year 1453, a conversion by Sultan Mehmed II. At that time, four minarets were added to Hagia Sophia, and after a series of other necessary changes, the cathedral was transformed into Aya Sofia Mosque. Our panorama shows the building in its entire glory and beauty. And if you ever get a chance to go inside, you will see the unique ancient frescos and mosaics, restored after the mosque was turned into a museum in 1935.
And finally, the Suleymaniye Mosque — the biggest mosque in the city. This famous landmark of Istanbul is located in the old part of the city. Architect Sinan built it in 1550-1557 on the order of Sultan Suleyman the Magnificent. Together with its adjacent buildings (educational institutions, bath houses, cemetery and so forth), the mosque forms a complex the size of a city block. The main building alone can fit 5 thousand people!
Although Istanbul, a city with centuries-long history, has preserved countless monuments and historical landmarks, these three mosques are particularly beautiful. See it for yourself in our aerial panoramas.
Photography by Stanislav Sedov and Dmitriy Moiseenko
1 September 2012
Comments
2017-09-30 19:42:01
5 from 5
"I was longing to visit this great mosque.God blessings that I visited Blue Mosque. A jewel of Istanbul. The whole Istanbul is beautiful."
riaz bukhari, Pakistan
2016-04-15 16:43:24
5 from 5
"Just come from turkey.dont have word to explain the beauty of it.moreover the happiness of all people n different religion visiting the country make u feel gud.u cn c the happiness of each one enjoying gud times freely.a gud morning,a hi,a bonjour,assalaamualaikum,make u all feel like brothers n sisters.lovely."
Fatemah Peer, Turkey
2015-08-09 02:33:16
5 from 5
"Espetacular as fotos de Istambul parece que voc#234 est#225 passeando pela cidade .Realmente este lugar #233 magico."
Beth Martins, Brazil
2015-06-01 18:54:03
4 from 5
"Allhavis great .turkey and other"
md miraj, India
2015-02-06 01:13:35
"this is fucked up shit"
harvey agumudie, Antarctica
2015-01-14 16:59:09
3 from 5
"first is the beautiful spatical in the world. that make to sultan ahmad.i will come to see this mosque. it,s my dream"
Abdul Rasheed, India
2014-12-27 14:02:02
"i have a lot of admiration for turkey especially istanbul.i want to have visit this fresh look."
AHSAN AYAZ, Pakistan
2014-12-01 18:05:36
5 from 5
"very good.tanks"
akbar naghizadeh, Iran
2014-11-05 01:20:19
"Lind#237ssimo. Maravilhoso. M#250sica bel#237ssima. Todos os dias me surpreendo com as maravilhas produzidas pelo ser humano. Temos tudo para sermos melhores. Somos inteligentes. Produzimos o belo. Parab#233ns Istambul. Parab#233ns, Turquia."
Lilia Cunha, Brazil
2014-08-29 01:30:32
"الا خوة المشرفون على الموقع نرجو منكم اضافة مدينة صنعاء الى الموقع لا نه مدينه قديمة وتاريخيه"
عبد الملك ابو علي, Yemen
2014-07-14 15:24:46
5 from 5
"well i came to know from lady i am waiting to vist see holy propet beloinging but i am not much rich but i will try in shaallah"
AHAMAD BASHEER RUMY, Sri Lanka
2014-07-14 02:33:21
"first is the beautiful spatical inthe world.that make to sultan ahmad.i will come to seethis mosque . it,s my dream"
mohmmad azeem ahmad, India
2014-06-17 03:55:48
5 from 5
"A beautiful city and beautiful, generous people. I wish everyone could visit here at least once."
Carolyn Steele, Australia
2014-06-08 21:07:44
5 from 5
"Muy bien explicado, y excelentes fotos. Me han ayudado mucho. Estare en Stanbul en julio 2014.
Gracias"
may garcia-clissent, Turkey
2014-05-20 04:15:04
"THE BEST BUIDING.WONDERFOUL.."
RODOLFO ELIAS RANGEL TORRES, Mexico
2014-04-29 14:07:35
4 from 5
"Beautiful place and people too ! the more you see the more you like it."
liaquat Raza, Pakistan
2014-04-24 14:49:08
4 from 5
"A wonderful concept and magnificent execution.
I found the aerial pano. fabulous, but a bit ethereal and removed from the hustle, bustle of Istanbul. Perhaps some more "grounded" views?"
Simon Templar, Australia
2014-04-07 00:58:30
4 from 5
"I am going to Rome soon for the Canonisation of Blessed John Paul 11 and Pope John xx111 on April 27. I will say a prayer for my Muslim brothers and sisters in Rome. Sallah alla khum.."
Terry McGinley, United Kingdom
2014-01-29 21:39:19
"Magnificent work! Congratulations! Thank you!"
Rodica Tepes, Romania
2014-01-10 15:51:36
5 from 5
"I fell in love with Istabul!
This panorama is wonderful! I hope that I will visit this beautiful city one day :)"
Karla V, Croatia
2014-01-07 12:34:28
"no comments just wonderfull !!!!!"
khalissa boussouar, Algeria
2014-01-04 13:03:05
"turkey - istanbul 360 very good"
AYDIN ÖNBAŞLICA, Turkey
2013-12-09 17:29:13
5 from 5
"Este site me faz sentir como se estivesse pessoalmente nos lugares mais lindos do mundo. Excelente trabalho. Ótimo para programar a próxima viagem."
RENATA CASADEI RENATA, Brazil
2013-12-06 19:05:33
"veeery beautiful! mashaallah! rabi nchlah ykatabli w nzorha ! amine !"
khadija nourhan, Algeria
2013-11-20 22:28:40
"super be"
marie therese barbier colin, Belgium
2013-11-18 02:13:40
"Very nice photography. I would like to visit this beautiful city and the most beautiful mosque in the world. Istanbul is a perfect blend of east and west."
Dzenana Omeragic, Croatia
2013-10-24 01:13:46
"Dünya Amin Yüksek sultana Karaçi Pakistan dua etti Kalbim islami büyük bir cami gibi"
aliya sultana, Pakistan
2013-10-24 01:06:21
"To my heart is like a BIG MOSQUE in the ISLAMIC has world pray Amen ALIYA SULTANA
KARACHI PAKISTAN"
aliya sultana, Pakistan
2013-10-22 04:42:26
5 from 5
"Incredible views. These vantage points are spectacular and impossible to reach for the majority of us. Having been there in early September 2013 left my wife and I in awe of these structures and the human history of ancient civilizations that preceded us. We are now more interested than ever about learning about the entire region and all the people that lived there Muslims Christians Mongols Ottomans and many more. We want to return and soon.

Luis - Marietta, GA U.S.A."
Luis Berrios, USA
2013-10-14 00:32:22
5 from 5
"Turkey is indeed one of the most beautiful countries in the world. Istanbul is the best city to visit for a tourist ! It has all the wonders one would like to see.... These mosques are only few sites of interest.... The Orient and the Occident breath together... The modern runs after the antiques... The Black Sea, the amazing Bosphorous and the Marmara Sea hugs Istanbul like an amazing lover...The Goden Horn kisses her shores and her seven hills are the guardian of her undeniable beauty...."
Sharope Blanco, Israel
2013-09-10 11:22:03
5 from 5
"i am not a muslim tho!!!! there are lots of thins facinated me in my life...nd turkish culture is above em all.or best of all i can say...turkish culture found me worlds best culture in my opinion...once in life i wanna visit there....turkey one of the heavenly things i ve even seen . . .nd these mosques,,,watchin em ...takes in in a heaven..beat expirience."
raman kumar, India
2013-08-16 04:07:31
"I know this, but by this way, is fenomenal. Istanbul is fabulous. I like it"
Mário Reis, Portugal
2013-08-14 23:57:02
5 from 5
"i wish i wake up in mecca for fajr, travel madina for zohar,asr in aqsa,maghrib in turkey and isha in damascus..may lord fulfill this dream of mine.."
ashfaque shaik, India
2013-08-09 18:41:12
5 from 5
"Realmente quedamos sorprendidos. Con estas vistas parece que estes hay mismo"
Olga Juan Torralba, Spain
2013-08-05 04:52:18
"Estuvimos en febrero de 2013 en Instambul. Estas extraordinarias fotografía nos permiten afianzar nuestros recuerdos y los superan. Gracias"
Jorge Pérez Llana, Argentina
2013-07-28 18:41:34
5 from 5
"Muhteşem bir şehir.Görmenizi tavsiye ederm.İt is fascinated,you can not never see a thing like this.You must visite....."
ismail ihtiyaroğlu, Turkey
2013-07-22 03:08:01
"masha allah itni badi masjid maine life main nahi dekhi. subhanallah"
mohammad shoaib, Saudi Arabia
2013-07-18 20:11:25
5 from 5
"Awesome photograohy.I wish I could visit them.Really spectacular :D"
Mohammed Rafid Al Haider, Bangladesh
2013-06-23 10:24:20
5 from 5
"Realmente hermoso!!!"
Martha Lucia Gomez Rojas, Colombia
2013-06-15 22:49:27
"I will visit to this site insallah , and will perform namaz if ALMIGHTY WANTS"
Jillar Rahaman, India
2013-05-27 23:34:20
5 from 5
"Je to krásné."
Josef Minařik, Czech Republic
2013-05-23 17:02:33
5 from 5
"Very beautiful mosque awsum I wish one day i will see this beautiful blue mosque one day live insahALLAH"
Muhammad Salman, Pakistan
2013-05-21 14:39:53
"i like"
Mdmohin hossin, Saudi Arabia
2013-05-18 09:49:00
5 from 5
"bahot khoobsurat"
salman khan, India
2013-04-24 17:23:13
5 from 5
"The panorama's are breathtaking! I was fortunate to have visited the Blue Mosque, Hagia Sofia Cathedral and the Topkapi Palace. All three are very different, but absolutely stunning in their beauty, history and architecture. It's a must to see, as is Istanbul and Turkey!"
Frank Misaege, USA
2013-04-03 14:10:58
5 from 5
"Istanbul is a fantastic city..."
Osman GALATASARAY, Turkey
2013-03-10 02:00:29
4 from 5
""Thanks to you"
ahmad ashtiani, Iran
2013-03-08 18:18:18
5 from 5
"C'est magnifique du tres beaul travail et les musiques magnifiques merci"
Dunan Roger, France
2013-02-14 01:02:19
5 from 5
"SIGUEN SIENDO LOS MEJORES !!. Score- 10 !. Tienen de Lugares maravillosos de La Tierra ? (en movimiento ??)."
German Porras, Colombia
2013-02-07 15:06:13
"extraordinary!"
Hamit KAPLAN, Turkey