Grand tour of Moscow, Russia
•
360° Aerial Panoramas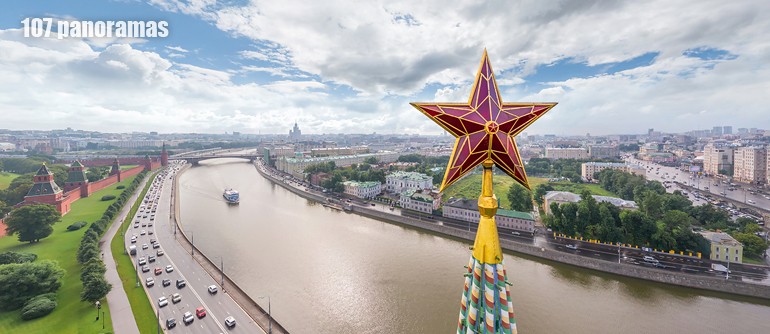 ---
We present to you the virtual tour, which have been shooting over the most famous sights of Moscow. Also we created a brief summary "Moscow, the best", which contains 22 panoramas of the most interesting places of the city. For today "Grand tour of Moscow, Russia" is our largest project, it includes 107 panoramas.
As surprising as it may be, but Moscow, one of the most famous cities in the world, attracts only 5 million tourists a year.
Here are some numbers for comparison: Paris sees 29 million tourists a year, Berlin — 10 million tourists a year.
However, the reasons for such low interest in Moscow lies only in technical complexities of organizing the trip to Russia: there are numerous difficulties in getting visa and mysterious Russian weather often frightens sun-loving and demanding travelers.

But those who do make it to the capital of Russia don't get disappointed. Moscow is Europe's largest metropolis with unforgettable atmosphere and unique historical monuments that reflect the history of Russia.
According to the legend Moscow is situated on seven hills. The Kremlin, a settlement around which the modern capital of Russia grew, is situated on one of those hills — the Borovitsky Hill. The first mention of Moscow dates back to year 1147, and since then, for almost nine centuries, the city experienced a myriad of events, and it has been destroyed and rebuilt over and over again.
The main attraction of Moscow, the famous Moscow Kremlin, was originally built from wood, but in the 14th century, after being destroyed again, it was rebuilt from a local white stone. It was from that moment on that Moscow was referred to as "Moscow of white stone" ("Moskva belokamennaya"). The walls of the Kremlin were whitewashed long after white stone was replaced with burnt bricks: it was done in the memory of "Moscow of white stone", referring to the glorious part of the city's past.
At the beginning of the 16th century "the seven hills settlement" became the capital of the united Russian state, which gave stimulus to its economic and cultural growth. But while all towers and temples in Moscow were built of stone, the city fire destroyed almost all other old houses in 1812, and Moscow had to be rebuilt all over again.
Burned buildings were replaced with new ones, mostly in classical style: it's those buildings, as well as the modern style ones that were built in the end of the 19th century, that are now comprise what is called "the old Moscow".
Architecture of the Soviet period has also left a great impact on the face of the city. The Shukhov Tower became one of the first notable sights of Moscow: a hyperboloid structure made from steel mesh shell was very innovative and bold for 1920s. Another notable landmark of the last century is the All-Russian Exhibition Center, one of the 50 largest exhibition centers in the world.
And the most famous buildings are the "Stalinist skyscrapers" — seven high-rise buildings built from the late 1940s to early 1950s. Despite the fact that the idea was taken from American skyscrapers, architects were able to create original architectural solutions, which were later called "Stalin's empire style" or "Soviet monumental classicism". Nowadays these high-rise buildings are considered to be the pinnacle of the post-war Soviet Art Deco style and the most important landmarks that end up on every photo of Moscow.
Three of the seven high-rise buildings are located near the famous Garden Ring. It's a circular avenue with circumference of 15.6 kilometers and a width of 70 meters built (paved with asphalt) on top of ancient earth mounds that were used to defend Moscow in the 16th century.
There were more than 130 rivers in Moscow, but now most of them are backfilled. However, the city can offer you very beautiful views of the water: the famous Moskva River, and the smaller Yauza River, Setun River, Shodnya River, Gorodnia River, and many others.
Bridges, just like Moscow's buildings, are unique monuments of Moscow. For example, the Crimean Bridge built in 1938 was the first of the six European bridges that is 168 meters in length. There is also the famous Borodinsky Bridge built to commemorate the Battle of Borodino. Among the most interesting modern bridges is Zhivopisny Bridge in Serebryany Bor, which has no analogues in the world. Its pylon has a form of a huge arch structure spanning from one river bank to the other at acute angle.
In 1990s the Victory Park was opened on Poklonnaya Hill to commemorate the Great Patriotic War (1941-1945). The park consists of several churches of different denominations, museums, monuments, a huge collection of military equipment, and 1418 fountains (1418 refers to number of days the war continued), which turn dark crimson during the night.
Even the shortest list of all historical landmarks and sights in Moscow will take more than one page. Moscow is a huge metropolitan city spread over an area of 2,500 square kilometers. It has numerous river and parks, narrow streets and big highways, cozy homes in classical style and cold skyscrapers. Each period gave Moscow something new: in 1940s the city was surrounded by a ring road (MKAD), in 1950s the capital saw the opening of the Olympic complex Luzhniki, in 1960s Ostankino TV tower was built in Moscow, in 1990s the largest business center called Moscow-City was built.
Moscow is the case where you just can't describe everything, and as they say, "A picture is worth a thousand words". AirPano team proudly presents panorama of Moscow, the city whose history is inextricably linked with the history of our country, and whose monuments refer to all areas of Russian culture and architecture.
Photo by Dmitry Moiseenko, Ivan Roslyakov, Stanislav Sedov, Sergey Semenov, Dmitry Chistoprudov
16 December 2013
Comments
2017-06-22 14:02:59
5 from 5
"Great job guys, pls keep your work rolling.
You have shot many locations, but there are so many places to admire. Thumbs up!"
Wert Amaki, USA
2016-10-03 16:08:01
"HI .其实我昨天认识了一位来自俄罗斯的男生,来我所在的这个城市演出。他和我说了很多俄罗斯的景色,所以我就想过来看看俄罗斯,很高兴能了解这么多,能看到这么多美丽的景色,谢谢。"
余 炆亭, China
2015-12-21 19:53:27
5 from 5
"Great. I hope you can take photo in sochi,crimea,kazan,vladivostok. thanks"
Maju Jaya, Indonesia
2014-11-09 05:17:07
4 from 5
"Moscow is Europe's largest metropolis Since when was Moscow in Europe?? First I have heard, I was led to believe it was London!
Nonetheless Great Pictures."
gino bragoli, United Kingdom
2014-09-15 11:39:22
"Hi, I'm from Iran .shhrtvn Too Free Web Counter I want to live there, but I can not

pardisebe221@gmail.com"
ebrahim gh, Iran
2014-06-19 16:09:46
5 from 5
"Magnificent .. Extraordinary work Guys...Gr8 Team work ...No words to express my feelings...

Can't stop watching it again n again....

Wish you all d best :)

Love from India

Cheers!!!!!
Girish"
Girish Wankhede, India
2014-04-05 13:25:31
3 from 5
pich lich, Iran
2014-03-09 16:02:31
5 from 5
"un singur comentariu pentru voi "kpacata""
teodor solomon, Romania
2014-03-05 12:37:07
5 from 5
"it is highly informative and wonderful job....i could make a journey to rusia without going there..thanks.."
john kayathinkal, India
2014-03-03 05:02:05
5 from 5
"Espetacular! Amazing! çàõâàòûâàþùèé(Google tradutor)! O melhor site que entrei nos últimos 10 anos! Parabéns!"
Bruno Dias, Brazil
2014-02-17 10:28:26
5 from 5
"i live you sait
من سایت شما را خیلی دوست دارم ازطرف دوستانم در ابران شما را دوست دارم"
hadi khoobani, Iran
2014-02-12 11:16:19
5 from 5
"Dank U - spectaculair !!!"
Romain Van Mele, Belgium
2014-01-27 21:13:06
5 from 5
"Magnifique !!!! Pourriez-vous afficher la musique de fond. Merci"
rené dupuy, France
2014-01-27 14:47:38
5 from 5
"âåëèêîëåïèå ïðîåêòà ,,ñóïåð Áîëüøîå ñïàñèáî, ðåáÿòà"
mohamed eid al shabshiry, Egypt
2014-01-17 03:37:18
5 from 5
"O vosso trabalho é magnifico! Uma informação com alta qualidade, acessível a todos, sem paralelo em todo o mundo. Além de nos dar a conhecer os grandes centros Urbanos e outras variantes, tem a componente cultural que faz parte da Geografia Universal. Obrigado à Equipe AirPano."
carlos miguel, Portugal
2014-01-14 23:53:06
5 from 5
"ÍNCREIBLE DESCUBRIMIENTO DE SU PAGINA.
¡FELICIDADES! TIENEN UN AMIGO EN MÁLAGA ESPAÑA"
J CARLOS A GORROCHATEGUI GONZALEZ, Spain
2014-01-14 12:50:24
5 from 5
"Amazing"
Muawanah Tajri, Indonesia
2014-01-07 07:26:28
5 from 5
"Moscow really is a spectacular, cultured city with charming, hospitable people who are justifiably very proud of their city. My husband and I had the great pleasure of visiting Russia and the Baltic States a couple of years ago. It was an unforgettable experience - we travelled throughout Petersburg, Moscow and around the gorgeous historical cities along The Golden Ring in a private car. Loved every minute of it! By the way, I absolutely LOVE the music you have chosen as a background to this beautiful panorama - it is a lovely piece (even though it has a rather Italian flavour to it)."
Kathryn Byrne, Australia
2014-01-05 05:22:46
5 from 5
"bellisimas imagenes y muy completo el comentario, auq por supuesto tomare en cuenta al visitar rusia, un viaje postergado desde hace años, gracias nuevamente"
mirta garrido, Argentina
2013-12-31 10:32:33
5 from 5
"Very nice an Thank you !
Good Year 2014 !"
IOAN PASCU, Romania
2013-12-27 16:34:12
5 from 5
"ΠΟΛΥ ΩΡΑΙΟ ΚΑΙ ΠΡΩΤΟΤΥΠΟ. ΕΤΣΙ ΚΑΠΟΙΟΣ ΠΟΥ ΔΕΝ ΕΧΕΙ ΤΗΝ ΟΙΚΟΝΟΜΙΚΗ ΕΥΧΕΡΕΙΑ -ΕΙΔΙΚΑ ΑΥΤΑ ΤΑ ΧΡΟΝΙΑ- ΚΑΝΕΙ ΕΝΑ ΝΟΕΡΩ ΤΑΞΙΔΙ ΣΤΗΝ ΩΡΑΙΑ ΣΑΣ ΧΩΡΑ.ΑΥΤΑ ΓΙΑ ΦΘΕΙΝΟΠΩΡΟ & ΑΝΟΙΞΗ. ΓΙΑ ΚΑΛΟΚΑΙΡΙ ΕΙΝΑΙ ΜΟΝΟΝ Η ΕΛΛΑΔΑ ΜΑΣ."
ΚΩΝΣΤΑΝΤΙΝ&#92 ΧΟΥΛΙΑΡΑΣ, Greece
2013-12-21 22:08:16
"I like very much the views about Moscou. When I went to Russian I visit only Sant Perhof. It is very, very beautiful. Thanks very much."
vinie maria, Brazil
2013-12-18 15:01:31
5 from 5
"un reportage eccezionale bellissibe foto, bello conoscere il mondo e vedere cose e luoghi che forse non si avrà mai occasione di vedere di persona.."
Giovanni John Epifano, Italy
2013-12-17 23:17:01
"I enjoy them all thankyou"
Audrey Alesio, USA
2013-12-17 20:54:31
5 from 5
"YOU ARE SO FABULOUS!, SON FABULOSOS, FELIZ NAVIDAD Y AÑOS FUTUROS DE EXITOS Y SATISFACCIONES. THANKS FOR THESE VIDEOS."
German Porras, USA
2013-12-17 19:30:39
5 from 5
"Very Good! Awesome! Waiting for Next."
Ali Asgar N B, United Arab Emirates
2013-12-17 06:58:46
5 from 5
"fine"
dhanakoti rao, India
2013-12-17 06:38:32
5 from 5
"Impresionante belleza de ciudad,estuve el pasado mes de Mayo en un Congreso Internacional de Notarios Publicos, en San Petersburgo y desde luego visite Mosc?, gracias por publicar estas vistas a?reas en verdad extraordinarias!"
Marco Hernández, Mexico
2013-12-17 00:24:06
5 from 5
"Unique example of how to look great tour of the beautiful city, thank you for your nice presentation"
Karel Hofmann, Czech Republic
2013-12-16 22:01:57
5 from 5
"Simply AWESOME !!!! A most marvelous set of views of a marvelous and historic city !!!"
Bob DeMan, USA
2013-12-16 13:40:56
5 from 5
"Alweer een fantastische fotoreportage!"
Joris Kesteloot, Belgium
2013-12-16 12:32:36
5 from 5
"Hi guys, you are excellent team and you make an extraordinary job. CONGRATULATIONS!"
Emilian Savescu, Romania
2013-12-16 11:54:12
5 from 5
"straordinario|||||"
GIOVANNI PELLACCHIA, Italy
2013-12-16 11:38:12
5 from 5
"thank you for the great information"
salah Kharboutli, Syrian Arab Republic