Helicopter Journey over Manhattan, New York, USA
•
360° Aerial Panoramas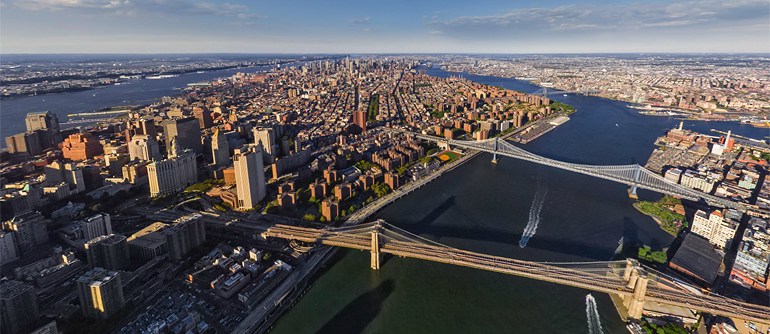 ---
Four hundred years ago there was the loudest and the most beneficent real estate transaction in the human history: the Indians sold Manhattan to the Europeans for 24 dollars. Now the island has changed beyond recognition and for this amount of money one can buy except perhaps a ticket to visit the skyscraper of Empire State Building.
Nowadays Manhattan is one of the most populous islands of the planet. Only its land price is about 40 billion dollars and the whole island's price including its real estate is more than 3 trillion dollars. By the way, the quantity of the richest inhabitants here is also record-breaking. They joke in New York, that only very profuse in expenditure person can drive on Manhattan, because the search of a parking place can take the same time as a driving. It's better to walk along Manhattan and not only due to high traffic density.
Except for the many museums, there are almost each building is an attractive monument. Ancient houses are to blend in with the best examples of modern architecture. There is a lot of New York's most famous sightseeing located, including mentioned below popular Empire State Building, Central Park and Times Square. And racy China Town as well as colorful Broadway - all these are situated on this island.
And another way to know Manhattan better is to admire it from the bird-eye flight. We created all our New York panoramas in september of 2007.
Comments
2012-03-26 19:21:17
5 from 5
"Realy it is wonderful. Though I have visited but to see panaromic view is best experience of life!!!"
Bhalchandra Vyas, India
Varvara, AirPano: Thanks for coming! We are glad you liked it.
2012-03-12 21:19:40
3 from 5
"concrete jungle but still looks beautiful in its own way"
MAHESH M, India
2012-03-09 11:59:26
5 from 5
"Thanks a lot for offering such terrific view of Manhattan, NYC, which I enjoyed visiting a long time ago. This is really a wonderful and unforgettable job you have done here... Vincent Bastante. Seville (Spain)"
Vincent Bastante, Spain
Varvara, AirPano: Thank you for your interest and high appraisal!
2012-03-06 04:19:31
5 from 5
"Hi, Manhattan. i am still live in here!"
Elven Lin, USA
Varvara, AirPano: Congratulations! You must be lucky.
2012-03-03 23:14:09
"To je krásny zážitok."
Jarmila Vašová, Slovakia
2012-03-03 20:53:14
5 from 5
"Un trabajo fabuloso. Tengo 75 años y muy posiblemente nunca podré visitar esta increíble ciudad, pero al menos gracias a este fantástico vídeo en 3D tengo una pequeña idea de una perspectiva como nunca antes. Gracias a sus creadores. Thanks so much, indeed, from [Spanish] Basque Country (Town: Donostia-San Sebastián. Berriro mila esker. Agur et beste bat arte..."
Joxe Mari L. Olalde, Spain
Varvara, AirPano: Dear Joxe, we are very glad that our site is visited by the people like you. We do appreciate your attention and interest in our project! Regards from Russia.
2012-02-29 06:36:29
5 from 5
"Beautiful, difinitivamente hermosa ciudad ,hermoso video y la melodia hremosa.muchas gracias a mi amiga Remanso P.GRACIAS. AMIGA."
Connie Loera, USA
2012-02-28 20:30:14
5 from 5
"Thank you for making possible, what it is impossible for many of us; to see New York.
You have made such a wonderful job, I will keep it forever.

Keep up the great projects and make them come true."
Javier De Leòn E., Mexico
Varvara, AirPano: Thank you! Be sure, we will.
2012-02-28 04:05:56
5 from 5
"SON VISTAS MARAVILLOSAS DE MANHATTAN LAS QUE HE PODIDO OBSERVAR, UNA MARAVILLA AL NATURAL. ¡¡¡¡ INCREÍBLEMENTE HERMOSA CIUDAD !!!!. NUNCA HE CONOCIDO PERSONALMENTE ESA CIUDAD,PERO, MIENTRAS VIVA NO PERDERÉ LAS ESPERANZAS DE VISITARLA.ESTOY MARAVILLADO. CREO QUE ES UNA CIUDAD MUY LIMPIA Y CRISTALINA. SU BELLEZA ES IMPACTANTE. GRACIAS POR DARME LA OPORTUNIDAD DE ESTA GRAN VISIÓN."
LUIS MARCHENA GUTIÉRREZ, Mexico
Varvara, AirPano: Bienvenidos a nuestro projecto, a nuestra pagina! estamos orgullosos que le gusto esta panorama.
2012-02-23 14:50:37
5 from 5
"JUST WONDERFUL!"
VERENA BER-DEUCHER, Switzerland
Varvara, AirPano: Many thanks!
2012-02-23 13:23:29
5 from 5
"ESPECTACULAR,SE VE TODO CON MUCHO DETALLE,LO GUARDARE SIEMPRE.MUCHAS GRACIAS"
mercedes valle pintado, Spain
2012-02-17 16:32:37
"Wonderful!"
hsian chong Lu, Taiwan Region
2012-02-10 20:00:15
5 from 5
"Great job, wunderful, thank you"
Rosi Seidl, Austria
2012-02-09 19:14:14
5 from 5
HADJNICOLAOU BRON, Greece
2012-02-07 06:20:33
5 from 5
"Wondeful. I wish to visit this amazing city because of your excellent job. Thanks."
maria teresa alvarenga, Paraguay
2012-02-06 22:56:42
5 from 5
"UNA MARAVILLA"
jorge PERRI, Poland
2012-02-06 22:39:20
5 from 5
"impresionantemente maravilloso"
Villanueva D. Luna, Mexico
2012-02-06 19:03:19
5 from 5
"GREAT VIEWS ! Having lived in this beautiful city and by looking at these pics..... What a souvenir !!!
Thanks for putting this on."
Teresio Baldocchi, Italy
2012-02-06 03:14:56
5 from 5
"Es impresionante las vistas logradas y la alta definición de la grabación. Felicidades!!!
ojalá que generan más material como éste pero de todas las maravillas."
Angelina RC, Mexico
AirPano: Dear Angelina, thank you for the message! On our site there are a lot of beautiful places to view. We hope, you'll enjoy them too.
2012-02-03 22:51:10
5 from 5
"Excelente trabalho! Não conheço, mas gostaria muito de visitar!"
José Ribeiro, Portugal
2012-02-03 00:10:38
5 from 5
"Wonderful helicpter ride over Manhattan. Even better if you had invested one cent out of the 24.00 paid to the indians you would be super rich!!!"
J. Gilberto Higuera, USA
2012-01-25 02:55:17
5 from 5
"I did live in New York for many years and now I am back in my country but it was a really wonderfull to see New York one more time. Ithink it was SUPERB .Congratulations."
lydia Faveron, Peru
2012-01-13 00:28:10
"Je to nádherné,dojímavé.děkuji"
Josef Krej&269&237k, Czech Republic
2012-01-10 21:24:07
5 from 5
"Great job, guys! Its like to be there in reality."
Gert Keiner, Germany
2012-01-05 17:57:54
4 from 5
"Itś wonderful! I wish to visit NY on my eyes. Perhaps itĺl be possible :-)))"
Jana Simcikova, Czech Republic
2012-01-04 21:03:41
5 from 5
"Unas vistas maravillosas de la ciudad de los rascacielos, algo que yo no me pensaba conocery gracias a mi amigo To&241o lo he logrado."
Jose Andecochea de Leiva, Spain
2011-12-28 18:44:25
5 from 5
"Manhattan is amanzing the city which never sleeps it brings up old as new every single day no mather if is rain or shine."
Cornelia Adams, USA
2011-12-10 19:31:46
5 from 5
"Wonderful
I lived quite many years in NY and seams I am still there"
JORGE FRANCIA, Argentina
2011-12-04 12:49:54
4 from 5
fatima matos
2011-10-30 12:56:34
5 from 5
"What is the music beneath Manhattan? Please tell me!"
Kun Edit
AirPano: This is: Richard Clayderman - «Dolannes Melodie»