Helicopter Journey over Manhattan, New York, USA
•
360° Aerial Panoramas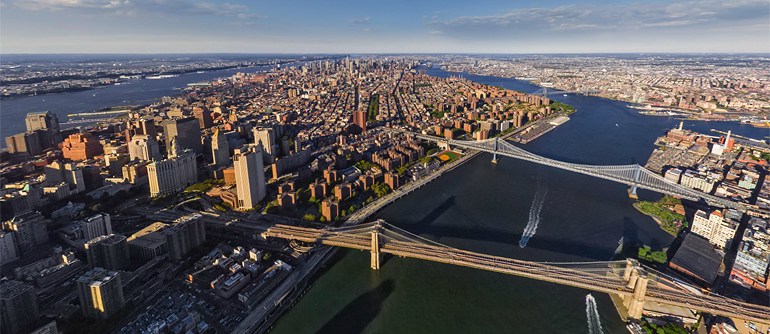 ---
Four hundred years ago there was the loudest and the most beneficent real estate transaction in the human history: the Indians sold Manhattan to the Europeans for 24 dollars. Now the island has changed beyond recognition and for this amount of money one can buy except perhaps a ticket to visit the skyscraper of Empire State Building.
Nowadays Manhattan is one of the most populous islands of the planet. Only its land price is about 40 billion dollars and the whole island's price including its real estate is more than 3 trillion dollars. By the way, the quantity of the richest inhabitants here is also record-breaking. They joke in New York, that only very profuse in expenditure person can drive on Manhattan, because the search of a parking place can take the same time as a driving. It's better to walk along Manhattan and not only due to high traffic density.
Except for the many museums, there are almost each building is an attractive monument. Ancient houses are to blend in with the best examples of modern architecture. There is a lot of New York's most famous sightseeing located, including mentioned below popular Empire State Building, Central Park and Times Square. And racy China Town as well as colorful Broadway - all these are situated on this island.
And another way to know Manhattan better is to admire it from the bird-eye flight. We created all our New York panoramas in september of 2007.
Comments
2014-10-13 14:28:49
5 from 5
"Wondermooi"
Marie-Jose Droogmans, Belgium
2014-01-30 03:01:29
"Fantástico passeio ! A paisagem é deslumbrante. Adorei !"
Vânia Amaral, Brazil
2013-09-02 02:45:22
5 from 5
"A fabulous way to see Manhattan.Because the men in my family had a lot to do building some of the magnificent buildings, it always gave me pleasure to walk down the different streets and say....that building was built by my family!
Sadly,, when my father was an Engineer for the Twin Towers he was really very upset that they were built so high and they were not well fortified as the Empire State building..also one he worked on.
If any one wonders " how can they build such high buildings" on an isalnd in the middle of the water
Under neath the buildings is a submerged mountain range.
New York is my town and I share it with all who love it too!"
Margaret Webster, USA
2013-07-24 18:34:07
3 from 5
"eccezionale"
perra gianni, Italy
2013-07-15 20:12:19
4 from 5
"EXCELLENT & AMAZING VIDEO OVERVIEW !"
SANKARA RAO MB, India
2013-06-27 23:27:49
5 from 5
"Love! Love! LOOOOOOOVE it!"
Loore P, Estonia
2013-05-11 11:20:41
5 from 5
"Man can do &see but GOD has to give.This feeling is awesome,no words to express. GOD is great.Damodara Nambeti,Tirupati AP India"
Damodara Nambeti, India
2013-04-27 17:25:47
"mi hijo de 17 años, ira a visitar nueva york como viaje de fin de cursos...al menos yo ya disfrute un poco de la esencia de la ciudad...gracias por su imagenes excelente trabajo srs. rusos"
irasema linares, Mexico
2013-02-27 05:01:41
5 from 5
"New York! hope to see you in 2 weeks! thanks for posting this. what an awesome video! breathtaking to say the least!"
fredlyn nako, Vanuatu
2013-01-26 15:29:42
1 from 5
Francois Petre, Belgium
2013-01-09 15:16:17
5 from 5
"My first visit to New York was in 1946. I worked as a steward on the ( New Amsterdam Liner) Holland America Line and made 26 trips to New York (Hoboken-harbour 5)till 1952 (Roaming around in every corner discovering the Apple-city).
( Frank Sinatra in Paramount Theatre). Duke Ellington Big Band (performing in Starlight Roof-restaurant)Roller-skating on Hammond organ music
in Gallagers;dining in 86th street Jockey club; sleeping in Central Park with a weekend Newspaper
and many more adventurous experiences.
After Graduation at the Hague Hotel School in 1952
joined KLM Royal Dutch Airlines till 1995.
visited New York for work and for pleasure more than 40 times! This is my most favorable and exiting city of the World !!!"
Frans Evers, Netherlands
2012-12-01 22:29:27
"ABSOLUTELY GORGEOUS! EXCELLENT WORK. BROUGHT BACK VERY GOOD MEMORIES."
TERESA BRANDÃO, Portugal
2012-12-01 06:02:19
4 from 5
"Grand production, Excellent idea!
I thinks it,Snormal to have such an effect. N.Y. is such a great city. A wonder of the World to me.
I'm waiting for Calcutta or Mexico City to visit the nooks and crannies. Great accomplishment! j.v."
jean vaillancourt, Canada
2012-11-20 23:16:26
5 from 5
"I lived in Queens and Manhattan, presently living in Brooklyn and work in Manhattan, New York. I have extensivly traveled in New York and have seen all of it in real time,but I have never seen it like you have projected. Awesome job !! keep it up and give all ( un-privileged,un-affordable and un-fortunate ) a privilege to virtually see the world. Many Many Thanks !! (from India)."
Timothy Konki, USA
2012-09-07 11:16:54
5 from 5
"Gran trabajo, felicitaciones al autor. Lo conservaré como tesoro, para mis hijos. Estoy agradecido.
Eroito Reategui, Ciudad de México."
Eroito Reategui, Mexico
2012-08-28 23:47:00
5 from 5
"I live in New York.Born and raised.I have traveled the waters of New York and have seen them in real time,but never have I seen them like you have gifted us.Thank You,Thank You,Thank You."
Robert L Syphax, USA
2012-08-25 15:50:30
5 from 5
"very exicting and intersting"
kaushik patel, India
2012-08-20 03:59:11
5 from 5
"How great is our GOD!!!!!!!
This was wonderful to watch..
God Bless"
Eileen Plasencia, USA
2012-08-20 03:57:56
"This was so wonderful to watch. How great is our God!!!!!!"
Eileen Plasencia, USA
2012-08-13 03:09:54
3 from 5
manouchehr nourizadeh, Iran
2012-08-02 06:36:07
5 from 5
"Beautiful composition! Awesome (beyond words)!
I have & probably will see anything else like it!"
KennethP Peer, USA
2012-08-01 23:50:48
5 from 5
"i been to quite a few cities in the world and many hold people's fascination in admiration and awe like my country's capital LONDON but for me the city with the greatest buzz in the world it has to be NEW YORK i have been lucky enough to be on the observation deck of the empire state building after dark and to look down on that beautiful city with all the lights is like looking in a JEWEL BOX new york new york no wonder they named it twice !!!!!!!!!!!!!!!"
ROBERT LENNOX, United Kingdom
2012-07-31 10:27:00
5 from 5
"Amazing pictures indeed. Kudos to the photographer. This only shows that ingenuity knows no bounds.

Let us all enjoy such contributions by the anonymous genius!

V G SUBRAMANIA, MUMBAI, INDIA, 31st JULY, 2012"
VENKATRAMA GANESA SUBRAMANIAN, India
2012-07-26 10:52:06
5 from 5
"Absolutely stunning, brings back wonderful memories of our time in manhatton & NYC. Now off to visit more on your great facility"
Marten Beyer, Australia
2012-07-25 08:05:57
5 from 5
"Its superb. I was in Manhatton in 2010 and again in May 2012. Had Helicopter tour and found it thrilling. Your photograpy is sharp in all angles.Congratulations"
nigar afaq, Pakistan
2012-07-25 00:00:48
5 from 5
"Angel Jose Tovo (Argentina)

Conosì Nueva York (Manhatam). Al recrearla,ma llenò de placer y tristeza. No estaban las gemelas."
Angel Jose Tovo, Argentina
2012-07-22 02:21:22
5 from 5
"Maravillosa vista de una potencia que gracias a ustedes conocí. trabajo exelente."
edgard nestor vaccaro, Argentina
2012-07-20 14:31:30
5 from 5
"Have visited New York twice and loved Manhattan both times. Your photography is amazing..thanks, as it brings back happy memories"
Yvonne Andrews, New Zealand
2012-07-05 14:50:40
"Its great,dreams comes true to see this on laptop"
Ramit Kumar
2012-07-03 16:55:25
5 from 5
"You may visit Manhattan a hundred times and will never see it from these angles."
Stig Larsson, Sweden
2012-07-03 16:05:31
5 from 5
"Very good for whom have no chance go to the foreign country."
youngsbuy sbuyjai, Thailand
2012-07-02 16:53:29
5 from 5
"Have visited Manhattan on several occasions and briefly lived there. However the panoromic view presented is stunning and quite revealing !One feels the majestey of the island and its splendour!
Very creative and imaginative. Beautiful experience!"
BISHUN VARMA, India
2012-06-30 00:19:47
5 from 5
"I live in New Jersey and used to commute to New York City everyday for 20 years and always knew how unique the city was - your superb spectacular aerial views proved it was more than unique - it's awesome. Great job."
chaari Arago, USA
2012-06-18 17:07:23
"Como puedo bajar a mi ordenador, Manhattan des de el elicostero"
Diego López Jiménez
2012-06-14 08:14:37
5 from 5
"yaar wow its good things for enjoyment i don't believe this.i feel i really are in helicopeter good mind blowing please try these."
sumit GUPTA, India
2012-06-08 19:26:44
5 from 5
"Beautiful, inspirational, you are doing brilliant work."
Christian Trampenau, United Kingdom
2012-06-01 19:46:09
"It is amazing, congratulations and thanks"
JOSE EUSEBIO LARA FLORES, Mexico
2012-05-30 14:05:32
"Wonderful & Excellent job done. Thanks"
Narendra Kanani, Canada
2012-05-10 23:01:47
5 from 5
"I lived in Manhattan, but I never saw as much as just now by virtual tour. Thank you for these stunning images; superb job."
Dagmar Thomas, USA
2012-05-08 18:31:20
5 from 5
"awesome amd thrilling to see"
anantalakshmi surya, Hong Kong
2012-04-29 02:27:15
4 from 5
Charles Clayton Studstill, USA
2012-04-25 15:13:04
5 from 5
"pleas send to me for download"
omid mazahery, Iran
2012-04-23 01:08:41
5 from 5
"To me this is the closest place to heaven. I have so many happy memories of every trip I made to NYC; it brought tears the first time I saw this. Thankyou for the memories. Mary"
Mary Hale, USA
Varvara, AirPano: We appreciate your opinion.
2012-04-21 12:59:05
5 from 5
"Je to úžasné...prosím pokračujte v takové práci,která dává lidem nové poznání,bez sobeckosti,korupce a závisti ... děkuji!!!"
Jaroslav Růžička, Czech Republic
2012-04-05 21:40:34
5 from 5
"Awesome, you have capture here a magnificent old piece of Civil Engineering in contrast with beauty of land and sea. Keep up the great work.
Thank you.
Marcelo Osorio
Miami, Fl. USA"
Marcelo Osorio, USA
2012-04-04 11:46:05
5 from 5
"Beaut..... it brings back so many great memories. I can nearly see the old ice cream shop by the quay at Brooklyn Bridge. breath-taking"
Phil Twigg, Australia
Varvara, AirPano: We are glad you liked it. See you!
2012-04-02 11:18:59
5 from 5
"I lived there 3 years but I didn't see all that :) wish I had seen it like that. I did go to that restaurant on top of a high building that turs while you eat , not bad either,"
Michael Haubrich, USA
Varvara, AirPano: Many thanks for your comment.
2012-04-01 17:38:04
5 from 5
"Amazing job!"
Esperanza Nadeau, USA
2012-03-31 00:08:55
5 from 5
"É um privilégio desfrutar desta excelente vista desta explendorosa cidade. om betão a mais, mas com um Central Park de meter inveja e, muita, muita beleza. Obrigado!"
Emanuel Martins, Portugal
2012-03-30 16:42:38
5 from 5
"Excellent birds eye view.AS GOOD AS BEING THERE."
Sona Shah, India