Night Maldives
•
360° Panorama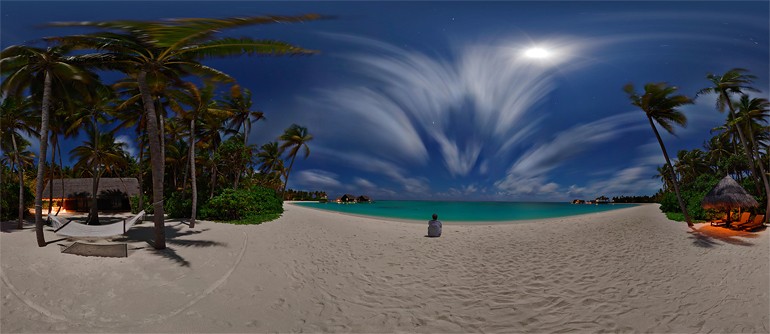 ---
The Maldives Islands are often associated with calm and lazy leisure full of utter bliss and tranquil solitude. Their distant location from Europe (the flight from Moscow, for instance, lasts 8-9 hours) as well as high and, as a consequence, non-economy service standards are not available for most tourists who, for example, can afford themselves to travel round Turkey or Egypt.
Many international resorts offer their guests "primordial purity, unique nature, snow-white beaches" and so on, when on the Maldives all these are perfect in a special way. This insular state consists of about 1190 islands. From 90 thousand square kilometers, which compose the country's area, the land occupies only 298 square kilometers, i.e. less than 1 per cent!
The islands lie on the territory of 815 km from the North to the South and 130 km from the East to the West in the Indian Ocean. Some of them are below the equator. The exact quantity of the islands is unknown now due to some of them, from time to time, are divided into two parts and, vice versa, they can join each other and go down under the water, another appear.
People live only on about 200 islands when the rest is uninhabited. There are completely tiny islands; at the same time, the biggest island is only 8 km. The most distant islands can be reached by a seaplane or a regular airplane. The closest islands can be reached by the local little boats named Dhoni or a motor boat.
The unique idea of Maldivian resorts is "one island-one resort-one hotel" and each one differs with its unique atmosphere and design. But it's not easy to leave your island whenever you wish: the special permit is often required and, moreover, you have to pay for it some amount of money. Besides, you will be obliged to return back to the hotel in order to spend there a night.
By the way, on the Maldives there are other restrictions which differ from many international resorts. Alcohol and pork meat are forbidden there and can't be taken by the tourists. It's not only forbidden to bath in the sun topless (we don't say a word about nudism at all) but also such a harmless occupation as watching porno is out of the law frameworks. All these are consequence of Islamic religion which dominates there. FYI, the Maldives is the smallest Islamic country in the world!
In spite of its size, ecology is so important there that the quests are very often provided with special garbage bags in order then they take the rubbish away from the island. So, thanks to all these measures the Maldives are that kind of place with clean white beaches, rich tropical flora, multiform underwater life and nearly most picturesque beaches on the planet.
5 August 2011
Comments
2014-12-12 08:13:37
"hi its very nice"
hamid ezzatabadi, Iran
2013-06-20 13:27:04
"JÓ lenne a valóságban is megnézni ."
Béla Tamás, Hungary
2013-03-23 15:57:35
5 from 5
"he entrado en esta pgn por casualidad y me a causado muy buena impresión mi enhorabuena es una preciosidad"
maria abat, Spain
2013-01-31 19:26:12
5 from 5
"magnifique on reve des vacances merci"
jacqueline lotram, Maldives
2012-12-06 02:46:59
5 from 5
"Amazing :) thx!"
Alexandra BK, Poland
2012-07-24 10:29:25
5 from 5
"Faaantaaaastic, bbbeautttiful, amazing,....than the nature.......dont have words to express"
Amutha Sakthivel, Kuwait
2012-07-10 02:06:20
5 from 5
"Beautiful scenes. I love the Maldives and I hope to visit the Maldives in my honey moon. But can someone please tells me the name of the music? Truly loved it."
Khalifa Khoori, United Arab Emirates
2012-07-02 05:02:44
5 from 5
"No puede ser tanta belleza!!!!! y que tcnologia"
Elvira Zanettin, Argentina
2012-06-19 20:12:49
5 from 5
"Beautiful resort but I searched for booking, MY GOSH!!! These maldivians are wachos! The prices are only good enough for celebraties! I think I will stick with my childhood memories. Great photograhy on all!"
Farah Bangash, USA
2012-05-07 01:27:22
"now, only if they allowed pork and alcohol. Two of my most favorite!"
vaivhav todi, India
2012-04-28 18:30:45
5 from 5
"gracias por poder acceder a tanta maravilla!!! Me podrían decir cual es la musica que acompaña esta filmación."
vida lacoste, Argentina
2012-04-22 14:54:10
5 from 5
":)"
ayman mohamed, Egypt
2012-03-31 17:08:59
5 from 5
"lindo paisagem, o ceu o mar perfeito, lindo lindo."
fainir silva, Antarctica
2012-02-29 12:55:15
5 from 5
"360"
Fahad Saeed, Saudi Arabia
2011-11-23 22:21:16
5 from 5
"Best selection of :
Light;
Camera Position;
View;
Music;
Full of Inspiration ;
In one word: A W E S O M E"
Ali Lonely
2011-11-23 12:49:39
5 from 5
"Best selection of :
Light;
Camera Position;
View;
Music;
Full of Inspiration ;
In one word: A W E S O M E"
Ali Lonely
2011-11-23 12:44:28
5 from 5
Ali Lonely
2011-10-21 12:51:53
5 from 5
"Relax, relax, relax... What else? Quite and bliss. Lovely!"
Gloria Mendez
2011-10-20 23:31:00
"Maravilhosooooo!!!"
Vanessa Antonio
AirPano: Obrigado, Vanessa!
2011-10-18 15:44:42
5 from 5
"It's beautiful! I wish I were there!"
Caroline Parker
AirPano: Indian Ocean Islands are truly recommended destination!
2011-10-09 11:32:44
"Dear Sir,

The quality of the pictures are excellent and all these beautiful Islands have more natural beaches then the one you have show in the photograph. One and only Reethi Rah resort was originally very small island but the island was later reclaimed as a result the resort project it self was not regarded as environmentally friendly and the beautiful house reef are damaged and the natural beaches are more artificial. If you really want to enjoy the natural beauty of the Maldivian resorts we do not recommend one and Only Reethi rah Resort. There are many more beautiful island resort that we can recommend."
Abdul Rasheed Nafiz
2011-09-30 14:09:58
5 from 5
"The beauty of exotic nature and luxury resort... Nice indeed. But the music is too lonely and sad."
Betty Stevenson
2011-09-16 14:36:29
5 from 5
Von Taunbaum