Maldive Islands
•
360° Panorama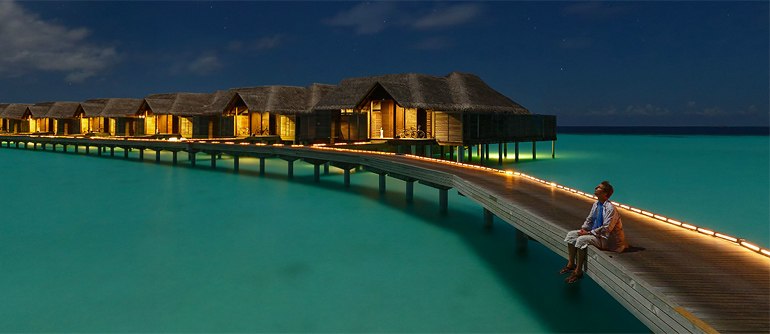 ---
Today we decided to gather all panoramas we have created for last years on Maldive Islands into one virtual tour.
The Maldives Islands are often associated with calm and lazy leisure full of utter bliss and tranquil solitude. Their distant location from Europe (the flight from Moscow, for instance, lasts 8-9 hours) as well as high and, as a consequence, non-economy service standards are not available for most tourists who, for example, can afford themselves to travel round Turkey or Egypt.
Many international resorts offer their guests "primordial purity, unique nature, snow-white beaches" and so on, when on the Maldives all these are perfect in a special way. This insular state consists of about 1190 islands. From 90 thousand square kilometers, which compose the country's area, the land occupies only 298 square kilometers, i.e. less than 1 per cent!
The islands lie on the territory of 815 km from the North to the South and 130 km from the East to the West in the Indian Ocean. Some of them are below the equator. The exact quantity of the islands is unknown now due to some of them, from time to time, are divided into two parts and, vice versa, they can join each other and go down under the water, another appear.
People live only on about 200 islands when the rest is uninhabited. There are completely tiny islands; at the same time, the biggest island is only 8 km. The most distant islands can be reached by a seaplane or a regular airplane. The closest islands can be reached by the local little boats named Dhoni or a motor boat.
The unique idea of Maldivian resorts is "one island-one resort-one hotel" and each one differs with its unique atmosphere and design. But it's not easy to leave your island whenever you wish: the special permit is often required and, moreover, you have to pay for it some amount of money. Besides, you will be obliged to return back to the hotel in order to spend there a night.
By the way, on the Maldives there are other restrictions which differ from many international resorts. Alcohol and pork meat are forbidden there and can't be taken by the tourists. It's not only forbidden to bath in the sun topless (we don't say a word about nudism at all) but also such a harmless occupation as watching porno is out of the law frameworks. All these are consequence of Islamic religion which dominates there. FYI, the Maldives is the smallest Islamic country in the world!
In spite of its size, ecology is so important there that sometimes the guests are provided with special garbage bags in order then they take the rubbish away from the island. So, thanks to all these measures the Maldives are that kind of place with clean white beaches, rich tropical flora, multiform underwater life and nearly most picturesque beaches on the planet.
26 February 2013
Comments
2015-07-08 14:35:40
5 from 5
"GArda#351 resimler s#252per kamerana g#246zlerine sagl#305k. #305 love maldivler."
Burak Semanur, Turkey
2014-05-11 18:42:56
5 from 5
"nadherne uzasne prekrasna praca obdivujem vas"
Ing Jozef Macuš, Slovakia
2013-06-20 18:16:17
5 from 5
"Great job! Really impressive! A great collection of beauty of nature."
Shan-Wen Yan, USA
2013-05-10 09:59:43
5 from 5
"purely a work of passinate professionals...I am doing destination sudies being in travel business,,these pans just give a perfect idea about how it actually is...kudos to all of you :)"
Aliya Sherwani, India
Varvara, AirPano: Thank you, Aliya! Hope our panoramas are helping you in your beginnings.
2013-05-01 12:43:33
1 from 5
"very good"
M rli-li M r mingfang -Bai, China
2013-04-30 17:00:35
5 from 5
"wonderful Place....."
Vishal Bhavsar, India
2013-04-30 07:34:17
5 from 5
"I was lucky to visit Maldives.A fine place.Almost Heaven.But I have not visited Heaven.
The panorama.I salute to the creators.
Thank You"
Poosapadi Subba Raju Ramanathan, India
Varvara, AirPano: Thank you! I agree, Maldives is a wonderful place!
2013-04-27 09:32:32
1 from 5
"i wish tht i go thr but how idont know."
mani but, Pakistan
2013-04-16 07:05:07
5 from 5
"Very impressive work here! Nothing like I've seen before, thumbs up to all of you guys!!!"
Suzanne Bruch, USA
2013-04-02 16:13:25
5 from 5
"Adorei as imagens, esse tipo de trabalho te coloca em paisagens incríveis onde céu e mar estão ao alcance de um click.
beautiful Images , I'm thrilled!!"
Elton Alex Silva, Brazil
2013-03-29 20:17:28
5 from 5
"Gyönyörű természet és a bemutató lenyügöző Gratulálok a készítőknek"
József Szűcs, Hungary
2013-03-21 21:14:48
5 from 5
"spectacular.I will go there with my love"
Cao Scofield, China
2013-03-15 00:44:09
5 from 5
"wonder O! zo mooi,deze natuur vraagd om bescherming,tegen massa toerisme.Doe zo voort."
Jose Baeyens, Belgium
2013-03-13 09:28:02
5 from 5
"great workk...amazingg..thank u team"
falguni PATEL, India
2013-03-11 21:42:35
"Splendid,celestial feelings for saturation of eye catching work.. Excellent"
Rabiul Hosen, Germany
2013-03-06 21:32:33
5 from 5
KAZIMIERZ SADOWSKI, Poland
2013-03-05 14:59:22
"how is the wastewater disposal organised at these georgeous bungalows/cottages over the water??"
puck heikens, Netherlands
2013-03-05 06:57:32
5 from 5
"Marvelous, look like a lost horizon paradise. Thank you for the Greatest work."
Stephen Tan, USA
2013-03-04 16:36:44
5 from 5
"A winsome view, it reflects the thoughts of the person who captured this wonderful and uber classical view.
It made me to visit Maldives once at least...""
Jasmine Agarwal, India
2013-03-01 22:56:31
5 from 5
anis dali, Algeria
2013-02-28 14:15:20
"No words to say"
ekkarthik reddy, India
2013-02-28 04:21:57
5 from 5
"Beautiful ! Beautiful! Beautiful! What more could be said."
Ed Nelson, USA
2013-02-27 23:25:54
5 from 5
"As always you are Fantastic, God bless you for excellent work, Hope you never quit such a beautiful work of art."
hossein Alimadadian, USA
2013-02-27 22:03:37
5 from 5
"Beautyful So Beautyful,thanks boys"
Jose Angel Arroyo, Mexico
2013-02-27 20:09:21
5 from 5
"Beautiful, I'm relaxed, thank you AirPano team."
Iwona Kundys, Poland
2013-02-27 16:27:41
5 from 5
"Maravilhosa!!!!!!!!!!"
Paulo Rattes, Brazil
2013-02-27 14:31:31
5 from 5
"Wonderful place, but it's a shame that is under an Islamist regime"
Juan Quiles, Spain
2013-02-27 12:36:15
5 from 5
"Fabulous..."
Dharmesh Bamrolia, India
2013-02-27 11:34:58
5 from 5
"wonderful"
dhanakoti rao, India
2013-02-27 11:15:52
5 from 5
""Hello,beautiful nature,the presentation is professionally done,with all my heart I thank you".Karel"
Karel Hofmann, Czech Republic