Lofoten archipelago, Norway
•
360° Aerial Panoramas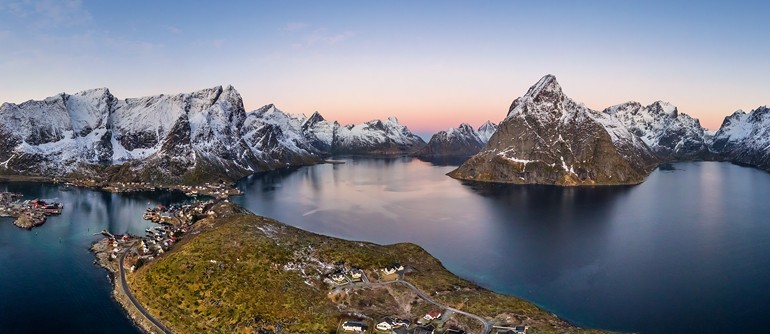 ---
Lying north of the Arctic circle within the severe waters of the Norwegian sea, the Lofoten archipelago is known for its wild nature, majestic mountains, deep fjords, noisy bird settlements, the purest water and long sandy beaches. These lands were the habitat for Vikings and they still have some evidence of their life. In the small village of Borg, archaeologists uncovered the longest Viking dwelling ever found. An 83-meters-long house was restored and now operates as a historical museum of the legendary Vikings.
Comparing to other places lying on the same latitude, the Lofotens feature a rather mild climate due to the Gulf Stream. Between May and July there is the period of the midnight sun, and from the middle of September to the middle of April the colourful Polar lights can be witnessed. An unstable weather together with an incredible light of these lands always attracted lots of artists. In the same way, AirPano team engaged in the creation of 360° panoramas of the most outstanding corners of the Earth could not overlook the wonderful landscapes of this archipelago.
In the late 1970s, Reine, a fishing village, was announced by Allers magazine to be the most beautiful village in Norway. Photos of Reine have been used for the front page of many tourist brochures and guidebooks. The 0.29-square-kilometre village found itself around the fjord at the foot of the surrounding mountains. The sea crashing on rocks, colourful fishing huts, picturesque sunsets and sunrises attract thousands of guests annually.
The small town of Svolvær is famous for being one of the best places in the world for watching whales. But it is known not only for nature but for its history as well. Although the climate is severe, people inhabited these lands back in 800 BC. The amount of fish was enough not only for feeding but also for a successful trade. And more than 900 years ago the first Christian church in the Northern Norway was built here.
The traditional fishing village architecture is a feature of Henningsvær, which lies 20 kilometres south-west of Svolvær, while a small island of Skjåholmen is known for having a 25-meters lighthouse that was built in the beginning of the 20th century.
Being so far to the north of the Arctic circle, AirPano team couldn't help checking other interesting places of Norway. One of the most impressing sites is the 12-kilometers-long Ersfjord on the island of Senja. The rocky mountains of this fjord raise at 800 meters and meet the sea, creating a spectacular view.
Aerial panoramas revealing the bird's eye view of these lands will help you to appreciate the beauty of this remote corner of the Earth with its pristine nature.
Photos: Stas Sedov, Sergey Semenov
16 May 2017
Comments
2017-09-02 14:48:15
5 from 5
"Thank your team for those fantastic views of the world. I'll give your adress to all my friends.
Best wishes!
Horst"
Horst F. Haupt, Germany
2017-08-24 10:58:46
5 from 5
"Hi! Beautiful panoramas! What kind of equipment have been used for shooting these Lofoten panoramas?"
Knut Gaasvik, Norway
2017-06-26 05:00:54
5 from 5
"My husband and I have been to the Lofoten Islands several times on the Lindblad National Geographic Explorer expedition ship. It is beautiful from the sea also. We were thrilled to see it from the air.We would love to see places like Svalbard or Antarctica too."
Judy Hale, USA
2017-05-24 02:12:39
5 from 5
"Beautiful photography as usual and the narrative is most informative. Doesn't matter whether your subject is large cities or places or cites of little knowledge, it's the magnificent photography and the 360 panoramic implementation that is valued by 99% of your followers. I also have been an avid follower of AirPano since 2012. Your work selections are superb. Keep-up the good work.5/23/017"
ed nelson, USA
2017-05-16 15:04:17
5 from 5
"Beautiful pictures of the beautiful landscape, thank you"
Karel Hofmann, Czech Republic
Varvara, AirPano: Thank you very much, Karel. We're always pleased to see your comments!
2017-05-16 14:14:05
"I'm probably one of the biggest fans of your page and I follow you closely. I think many fans would be much more interested to see London, Cairo, Teheran etc, than some small fishing village.

Greetings"
Edin Mujezinovic, Bosnia and Herzegovina
Varvara, AirPano: Edin, thank you for all your comments. It's a pity that you don't think that Lofoten archipelago is a beautiful place. And we'd be pleased to publish panoramas of London, Cairo and other big cities, but these days drones became so popular, so it's almost impossible to get permission for drone usage there.