Valley of Geysers, Kamchatka, Russia. Part II
•
360° Aerial Panoramas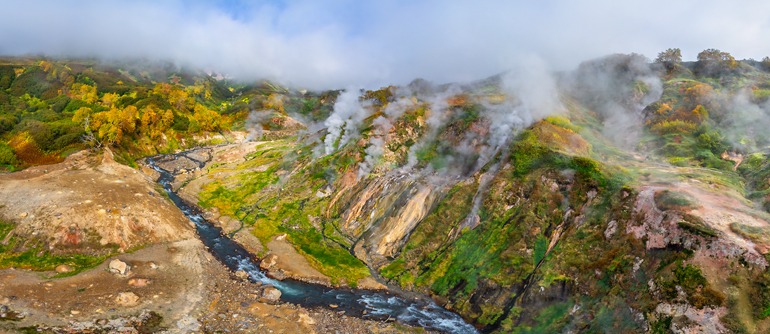 ---
Surprisingly, the Valley of Geysers — one of the most famous attractions of Kamchatka region — was discovered less than a hundred years ago.
It's worth mentioning that along with the Valley of Geysers, Kronotskiy Nature Reserve in Kamchatka is one of the oldest wildlife reserves in Russia dating back to 1882. However, it seems that its territory wasn't explored even after it was given a national status in 1934.
In the early to mid-nineteenth century scientists made long field trips, exploring unique local nature. In the spring 1941, the legendary Kamchatka geologist Tatiana Ustinova and her assistant Anisifor Krupenin went to inspect the river on a dogsled.
On the afternoon of April 14, when they were ready to continue their journey, they saw a steam on the opposite bank of the river followed by a powerful jet of hot water shooting up from the ground. Crossing the river, the researchers found an opening with swirling water that was shooting jets of steam. That's how Pervenets ("the first-born") Geyser was discovered; and previously unknown river (tributary of the Shumnaya River) was given a new name "Geysernaya". Sometime later scientists discovered that the entire river valley was in fact a geyser field. Before this discovery, it was believed that there were no geysers on the continent of Eurasia at all.
Geyser is a natural spring characterized by intermittent discharge of water and steam. Each one is unique and has its own frequency and the nature of eruption. The Valley of Geysers is a canyon being 4 km wide, 8 km long, and 400 m deep. There are dozens of similar canyons in Kamchatka, but this is the only one with 50 geysers and numerous hot springs stretched 6 km from the mouth of the river. All known modern forms of hydrothermal activity is represented in the valley: constantly active and pulsating boiling springs, hot lakes, mud pots, and steam jets.
Unfortunately, in 2007 a natural disaster occurred in the Valley of Geysers, which threatened the very existence of this natural landmark. A powerful landslide hit the Valley of Geysers. Sweeping all trees on its path, mudflow consisting of water, snow, boulders, and small fragments of rocks went down at the speed of 35-40 kilometers per hour. The flow reached the river and formed a dam, covering the most beautiful places of the Valley of Geysers: waterfalls, thermal fields, several geysers, including Pervenets.
In the following months water gradually went away, but the valley terrain changed permanently: Vorota basalt rocks were destroyed, and a few old geysers were flooded by the new Geysernoye Lake formed after the landslide.
But the Valley of Geysers always has a new surprise for you: six years after the natural disaster it suddenly began to restore itself. In 2013, the water level of Lake Geysernoye started to drop, releasing geysers previously hidden under its surface. In 2014, another rockfall occurred. The mudflow caused by landslide flew through the riverbed of the Geysernaya river. The dam of the lake was damaged and the water pool practically disappeared. As a result, Maly Geyser that had been flooded, started functioning again and a new Geyser called Veer appeared. Although it's unlikely that the valley will look exactly like it did before 2007, it is definitely too early to discard some of its places of interest.
Scientists continue to explore the amazing activity of this unique natural monument of Kamchatka, and now you can admire a bird's eye view of this place.
AirPano team would like to express our gratitude to the admistration of the Kronotsky Biosphere Reserve for perfect organization of the photo shoot, and warm welcome.
See also: 360° photos of the Valley of Geysers, 2013. New 360° video of the Valley is coming soon.
Photos by Sergey Semenov, Stas Sedov, Sergey Shandin, Dmitry Moiseenko
3 July 2018
Comments
2018-07-08 13:17:45
5 from 5
"Congratulations. Very beautiful video and lanscape. Thank you."
IOAN PASCU, Romania
2018-07-04 07:37:17
5 from 5
"Beautiful..!"
ed nelson, USA
2018-07-03 19:23:37
5 from 5
"Perfect presentation of beautiful pictures from beautiful and interesting landscape, thank you"
Karel Hofmann, Czech Republic