Cortona, Italy
•
360° Aerial Panoramas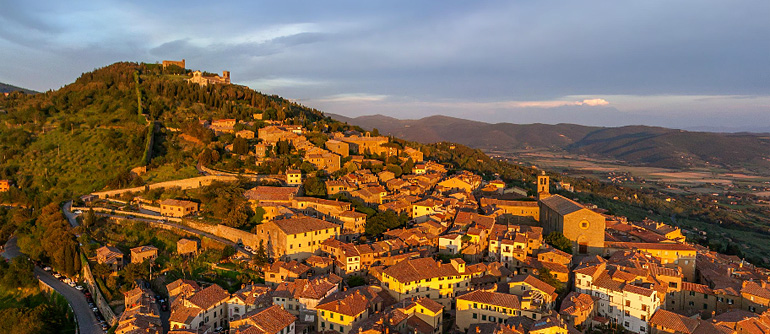 ---
Italy is an amazing country with a relatively small territory that hosts an incredible number of ancient historical, cultural, and architectural monuments. However, not all of them are equally famous.
Our virtual tours will show you a picturesque Italy, with its ancient history and rich heritage, based on 3 cities: Orvieto, Cortona, and Siena. Today we offer you one of three virtual tours of the city of Cortona.
Another small and very interesting city lies about 50 kilometers eath of Siena. It is called Cortona. It was built by Etruscans and played an important role in ancient times. Surrounded by orchards and vineyards, modern Cortona is a true open-air museum located about 600 meters above the sea level.
Medieval and Renaissance period buildings along with the city wall errected in the 6th century that surrounds Cortona give a unique look to the city. The Church of San Francesco is an important landmark of Cortona. It is the first church built by Franciscans outside of Assisi. Several masterpieces created by Luca Signorelli and Fra Angelico, two outstanding artists of the Renaissance period, can be found here.
On top of the hill, there is the Saint Margaret of Cortona church, built under the supervision of architect Bonanno Pisano. Among other interesting monuments are the Cathedral (Duomo) of Cortona and the church of San Domenico; as well as the church of St. Augustine, the castle of the Medici, Municipal Palace, and the 12th century Abbey of Farneta. The Hollywood movie "Under the Tuscan Sky" was filmed here. The peaceful local atmosphere combined with the picturesque scenery made the city of Cortona a desirable dream destination for those who live stressful lives in the big cities.
Photo by Stas Sedov and Dmitry Moiseenko
21 October 2014
Comments
2014-10-26 10:04:13
3 from 5
"What a wonderful photographer work , you make us live and feel the place"
Guessoum Nour-R Riyadh, Algeria
2014-10-25 02:03:54
5 from 5
"What a beautiful area. These photos are beautiful and the continuity of red roofs makes Cortina look so peaceful and relaxing and together."
Ed Nelson, USA
2014-10-24 10:41:37
4 from 5
"Excellent...! While we still improve all media and satellite cast devices, the options to travel to a selected site will help a lot to take a desicion either for the fucking travel agents."
Livorio Quispe Velasco, Peru
2014-10-22 07:34:58
5 from 5
"Thank you for this wonderful presentation!"
S.M. Naufer, Sri Lanka
2014-10-22 05:50:24
4 from 5
"A very interesting presentation. Thank you."
V V S MURTHY kompella, India
2014-10-21 20:17:35
5 from 5
"BEAUTIFUL SOOOOO RELAXING AND INTERESTING I CAN SPEND HOURS LOOKING AND ENJOYING EACH AND EVERYONE OF THE FILMS... THANK YOU SOOO MUCH ELSIE"
ELSIE EBNER, USA
2014-10-21 14:21:39
5 from 5
"Beautiful shots of the city, thank you"
Karel Hofmann, Czech Republic
2014-10-21 13:23:53
5 from 5
Arunava Ghosh, India
2014-10-21 12:30:43
5 from 5
"Nice"
Karthik Reddy, India