Varanasi, India
•
360° Aerial Panoramas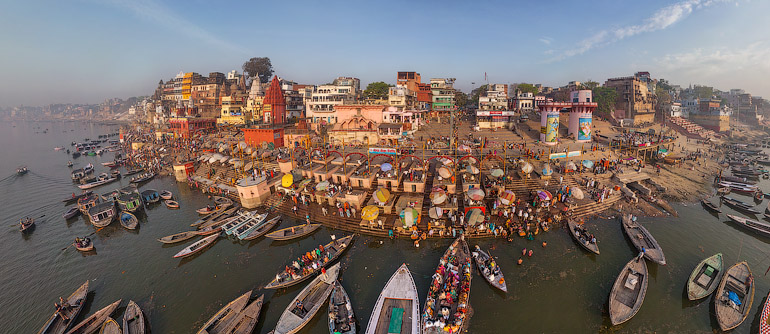 ---
We begin our story about Varanasi with the historical and cultural information about the city. After that there are personal impressions of AirPano photographers Dmitry Moiseenko and Stas Sedov, who went to India for shooting this virtual tour.
---
The ancient city of Varanasi is one of the most interesting landmarks of India, and it is probably the most unique. The fame of Varanasi is based not only on its architecture but also on its history and its important role in Hinduism.
The city is as important for Hindu people as the Vatican is for Catholics or Mecca is for Muslims. According to the legends, the God Shiva founded the city of Varanasi about 5 thousand years ago. In Hindu cosmology, the city is considered the, "center of Earth", and most religious activity here occurs around stair structures called ghats.
Hindu people consider ghats a "celestial road." Ghats can also be found in other cities along the sacred rivers of India. However, only in Varanasi, along the left bank of the Ganges River can one find ghats, which are the most well-known in Hinduism. Ghats serve not only as a ritual lustration, but they also are used for ritual burials followed by the cremation of a body.
There are a total of 84 ghats in Varanasi. Over ten thousand people perform the ritual of lustration in the waters of the Ganges on their steps every day. A real ritual sacrifice is performed on Dashashwamedh Ghat every night; and the ritual Hindu pyre burns on Manikarnika Ghat for many centuries. Hindu people from all over the country come to the city for the holy experience, and numerous tourists watch the breathtaking and bright (literally) ceremonies in awe.
Other landmarks of Varanasi are the 23,000 or so Hindu temples. However, the temples were built not too long ago to replace ancient temples that have been vandalized and destroyed during various war conflicts of the past.
The most famous Hindu ritual structure of the city is Kashi Vishwanath Temple, (The Golden Temple) located in Godolia city district. In 1835 the roof of the temple was plated with 820 kilos of pure gold. Built in the 18th century, the Goddess Durga Temple is also a famous landmark of Varanasi. The only wooden temple in Varanasi built in Nepalese style (after the Pashupatinath Temple in Kathmandu) is located on Lalita Ghat, which is protected by the royal family of Nepal. The fine wood used for the temple was brought to India directly from Nepal.
There are Christian churches and Muslim mosques in the city. And, the city is of great importance for Buddhist believers: it is said that Gautama Buddha gave his first teaching after becoming an Enlightened One in Sarnath, the suburb of Varanasi. Today, Sarnath, with its numerous Buddhist temples and monasteries, is a place of pilgrimage for Buddhists from around the world.
Interestingly, the religious architectural monuments are not the only landmarks of Varanasi. The famous baranasi silk, one of the best quality silks in the entire India, was invented here. It is characterized by its fine whimsical patterns made of gold and silver threads. Baranasi saris are in great demand, and this is why numerous manufacturing plants operate in the city and its suburbs. Tens of thousands of people are employed at the silk-making plants.
And, if I may add, Varanasi is also an important center for education in India, which makes it rise above the common opinion. This is truly a unique mixture of ancient and modern times, rituals and progress, and death and life. We hope that we managed to capture the amazing atmosphere through our photo panoramas.
---
Dmitry Moiseenko's story:
There are a few cities in the world that possess a strange aura. To me, all of them-for some reason-are located in Asia. They are places that take you "on a trip", rewiring your brain and canceling all of your Western habits and values. These places are like another planet where everything is unacceptable yet stunning at the same time, and where people look like us, but they seem to be from another galaxy. I am not saying that it is good or bad; I am just sharing a fact from my own experience.
I first experienced this feeling in Katmandu, and then the second time I was "hit" in Angkor, and the Indian city of Varanasi became the third place that affected me in the same manner. These are places worth returning to. I went to Katmandu 5 times, to Angkor-3 times, and I went to Varanasi only twice, which means that the story has just begun.
It is hard to describe the charm of the city in words. Everything is designed to make a white man feel uncomfortable and scared. This is indeed the City of the Dead, and not only because of the constant fires at the waterfront (24 hours a day they burn dead bodies brought here from all over India). Half-rotten remains of farm animals and human bodies, which for some specific reason were denied "a cleansing fire", float down the river, adding to the overall grim picture.
However, this is not the main point. The point is that people come here to die. Stone steps, multiple temples, and ritual cremation places called ghats, stretch for 5 kilometers along the shoreline. For many people it has become a waiting place. It is a place where they wait for their death, which in some cases may take years or even decades... Hindu people believe that if a person dies in Varanasi and is cremated on the shores of the Ganges River, the cycle of rebirths stops, and his soul reaches the state of bliss and never returns to the material world. The city is charged with the energy of death and its expectation, but there is no negativity evident.
(A quick note for this paragraph: I changed "stretched" to "stretch" because you wrote "come", which means that it is in the present tense. I am going to then try to keep the entire format of this part of the article in present tense.)
Instead, the air is filled with the expectation of happiness. This is a living city: there are over one million citizens, temples and hotels, and narrow streets, which one takes to squeeze down to the riverside while stepping over cow droppings and dodging motorcyclists... In Varanasi, everyone seems to know everything, but, of course, my "guide" spends a good hour taking my luggage and me eventually to a wrong place... The fumes of sewage, hashish, and incense haunt me in the labyrinth of streets, but it all disappears the moment I step out onto the riverbank. There is something like smog, or smoke, or fog hanging above the river. Voices and prayers pierce the air; someone is performing Pūjā, the purifying fire ritual; hermits are meditating over ashes; and someone is doing laundry and brushing his teeth in the Ganges water. Cows leisurely walk on the stone steps, and boats full of locals move up and down the river, going about their important (but completely mysterious to me) business... In the evening, the ghats are illuminated by spotlights and ritual fires. The music is loud, someone is dancing, and the stone steps are ten times more crowded than during the day... Maybe they don't sleep at all? As for me, I am falling asleep to the sound of sitars and shrill chanting...
It is sunrise — I walk out to the roof of the guesthouse. The burgundy disk of the sun is barely seen through the haze. Above the empty opposite bank of the river, not a single structure is evident, only sand is visible. I am looking down at our bank-there is life. A glance into the far distance-there is the desert and death. Only the thin line of the great river separates the two instances...
---
Stas Sedov's story:
So far, to me, India is the most interesting country out of all of the countries that I have visited during my time with AirPano. When I tell my friends about India, they almost always ask me about the smell. In general, I wouldn't say that things are that horrible in India. There are rather sophisticated places in Delhi, for example. However, the city of Varanasi stands apart from the rest of the country. In my personal uneducated opinion, the smell of Varanasi probably amounts to the smell of India times two.
It is hard to put it in words, but let me try anyway: imagine an old congested town with practically no sewage system, where all waste flows into the river in open ditches. Cows and goats roam the streets freely. Local people are also not too shy to answer the "call of nature" right then and there. And, all this "incense" is liberally seasoned with a sweet smell of cremated bodies.
Europeans are strongly advised to not bathe in the Ganges. I have heard enough educational stories about what one can "catch" in the local waters, and so the idea to take a dip didn't even occur to me. There was something else that puzzled me: literally, after just a few hours in the city, I stopped smelling the feces that was flowing into the river. I have no idea what happened, though. Perhaps it was the fresh wind blowing from the opposite, empty, riverbank, or, perhaps my brain experienced a sensory overload and simply shut off my receptors. One way or another, the foul smell absolutely didn't bother me while Dima Moiseyenko and I photographed Varanasi for several days.
There was only one unpleasant moment: the boatman, who was taking us down the river during our photo sessions, telling us a story of his life and chewing khat (a plant with drug qualities that Indian people traditionally chew for hours), at one point spat khat overboard and scooped some water up to rinse his mouth. Literally, just a few minutes prior, I had seen yet another ritual bundle with the remains of some animal in the water. I almost threw up right there...
Apart from bathing in the Ganges, there is another very important aspect of the city life: the ritual burning of dead bodies in the crematories located on the riverbank. The British had tried to eradicate this tradition after colonizing India, but they didn't succeed. Naturally, we had to try and shoot one of the functional crematories from the air.
I have to say that although tourists are allowed to watch the cremation ceremony, taking pictures is prohibited. However, we managed to persuade the crematory workers to let us do so. Truth to be told, our boatman did not like the idea, and so after his brief "oar duel" with Dima, he bid us farewell. And, so, our aerial photo shoot had to be done from the shore.
25 July 2014
Comments
2017-11-16 21:46:26
5 from 5
"Please visit Pakistan also and include it in your breathtaking collection."
Asad Masood, Pakistan
2017-03-20 12:22:30
5 from 5
"Awesome...Amazing...Wonderful...wow...speechless.
The Great job done...hats off to team Air Pano. My Sincere regards...
Its like reliving my childhood moments lived in my birthplace...
I miss you and love you Varanasi - the Benares...The Kashi and Mokshadayini Ganga... eternally flowing through it...
But the Benares is not just about the Ganga and Ghats...there are something more... philosophical lifestyle..architecture..knowledge..education..capital of spirituality."
Amarendra Sharma, India
2016-08-29 21:33:07
5 from 5
"thank you very much for the panoramas"
oussama hocine, Algeria
2015-10-27 21:31:08
5 from 5
"Your WebSite is amazing but your panoramic images are arresting, stunningly beautiful"
Ankit Maurya, India
2015-09-30 15:29:52
5 from 5
"Such a beautiful my Bornplace,"
Suraj vishwakarma, India
2015-09-15 15:21:37
5 from 5
"It is a brilliant initiative executed perfectly. Too good."
Sudhanshu Mishra, India
2015-05-12 18:28:21
5 from 5
"IN realy..it is incridible web.....it is gratre than expection....thanks to all member of #airpano"
HEMANT CHAURASIYA, India
2015-04-08 12:40:28
5 from 5
"Superb Work...Thanks"
Abhishek Singh Hemant, India
2014-11-11 14:59:38
5 from 5
"This is great feeling to see my city in 3D.

Thanks AP"
Ashish Kumar, India
2014-10-21 14:34:18
5 from 5
"It was awesome. Really good work."
Keshav Jain, India
2014-10-10 09:31:21
5 from 5
"Your pictures , outstanding! The narrative booth fascinating and very educational. Most enjoyable."
Ed Nelson, USA
2014-09-28 22:18:38
5 from 5
"Ur done a great job excellent all the best sir.."
RAGHAVENDER RAYABAGI, India
2014-09-06 22:36:09
5 from 5
ashvin khatri, India
2014-09-05 10:00:45
5 from 5
"Excellent!!!!!"
Swami Vedaswarupananda puri, Armenia
2014-08-18 18:15:12
5 from 5
"Thanks Team for such gr8 panorama view of Varanashi!!"
Amit Mane, India
2014-08-03 14:18:45
5 from 5
"Incredible ! Awesome . Thank you so much.
Only an Hindu can understand the gr8 significance of this revered holy river. Ma Ganga"
Santhosh Kumar, India
2014-07-30 08:35:30
5 from 5
"Many Thanks Air Pano Team, seeing my native place like 3D wow!!!
Many Thanks Keep it up guys!!!"
Akash Yadav, India
2014-07-27 23:16:13
5 from 5
"Wow..., amazing views, again thank you."
Iwona Kundys, Poland
2014-07-26 16:30:01
"The oldest living city in the world is Damascus, which detracts nothing from the glory of Varanasi"
Aziz Goksel, USA
2014-07-26 09:26:12
4 from 5
"Very nice work! Thank you very much!"
SM Naufer, Sri Lanka
2014-07-26 00:37:44
4 from 5
"The only reason I gave A 4 instead of a 5 is because I don't like man-made items in my scenery. I love your panoramas of rivers, fall, mountains, etc. I think your concept and photography (360 degree panoramas) are outstanding! I feel that anything man adds to the scenery, detracts from it. If it's possible, I would prefer to receive only pristine panoramas (no people, buildings, cars, boats, planes or the like. Regards, Michael Asmus"
Michael Asmus, USA
2014-07-25 22:23:43
5 from 5
"Outstanding opportunity to see parts of the world to which I cannot travel. Thank you."
Harold Rickerson, USA
2014-07-25 17:43:01
5 from 5
"My best wishes and regards to your work"
Basel Bibi, Jordan
2014-07-25 17:00:29
5 from 5
"Wonderful, perfect presentation, thank you"
Karel Hofmann, Czech Republic
2014-07-25 16:34:00
5 from 5
"Very nice project.Thanks."
dhanakoti rao, India
2014-07-25 16:27:17
4 from 5
"Varanasi (formerly known as Banaras)is the oldest living city in the world - continuing it's existence much before Lord Buddha, the founder of Buddhist religion, who born about 2,550 years ago as par recorded history. Lord Buddha spent most of years of his life in Varanasi."
DP Bhattacharya, India
2014-07-25 12:51:21
"one of the oldest living cities of the world"
Karthik Reddy, India