India
•
360° Aerial Panoramas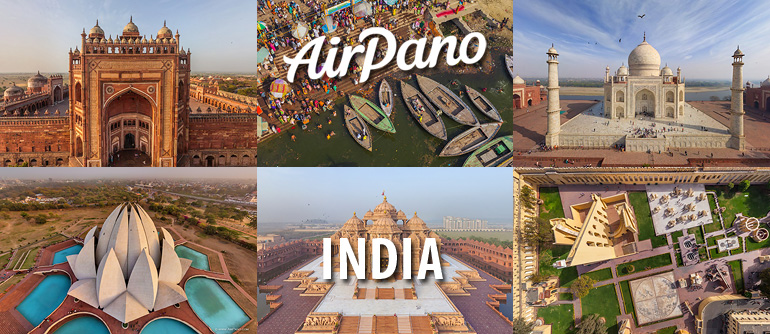 ---
India is one of the most ancient countries in the world: even 500,000 years from now its territory had already been inhabited. Of course, no monuments of that time have remained till nowadays, and the architecture of India that we got used to know and appreciate so much was born only in the 16th-18th centuries. But still, these architectural monuments have no equals in the whole world. And now we invite you to have a tour over these exotic lands with their most precious cultural heritage.
Undoubtedly, the most famous landmark of India is Taj-Mahal — a monumental complex in Agra, built by the order of the Mughal emperor and descendant of Tamerlane, Shah Jahan, as a tomb to his favourite wife. Around 20,000 workers were engaged in building this monument which took place between 1632 and 1653. As a result an exquisite five-domed construction on a platform with four minarets in the corners was created. In the daylight the palaces looks white, at dawn it looks pink, in the moonlight it has the shades of silver. The majestic construction is surrounded by a park, canals and fountains. It is not just architecture, but a wonderful love story inscribed for centuries.
Another crucial feature of the touristic India is Jaipur city, located in the state of Rajasthan. During the construction of the city, which occurred in 1727, pink coloured stones were used. All these houses are still well preserved and thanks to them Jaipur was nicknamed "the Pink City". Its founder, Maharaja Jai Singh II, was known not only as a politician, but as a scientist as well. He was interested in maths, architecture and astronomy — that's why another major landmark of the city is the giant observatory Jantar Mantar. In addition to this, many gardens, temples, fortresses and other monuments — such as Hawa Mahal (the Palace of Winds) or the 18-meters high tower of Sargasuli — have remained in this city till nowadays.
Fatehpur Sikri ("the City of Victory") probably is not so widely known, but it has a longer and more ancient history. The name for this city appeared when Mughal emperor Babur won at the battle of Khanwa. In between 1571 and 1585 Fatehpur-Sikri served as the main city of the Mughal Empire, and now it is interesting for its well-preserved architectural monuments of that time: Panch-Mahal (the Wind Catcher), the Gate of Padishah, the drum house Naubat Khana, the Jama Masjid mosque and many others.
Delhi is the second largest city in the country after Mumbai and it does not need further recommendations. During the long centuries of history it has received the name of "the Capital of Seven Empires". More than 60,000 precious monuments are situated here; Qutb Minar, the Red Fort and Humayun's Tomb are included into the list of UNESCO World Heritage Sites.
But one modern landmark of Delhi definitely deserves our attention: it is Swaminarayan Akshardham complex (translates as "the Abode of the God"), built in 2005. The construction of the temple lasted five years; more than seven thousand masters and three thousand builders from all the regions of India took part in it. Together they created a temple measuring 42 meters high, 94 meters wide and 106 meters long. It is decorated with 234 ornately carved columns, 9 domes shining in the sunlight, 20 four-sided towers and more than 20,000 figures of Hindu mythology. It is also the largest Hindu temple in the world.
The ancient city of Varanasi is a landmark of another nature: it is famous for its history and special meaning in Hinduism. For Hindu people this city is as important as Vatican for Catholics or Mecca for Muslims. According to the legends, Varanasi was founded by the god Shiva over 5,000 years ago. In Hindu cosmology the city is referred as "the centre of the Earth". The main religious activity is strongly connected to ghats — riverfront step constructions leading to the Ganges River. Every day thousands of people from all corners of the country come here to make ritual ablutions in the waters of the sacred river, and this fascinating scene is one more bright illustration for the life of incredible India.
You are invited to have a fabulous trip to the history and culture of this unique country!
Photos by Dmitry Moiseenko and Stas Sedov
29 June 2016
Comments
2017-08-31 10:45:55
1 from 5
"very nice"
YASHWANT S HULSWAR, India
2017-02-07 21:59:47
5 from 5
"REALY EXLENT PHOTO GRAPHY I HAVE TWO 360 CAMERA"
dipak pawar pawar, India
2016-12-25 20:32:01
5 from 5
"Wow! Wonderful pictures.Absolutely apt background music and the one being played for Taj Mahal is melodious and divine. Congrats to the entire team who filmed this.
Beautiful places are there in South Indian States. you may consider covering them also."
Dhandapani Elangovan, India
2016-12-16 15:20:41
5 from 5
"very nice"
shanwaaz khan, India
2016-07-02 23:20:27
5 from 5
"Tremendous job. The narrative is most interesting and enlightening."
ED NELSON, USA
2016-06-29 18:04:11
5 from 5
"Great and fascinated India. Beautiful video and photo. Congratulations and thanks."
IOAN PASCU, Romania
2016-06-29 16:05:13
5 from 5
"Very beautiful pictures.
As an 74 years old Indian,I feel delighted.You have shown our unique cultural heritage not dust and poverty of India.
Thanks and thanks a lot."
DP Bhattacharya, India
2016-06-29 13:33:08
3 from 5
"Nice pics, but you haven't covered the south India temples which has more history and dates back to hundreds of years."
Krishna Reddy, India
2016-06-29 13:02:52
5 from 5
"Very beautiful and perfect presentation of your team, thank you"
Karel Hofmann, Czech Republic