Inside the Thrihnukagigur volcano, Iceland
•
360° Panorama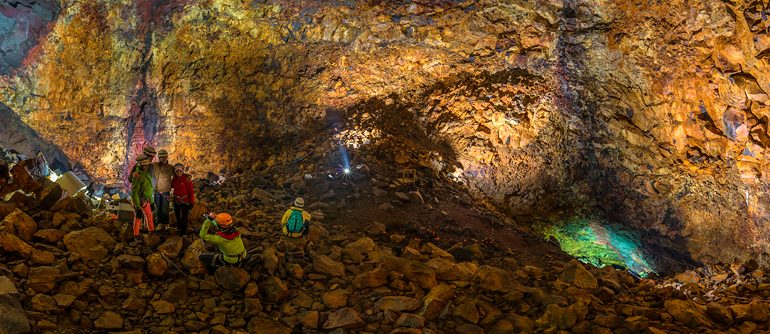 ---
Iceland is one of the most active volcanic regions in the world, with eruptions occurring every 3-4 years on average. It´s mostly due to its location on the Mid-Atlantic Ridge, where the Eurasian and North American plates are moving apart — and therefore literally opening the earth's crust. In the center of this ridge sits Thrihnukagigur volcano.
Thrihnukagigur volcano is dormant — it last erupted over 4,000 years ago. There are no indications of it erupting again in the near future. The volcano's name is directly translated as 'Three Peaks Crater'. The beauty of the crater mostly consists in the various colourations found inside it and its enormous — and to some extent intimidating — size. To put it in context, the ground space is equivalent to almost three full-sized basketball courts planted next to each other and the height is such that it would easily fit full sized Statue of Liberty into the chamber.
The magma chamber is often referred to as the heart of a volcano. It's there that the liquid rock waits to find a way through to the surface, causing a volcanic eruption. In most cases, the crater is usually closed after the eruption by cold, hard lava. Thrihnukagigur volcano is a rare exception to this, because the magma in the chamber seems to have disappeared. It's believed that the magma solidified in the walls or quite simply retreated to the depths of the earth.
An open elevator system carries you down to magma chamber. It's speed is very slow to provide the opportunity to enjoy the amazing scenery. Elevator stops at 120m depth, where we were shooting our panoramas.
We want to thank Inside the Volcano company for organization of this tour.
30 August 2013
Also we offer you to see virtual tour with 82 panoramas of Iceland.
Comments
2014-03-03 23:26:05
5 from 5
"One more time I have again impress with technology....this is really superb feeling to just watch inside....Thanks a ton as it won't be possible without your help."
Nishant Bhosale, India
2013-12-20 19:35:54
4 from 5
"Bellissimo! Meravigliosa Islanda! I Always wanted to visit Iceland and sooner or later I will catch the flight! Northern Europe colors and athmospheres are just Awesome!"
ENRICO GRILLO, Italy
2013-12-02 16:50:46
5 from 5
"Notre nature est belle, ne la détruisons pas. Vos images sont fascinantes et superbes. Merci

Our nature is beautiful, let us not destroy it. Your images are fascinating and magnificent. Thank you"
Bernard Pot, France
2013-11-06 08:00:44
5 from 5
"Thank you for the views of places that I will probably not be able to visit personally."
Richard Rubicam, USA
2013-11-05 10:06:53
5 from 5
"azamata barasti jouana"
sherkoo naghshi, Iran
2013-10-22 15:28:28
5 from 5
"quite amazing !"
Samuel Chiu, Taiwan Region
2013-10-02 04:14:24
5 from 5
"IMPRESIONANTE UNA MARAVILLA GRACIAS."
RAFAEL RUIZ RUIZ, Spain
2013-09-25 01:44:25
5 from 5
"Bosi Stefano è semplicemente incredibile impressionnte bello anche l'ascensore che scende lentamente grazie Islanda ci sono molti vulcani qui."
STEFANO BOSI, Italy
2013-09-19 02:07:00
5 from 5
"Beri gudi"
André Luiz Mazzorana, Brazil
2013-09-18 04:55:38
5 from 5
"AWESOME!!!!!!!!!!!!!!!!"
Susana Farias, USA
2013-09-16 18:04:46
5 from 5
"very beautiful thanks"
behrad parsa, Iran
2013-09-08 03:16:13
"awesome thing saw this for the first time...totally loved it ....."
akhil massey, India
2013-09-07 21:38:41
5 from 5
"SUPERB PHOTOGRAPHY. IT'S AMAZING & INCREDIBLE, WHILE WATCHING IN FULL SCREEN WITH ANIMATION IN CLOSEUP VIEW AND LONG SHORT. FANTASTIC."
Dorairajan Rangadorai, India
2013-09-06 22:01:04
5 from 5
"i like to go to beautiful place that you show but i can not go because i will die because i have gone cancer"
mehdi hadi, Iran
2013-09-05 16:37:35
"Great.Thanks"
Alireza Arabzadeh, Iran
2013-09-04 05:40:54
5 from 5
"Who could imagine,few years back that a very special group of people would bring the best of the world to their finger tips and eyes.Quien pudiese haber imaginado,poco años atras,que un grupo muy especial de personas,les traería lo mejor del mundo al alcance de sus dedos y ojos. Keep the good work!"
JOSE MUJICA, Venezuela
2013-09-02 06:22:13
5 from 5
"***** E X C E L L E N T ***** as ALWAYS !!! Could not be better !!! CONGRATULATIONS !!! from ARGENTINA/USA!"
Ines BARRIONUEVO, USA
2013-09-02 02:00:42
4 from 5
"very good...but...
where's the panaroma of IRAN....??"
mehran mirdamadi, Iran
2013-09-01 14:26:51
5 from 5
"thank you
very good"
reza karbalaei, Iran
2013-09-01 13:57:09
1 from 5
"thanks."
radman tavakoli, Iran
2013-09-01 11:05:34
5 from 5
Bojan Mehle, Slovenia
2013-09-01 09:10:47
5 from 5
"I really love the color! I visualize that6 I am inside a Golden Planet! Isn't it perfect?!"
Olga Etneiler, Philippines
2013-08-31 20:56:10
4 from 5
vcente cinos, Spain
2013-08-31 14:08:02
5 from 5
"Very beautiful and wonderful"
leila zandi, Iran
2013-08-31 09:45:36
5 from 5
"Wonderful fascinating images, thank you for the excellent presentation of images from inside the volcano."
Karel Hofmann, Czech Republic
2013-08-31 04:03:38
5 from 5
"Just "beautiful" !!"
Ed Nelson, USA
2013-08-30 23:15:42
5 from 5
"Maravilhoso, sensacional!!!!!!!!!!!!!"
Paulo Rattes, Brazil
2013-08-30 22:17:12
5 from 5
"Adventurous! Lucky guys to go there and experience mother earth from outside and inside...
Brave photographs, shootings and off course nice music too....
Pl keep bringing such beautiful mother earth to our eyes so that we too can see its beauty from inside and outside.
Good work and thanks to all of you there!"
Naren Pradhan, India
2013-08-30 18:15:25
4 from 5
"When we sleep we forget that there are many more things to know and observe than our hunger and sex which may fury of nature like last days Pompei or Tunguska explosion of Siberia."
D P Bhattacharya, India
2013-08-30 15:33:10
5 from 5
"Un autre de ses beaux survols par AirPano"
Dominique Mailhot, Canada
2013-08-30 13:13:02
5 from 5
"Imagens sensacionais , que nos fascinam
Parabéns pelo trabalho"
Benjamim Pereira, Portugal
2013-08-30 13:02:09
5 from 5
"bajecne....."
anna obrtlikova, Czech Republic
2013-08-30 12:25:40
5 from 5
"It's just awesome......."
Sarabjeet Dhillon, Canada