Huanglong, Sichuan, China
•
360° Aerial Panoramas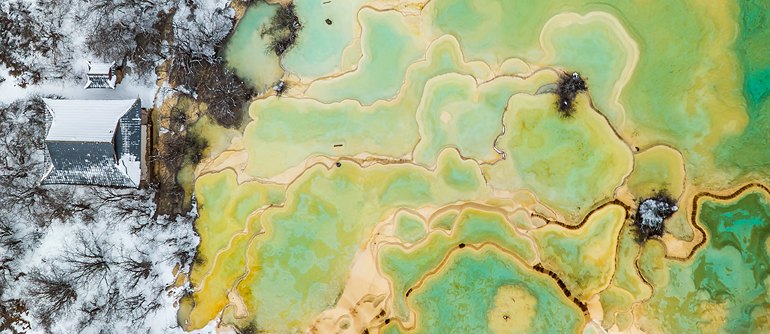 ---
China can be proud of many remarkable natural sights, one cannot help admiring the view of fantastic shapes of the landscape and bright magic colours. Moreover, many of these places have rather poetic names: for example, in the Valley of Nine Fortified Villages one can find the Pearl Shoal and Sleeping Dragon Lake, and in the eastern part of the country Thousand Island Lake is situated... Well, AirPano team is not good at poetry. But we will try to describe the beauty of one more natural monument of China in our usual panoramic format: this time it will be the reserved area of Huanglong situated in the northwest part of Sichuan. The name can be translated as 'Yellow Dragon' due to travertine terraces having several kilometers in length (sometimes they can be referred as cascades) and shimmering gold in the rays of the sun. All these features make it look like a sleeping mythological creature.
Huanglong consists of numerous unique landscapes of travertine landforms: lakes, waterfalls, springs, rapids, steps, karst caves and tiny decorative gardens "Bonsai". Going down in cascades, terraces form eight groups of lakes: the biggest ones have the area of several hundred sq kilometers, the smallest ones can be only of the size of a plate. The largest group named Multicoloured Pond and consisting of 693 pools is situated at the height of around 3,500 meters.
The flowing down water is actually transparent, but it contains calcium carbonate in large quantities which add shades of gold to the limestone banks. Seaweed, in its turn, creates the shades of turquoise, some other formations create darker colours. Cascades are surrounded by thick woods, that's why in autumn, at the time when the trees turn bright colours, this place looks exceptionally beautiful.
The unofficial name for Huanglong is 'Fairy Lands', and local dream-like sights are the reason for that. In addition to multicoloured pools, there are also the glowing waterfall, the boiling pond and many other fantastic masterpieces of nature. The ancient temple complex, that once consisted of three buildings (only two of them has remained till nowadays, they are situated at the altitude of 3,470 and 3,568 meters), is one of the man-made monuments of Huanglong. And in the cave full of stalactites one can also find statues of Buddha encrusted with crystals.
The Fujian River flowing through Huanglong seems to have come out of a painting of a master, who was going to draw a tree. The main flow is straight like a trunk, and smaller flows are curvy like branches. The biggest pure water pool is Erdao Lake, it is surrounded by limestone caves which connect it to the neighbouring lakes. The colour of Erdao can vary depending on the season. The surface of the lake seems to be calm, but that's another trick of this place: the strongest undercurrent is quite typical for Erdao. Huanglong also possesses snow-capped peaks, glaciers and Zhaga Waterfall, which is 93 meters high and is considered to be the highest among other Chinese waterfalls.
The biggest pride of the area is its local flora. More than 1,500 species of land plants were found here, including unique Sichuan pine, unifoliate grass or grass-star which can be found only in China and are protected by the state. Huanglong is also inhabited by 59 species of animals and 155 species of birds. The IUCN Red List of Threatened Species includes the saiga antelope, the Yunnan leopard, the Thorold's deer, the golden snub-nosed monkey, and the most famous animal of China — the giant panda.
In 1992 Huanglong was inscribed as a World Heritage Site by UNESCO. The total area of the reservation is 1,830 sq kilometers and is situated between heights of 1,700 and 5,588 meters, but thanks to our panoramas you can easily take a trip around these lands.
Photo by Stas Sedov and Dmitry Moiseenko
13 August 2015
Comments
2018-03-17 05:34:21
5 from 5
"Gracias por su trabajo, esta genial!!!"
Georgina Hernandez, Mexico
2017-07-24 23:47:44
5 from 5
"It's awesome! Nice view! Thank you for sharing!
Maravilhosa paisagem! Obrigado por compartilhar!"
Kelvin Costa, Brazil
2017-07-12 21:50:12
5 from 5
"Absolutely beautiful"
Marlene Moyer, USA
2015-09-09 06:07:02
5 from 5
"one of the best things I ever found on net , great job !!! . Many thanks for it"
Eberhard Ritzau, China
2015-08-29 17:57:55
5 from 5
"Very beautully!"
h hh, Iceland
2015-08-14 06:50:31
"Mind blowing natures miracle creation."
Sarla Gupta, India
2015-08-13 19:06:24
5 from 5
"Gorgeous presentation interesting nature, thank you"
Karel Hofmann, Czech Republic
2015-08-13 14:12:35
5 from 5
"Nice"
Karthik Reddy, India