Horseshoe Bend, Colorado River, Arizona
•
360° Aerial Panoramas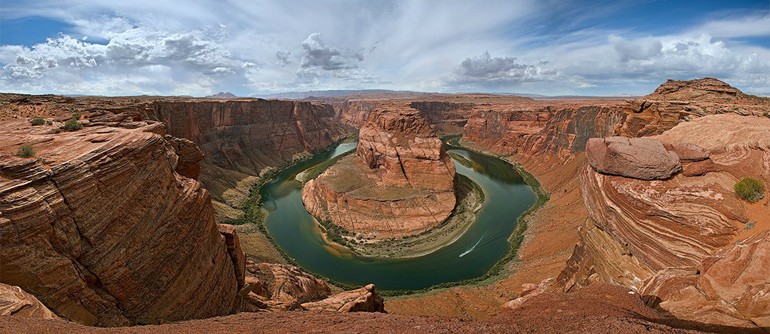 ---
American Southwest is where the wind, water and passing time carved the most impossible, fantastic shapes in the ancient sandstone. This area is a true geological Wonderland, and Horseshoe Bend of the Colorado River is its most precious jewel.
The emerald-green river makes a giant u-turn of 1,000 ft (330 m) under the steep cliff of the Marble Canyon. How deep is 1,000 feet? Imagine standing at the rooftop of 99-storey building. Can you get to the edge? Keep in mind that there are no guardrails at the Horseshoe Bend overlook. There is actually no overlook per say. You just casually walk on the giant plateau until suddenly the abyss opens up under your feet. You breath is taken away, and even the bravest of us feel dizzy and weak for a moment. By the way, this white spot on the river is a speedboat with people, and that tiny speckle near the end of the road is the parking lot for several dozens of cars. I think this will give you a good idea of the picture scale.
Remember the old saying "dripping water wears away a stone"? The Colorado River is the best example. Over the course of billion years a little river, running from Rocky Mountains of Colorado and being filled up by melting mountain snow, has created hundreds and hundreds of miles of colossal canyons down its path. Magnificent Grand Canyon begins a bit south from the Marble Canyon, which you can partially see in this virtual tour; and if you look north, you'll see Lake Powell, which is also created by overflowing waters of the Colorado River. We'll visit these places in our future virtual tours!
Here is a piece of trivia for you: people looking for a "beautiful death" often choose Horseshoe Bend as a place to jump into their "next life". So this place is rightfully considered the suicide capital of Arizona.
It is relatively easy to reach the Horseshoe Bend viewpoint. The Bend is a short hike away from U.S. Route 89, about 2.5 miles (4 km) south of little town called Page (AZ). It's only half of a mile from the parking lot to the cliff. Thanks to its convenient location, Horseshoe Bend became one of my very first places in American Southwest. Places that I visited and fell in love with. Since that time my every trip to the Southwest brings me here. Sometimes I am alone, sometimes — with a group of students (I conduct educational photo tours to American Southwest on a regular basis). I enjoy observing mixed feelings of excitement, curiosity and dismay in people who stepped on the Horseshoe Bend cliff for the first time. Sometimes I come with my camera, sometimes — without it, so I can sit at the edge, dream and think of the essence of our being.
One day we had an idea to photograph this amazing place from above. The only available helicopter was found almost 250 miles (400 km) south, but it didn't stop us! Horseshoe Bend and near-by Lake Powell looked unbelievable from the air, and aerial photographs that we took during that flight still win international photo awards.
During one of those helicopter flights in 2006 Oleg Gaponyuk (future founder of AirPano) has shot his first spherical panorama, which has been digitally assembled later. This sphere became the beginning of aerial spherical panoramas. Click here to view >>>
When I was sitting next to Oleg in the helicopter that day, I was puzzled — what is he doing? — I watched intensely our pilot Maria, who followed Oleg's instructions and held us up on the same level rotating clockwise, nervously wiping sweat off her brow.
Years later, as AirPano project grew bigger I continue taking part in it with great pleasure. Panoramas presented in this virtual photo tour were shot in different seasons: September 2010 and February 2011. I hope that you will find them interesting. Enjoy!
You can also see the ground panorama here.
Story and photos by Mike Reyfman
14 September 2011
Comments
2016-04-28 10:08:57
5 from 5
"Superb!! ...I always wanted to see this place with Aeril view....fantstic !!!"
Prajakta M, India
2014-02-09 17:03:08
""Amazing!! What a dedication to bring our world to us. Thank you is not enough. Since I just visited Bryce Canyon just a month (Sept 2012)ago."
jafry morocco +212630922303"
jafry amine, Morocco
2013-06-25 07:23:54
5 from 5
"Absolutely stunning! Both Horseshoe Bend and the photography. I've heard of it, but somehow missed it on a few trips thru the area. It is on my list for next month though! Great job on capturing the scenic beauty!"
Mike Wassall, USA
2012-12-17 14:36:24
"Eu tive o prazer de fazer um passeio de bote nesse paraíso, e impressionante a beleza e a paz que voce sente, fiquei encantada com o lugar."
Valeria Azevedo, Brazil
2012-11-25 10:45:33
"Anne,do you want to know what does arlette say in french?
She is saying that"I'll probably never finances to get out there and see this marvel many others, so thank you for sharing with us your beautiful panoramas. GOD bless you and bless you.""
loren williams, Australia
2012-11-12 19:05:31
5 from 5
"Amazing!! What a dedication to bring our world to us. Thank you is not enough. Since I just visited Bryce Canyon just a month (Sept 2012)ago."
Sharmila Chakraverty, USA
2012-10-15 07:15:10
5 from 5
"thankyou for sharing..."
odile santana, Brazil
2012-07-25 14:43:30
5 from 5
"Nosso planeta é maravilhoso! Temos que cuidar."
Gustavo Ferreira, Brazil
2012-06-30 13:40:19
5 from 5
"The Best Quality HD I ever have seen.Congratulations.ABSOLUTLY PERFECT!

Greetings Etienne."
Etienne De Cleen, Belgium
2012-04-29 18:29:41
5 from 5
"la splendide Amérique que j'adore et que j'ai eue la chance de visiter plusieurs fois encore merci pour ce fabuleux voyage"
elisabeth chatel, France
2012-04-21 13:13:19
5 from 5
"Je n'aurai probablement jamais les finances pour aller sur place voir cette merveille et bien d'autres, alors je vous remercie de partager avec nous vos superbes panoramas. Que DIEU vous garde et vous bénisse."
arlette clouet, France
Varvara, AirPano: Dear Arlette, we are grateful for your message, but it would be better if you wrote in English.
2012-04-15 20:39:44
5 from 5
"It is fabulous. Very very nice. Lovely.

Esteban Santolaria"
Esteban Santolaria, Spain
2012-04-06 01:41:56
5 from 5
"Remind's me of Mule Point in Bluff, Utah....impresive to see the tiny boat in the water below...gives a sense of immensity, nice place to get married i hear!"
Martin Mainville, Canada
2012-03-11 23:52:28
5 from 5
"bravissimi"
giampietro dellacasa, Italy
2012-02-28 12:07:42
5 from 5
"I was there last year. The unexpected rain came down when we get to the site and everybody left in a hurry just to get back to the tour bus. But I did not. I was stoned still, standing at the edge, feeling the cold wind and the chilling rain drops keep hitting on my face. All my senses were lifted and I felt like floating around the bend just like this video..... Good thing I did not jump!!! I got back to the Bus late but I knew I had left a piece of my heart at this wonderful place on earth. Viewing this High Res Panarama clip make me felt like, The Horse shoe Bend revisited. Great Job. I salute you and the team for an outstanding job and most of all, thank you so much for sharing. John"
john N. lee, USA
Varvara, AirPano: It's impressive story, John. Thank you both for it and for your interest in our project. Hope, you'll be back soon to view something new we'll have made.
2011-12-28 19:01:52
5 from 5
"Very true story, and better panorama !!!!!"
Paco Lorente, Spain
2011-10-21 16:26:50
5 from 5
"Fabulous! It is a precious jewel indeed! Super!"
Steve Rock
2011-10-18 15:50:49
5 from 5
"No words but... emotions :) fantastic!"
Bob Yanki
2011-09-29 23:07:13
5 from 5
"Well done! Good Job! Wild-Wild-Wild-Wild West..."
Ben Smith
2011-09-16 21:13:37
5 from 5
"I think this is the best one yet. Certainly worth freezing our butts off on that cold day with the door off!"
Maria Langer