Hong Kong - the City Where Dreams Come True
•
360° Aerial Panoramas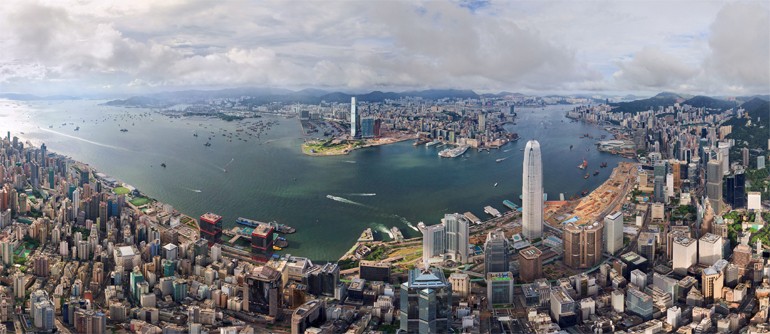 ---
On the way from the romantic Bali Islands to Moscow, Dima decided to make a one-day stopover in Hong Kong. He was traveling with his girlfriend, Alina. After an enjoyable evening stroll through the city, they returned back to the hotel. As they got out of the taxi, Dima asked his girlfriend what she was dreaming of — "It would be wonderful to stay here for another week!" said Alina.
Hong Kong is known to be the city where dreams come true.
The taxi left, carrying away Dima's backpack with the telephone, credit cards and the passport on its back seat. It was Friday night, their plane was leaving on Saturday, and the Embassy was going to be opened only on Monday... This is how Dima and Alina have stayed in Hong Kong for another week.
Surveillance video cameras at the hotel's entrance captured the license plate of the taxi, but the backpack was no longer there. The driver said that he didn't see anything and that the next passengers must have taken the backpack.
While a friend from Moscow was sending his new foreign passport to Hong Kong, Dima had a lot of spare time. He shot these panoramic photos when the sky was especially beautiful, decorated with magnificent clouds.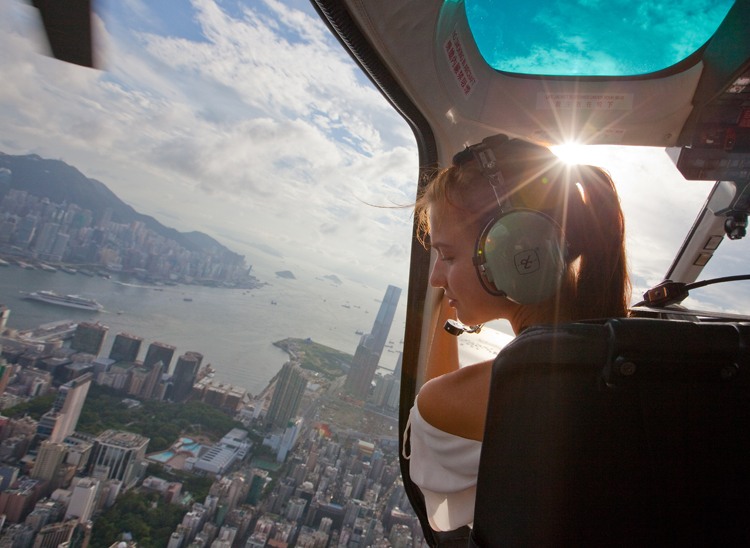 Alina's wish helped to stay in Hong Kong for another week
Editor's note:
Actually, I also wanted Dima to stay in Hong Kong and shoot the panoramas. And as we know, Hong Kong is the city where dreams come true...
---
Now, a few words about Hong Kong.
Hong Kong is both a city and a state, and (more precisely), a special administrative area of the People's Republic of China. It is truly "special" in all regards.
Hong Kong is one of the worldwide financial centers, and this mere fact places certain obligations on its residents and determines the city's architectural appearance (the first skyscrapers in China were built here). Additionally, a special administrative status allows Hong Kong to have its own laws, and it takes full advantage of those.
For example, the notorious one-child Chinese birth restriction policy does not apply to Hong Kong: its citizens may have as many children as they like. Frequently, Hong Kong residents do not think of themselves as Chinese. They speak fluent English, which is the second national language here. Those who were born prior to 1997 have "open passports", which means they can travel without a visa to the countries that otherwise require an entrance visa from Chinese citizens.
So, where does "prior to 1997" come from? It is the year when the former British colony became a part of China. Prior to that, Britain has leased this land from China for 99 years, developing it and spreading its culture. Nevertheless, this lease agreement was not renewed upon expiration.
Rumors say that the British were unable to keep their overseas territory because Hong Kong does not have drinking water sources of their own. Historically, drinking water was delivered to the islands from the Chinese mainland, which imposed a strict condition — a renewal of lease agreement would bring the water supply to an end. As a compromise, Hong Kong was promised a full autonomy and preservation of their lifestyle. Nowadays, Hong Kong is an incredible mix of all achievements of the West with unique appearance of the East.
Charming colonial-style mansions co-exist in harmony with high-rise buildings erected due to the limited territory. Architects of Hong Kong are guided by modern technical knowledge, and at the same time they follow Feng Shui tradition. Hence, many buildings have mirror tiles on their front side to prevent evil spirits from getting inside. The corners of buildings can be slanted or rounded — it is a Feng Shui symbol of friendship and protection from all negative influence.
The name of the city, "Hong Kong" is translated as "fragrant harbor". Thus, water and plants become an equally important part of the local landscape. Actually, there is a lot of greenery around: both in the city, and in the famous Victoria Park — home of the Victoria Peak, the highest (552 meters) point of the Hong Kong Island.
By the way, Hong Kong has a total of 262 islands in the South China Sea, most of which are really small. The largest island of the archipelago is the Lantau Island, famous for its airport, Disneyland and the gigantic Buddha statue. Curiously enough, fairly small territory of Hong Kong has over 600 shrines that are spread all over the islands.
"The Hong Kong Skyscrapers" and "The Hong Kong Lights" are the two names of the second-largest Island. It is this very island that you can see on this panoramic photo.
Photo by Dmitry Moiseenko
30 December 2011
Comments
2015-12-23 05:42:52
5 from 5
"Yale---Hong Kong"
Xin Cheng, Taiwan Region
2015-10-24 18:27:40
5 from 5
"Ah it comes again, a random chinese guy being proud of something that belongs to Hong Kong.

All those building and the current economical status, they are all made possible by hardworking Hongkongers, not chinese.
We are proud of our city, our land, our people, our culture, our law.

These are not belongs to china and it will NEVER BE, cause in your country you got no law but orders of the party no humans but cold-blooded monkeys no culture --- which your country destroyed itself.

All you have is the land and city occupied and copied from others.
Why bother going on the internet which your country banned most of it?

Weird."
Edwin, Tin Yeung Lau, Hong Kong
2015-08-15 16:26:54
5 from 5
"Simply breathtaking - Hong Kong is my favourite city for travel. I adore each and every occasion spent in the district, and cannot wait to head back there. These panoramic shots simply take me back to a place I'm most happy.

Thank you."
Boyd Payne, Australia
2015-08-10 14:36:55
5 from 5
"HK"
chen xi, China
2015-08-10 14:34:01
5 from 5
chen xi, China
2015-03-23 15:35:46
5 from 5
"Hong Kong is great city that all Chinese people are proud of.And there is a serious mistake in the Editor's note,that is the Hong Kong is not a stateCountry.Because Hong Kong is just a city a Provincial administrative area,I hope you can correct it ,Thanks very much.And your work and your photos are really great"
Joker Jow, China
2014-05-06 18:08:21
"bir gün yanına geleceğim,yanımda aşkla .."
ebru çetin, Turkey
2014-04-01 18:12:59
5 from 5
amir hasani, Iran
2014-03-09 11:24:55
5 from 5
"DESDE 1986 HASTA DICIEMBRE 1988 VIVI EN LANTAU Y TRABAJE EN KOWLOOM, CON MI FAMILIA (5 HIJOS) QUE ESTUDIARON SU PRIMARIA Y SECUNDARIA EN OPTIMOS TERMINOS. LA LIBERTAD ECONOMICA, EL LIBRE MERCADO, LA COMPETENCIA HICIERON REALIDAD ESE SUENO DONDE NO EXISTEN LAS LIMITACIONES DE ECUADOR QUE SUFRE POR LA IMPOSICION DE AUTORITARISMOS DEL CADUCO SOCIALISMO"
Romulo Lopez Sabando, Ecuador
2014-02-04 05:39:47
5 from 5
"Did you get this"
Jeannette Williams, Benin
2013-11-15 16:15:07
4 from 5
"Hong Kong phui , super hero No.1 .Hong Kong phuie, palak jhapak teh hi guum , chiki bum chiki cum chiki bum :P"
Carl Grace, USA
2013-09-23 15:44:14
5 from 5
"wonderful! I really don't have money to travel there, happily done the virtual tour and that was beautiful enough. thank you :)"
Fereshteh Pb, Iran
2013-09-20 13:13:56
4 from 5
"Good Work...."
MANOJ SEMWAL, India
2013-06-24 04:14:36
5 from 5
Magali Molina De Salas, Italy
2013-06-15 16:18:38
5 from 5
"Memories of experience revived. beautiful pictures, captivating ambience. HK is where dreams run high above the head, a meeting and melting pot of east and west, but free, liberal, dynamic yet bustling cosmopolitan. every street corner, every step in Hong Kong is exciting, is full of fun and flavour. the best city so far."
sidhatra chatterjee, India
2013-06-08 04:59:40
5 from 5
"I live in Hong Kong since I was 9 years old. I am living in Toronto now. Since my whole life,I've travel to numerous big cities, Singapore, Malaysia, NY, LA, Boston, San Francisco, Beijing, Shanghai,none of them hold my heart in terms of convenience and dynamisim. Hong Kong is truly unique, maybe some European cities like Italy may match it in terms of history. HK Islands diversity, is where you can experience East & West.my parents still stay there. It was tragedy more than 100 years ago, it was just a poor village, however with British rule and its residents hard work, it become the Pearl of the Orient and the main Gateway to China. Now we have Shanghai, however, its law and freedom is unparelled in China. Maybe one day I will go back, however, the house prices deter me. The West has abundance, however do we treasure our gifts.May it shine towards its motherland and be a prime model."
John Tjon, Canada
2013-05-31 21:17:53
5 from 5
"Sorry, forgot to play in front of five-star, and now make up. Expect Shanghai Map!"
Wang Kelven, China
2013-05-31 21:13:47
1 from 5
"Expect Shanghai Map"
WANG Kelven, China
2013-05-31 09:49:23
"喜欢香港"
hqw hn, China
2013-05-30 14:14:48
5 from 5
"It is marvelous.But I don't think that Hong Kong residents do not think of themselves as Chinese.They are patriotic."
Wu Loadia, China
2013-05-28 15:26:57
"Hongkong is newyork of the east though the climate is opposite. Sra adm has maintained greenery on whatever land exist after skyscrapers curds to menin adm"
Sharad Varadkar, Hong Kong
2013-03-22 10:48:30
5 from 5
"3D Panarama view"
Allwyn Chao, USA
2013-03-13 11:43:40
5 from 5
"This is an amazing panorama. I have lived here for almost 18 years now - and I've never seen the city looking so beautiful. Great web site. Thanks."
Andrew Orme, Hong Kong
2013-03-12 10:49:14
"hi, hong kong like now me ask"
dexter lumanog, Philippines
2013-03-08 13:52:19
"I was born in Hong Kong in 1929 & moved between Hong Kong & Shanghai - The change to HK is unbelievable. I left for the UK just before the Japanese invaded & my doctor from the Peak hospital was murdered by the japanese when he tried to protect the patients. I have been back but can hardly recognise the place"
Robert Ramage, United Kingdom
2013-02-13 16:09:57
5 from 5
"Lived in HK 1966 to 1968 in North Point area. Husband part of the British Forces. My son was born in the BMH in Kowloon. Fond, fond memories of every day I spent in HK. Visited again the year before before china reclaimed the island. No rickshaws about then but my old skyscraper home was still standing up in the hills of North Point - happy days."
ENID CADMAN, Hong Kong
2013-02-10 18:45:12
5 from 5
"The panorama is so good! I am a Hong Kong-nese, I love how people appreciate Hong Kong these days. However, it is not that perfect. I'm just 16 years old, but I know more about Hong Kong through studying and of course everyday's living. I love living in Hong Kong myself, despite it having social issues that many other places have and some very unique issues..."
Toby Ng, Hong Kong
2013-02-09 21:39:54
"I am stay in hk 8 year and...hongkong very nice country"
Wali Yanti, Indonesia
2013-02-08 18:24:29
5 from 5
"Superb and inspiring! My wife is a local and we're in Hong Kong every year for a few weeks. Your panoramas help dispel 'HK nostalgia' when we're back in Geneva....."
Markus Schmidt, Switzerland
2013-02-06 16:07:49
5 from 5
"Excellent photographic work, I miss Hong Kong, when I have visited Hong Kong was more advance then London England in few things. When I have visited Hong Kong was under British-England. I went there on a business tour and stayed with my brother Mr. Pravin D. Mehta. Now its like a dream. Beautiful-lovely city."
kaushik mehta, India
2013-02-06 01:29:16
5 from 5
""'Beautiful Scenery'. Our Whole famaily lived/worked there 1983/88 loved it...Our two children schooled there and made dozens of friends. Coming back soon to visit again. Wonderful Camera work. Thank You very much"

Cecily Flavell, USA"
Jemin Son, Korea
2012-12-09 10:43:05
5 from 5
"'Beautiful Stimulating'. We lived/worked there 1964/87 loved it...Our children were born there schooled there and made dozens of friends. Coming back soon to visit. Wonderful Camera work. Thank You"
Cecily Flavell, USA
2012-12-02 01:46:36
4 from 5
"I've been most places, it's a pleasure to see them again"
John McRae, Australia
2012-11-09 20:13:58
5 from 5
"Estupendo trabajo
Fantastico"
titto ferreira, Spain
2012-11-07 12:12:47
5 from 5
"We had a stop-over there in 2011 on our way to the UK - found the hotel we stayed in! WoW!!! What an awesome panorama of a truly magical city! Congratulations!"
Jenelle Morgan, Australia
2012-10-16 19:58:02
5 from 5
"Hong kong the greatest city skyline in the world, a magical place to visit, I love it."
NEIL JOSEPH, Portugal
2012-10-02 09:32:18
5 from 5
"I feel as if I have passed on to the other side and am flying over Hong Kong in an altered state. It must be what Heaven is like....

Thank you"
Paulette Kraljic, USA
2012-09-23 02:04:43
5 from 5
"I have been to Hong Kong many times and have many friends there. In the 1970's and 1980's I was a tour director there as well as other cities and countries in the Orient and SE Asia. thanks for this beautifully put together aerial tour."
Merrill Rosenberger, USA
2012-09-22 21:45:21
5 from 5
"The very first comment says is best. "Marvellous educative and entertaining also." One can only emulate whats been said so they don't sound redundant. Which is also something not found in all thats been written. What an incredible adventure it must be to travel to all the wonderful and unique places in the world we live in!"
Abel Niteroad, USA
2012-09-21 16:52:44
5 from 5
"Marvellous educative and entertaining also."
venkatasai srinivasa, India
2012-09-13 23:31:17
5 from 5
"C'est incroyable ce qu'Internet peut faire aujourd'hui. Félicitations à ceux qui ont conçu ce travail. Splendide Rod."
Rodrigue Mayrand, Canada
2012-09-11 23:51:22
"Hi,I want to appreciate for your fantastic web site,your pictures are really unique and wonderful,Good Luck..."
Ali Kermanshahy, Iran
2012-09-04 00:17:19
5 from 5
Lea Wegleitner, Canada
2012-08-31 20:04:30
5 from 5
"I was there in June 1969 and it sure has changed. I look at my old pictures and have to match the mountains in the background to the present pictures to orient myself."
Robert Dick, USA
2012-08-31 14:02:55
"It's wonderful.I hope I go there soon"
asal jassur, Iran
2012-08-28 01:27:28
"Parabéns ao governo e ao povo da cidade de Hong Kong por sua fantastica cidade, linda, cosmopolita, futurista uma verdadeira jóia rara, um diamante para ser admirada por toda humanidade.Nilton Angelo"
Nilton Angelo, Brazil
2012-08-20 23:12:25
5 from 5
"excellent, I love it. My sister send this to me and I am sending this on to all my friends. It is so beautiful and may it touch others as it has touch me God richly bless Hong Kong Vilma Deane Rocke"
vilma deane rocke, Trinidad and Tobago
2012-08-20 10:09:06
4 from 5
"Before my inlaws relocated to Canada, my late husband and I used to visit Hong Kong almost every year, but did not see all the wonderful views that you showed. Thank you and hope to see some of the views in November when my TaiChi class goes there for a tournament."
Mari Chan, USA
2012-08-20 01:43:05
5 from 5
"very good"
hennry pavel, Ecuador
2012-08-06 03:06:03
5 from 5
"Hong Kong is sure where the dreams come true! (mostly because we are not controlled by china)"
Derek Leung, Hong Kong