Amsterdam, Holland, 2009
•
360° Aerial Panoramas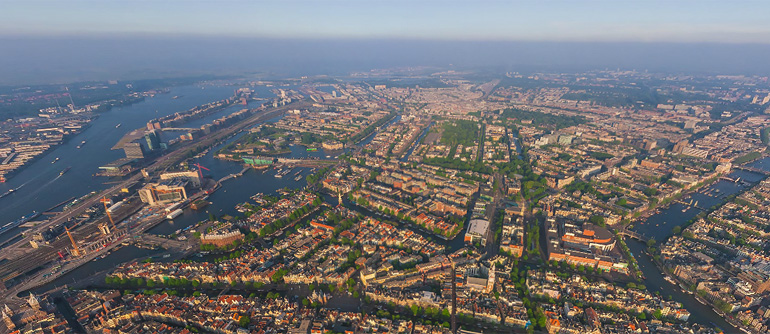 ---
Amsterdam is one of the most well-known cities in the world, rich in historical events and intensive culture life. Particular here, for instance, the Hermitage, a famous Russian museum, founded its filial. But in spite of all the cultural and educational efforts, we associate Amsterdam not only with the museums and tulips.
Amsterdam owes the dam its foundation in XIII century which protected the place from the inundations. The city built "with scale" looks like a toy from the bird-eye flight, the toy made of meccano: everything is accurate, clean and cozy here. But this tranquility is ostentatious: the reality is Amsterdam sucked in different kind of sins which, by the way, managed to live in harmony with its decent townspeople.
It's forbidden to smoke indoors in order to save the Netherlanders' health. That is why people smoke outdoors or in the special smoking-rooms. At the same time, there is no restriction for grass smoking indoors. Yes, the drugs are legalized here, but the sellers of numerous coffee-shops kindly advise you a sort of grass less dangerous for your health.
Don't you smoke grass? You can walk along Red-Light District where the seminude joy therapists of different nationalities and ages are standing in the shop-windows and offering to amuse leisure for 100 Euros. And in the neighboring "erotic theatres", right on the stage within sight of live audience the clean-limbed men and women are actively making love.
And where can ordinary townspeople make love? Don't worry, Amsterdam's authorities allowed the couples in love to make sex in one of the most popular parks of the city - in Vondelpark, which is visited by 10 million of people every year, but they forbid to air the unleashed dogs there.
Generally, come! Amsterdam will offer you impressions suited to every fancy: ancient architecture and arts, emotional night life and wonderful charming of local inhabitants.
Comments
2016-04-17 16:31:52
5 from 5
"Thanks for all the complements about my city

I love my Amsterdam"
Herre van der Gulik, Netherlands
2015-07-30 19:02:28
5 from 5
"thank you for amazing photo and waiting beter
prof.dr.salih alazawi"
salih alazawi, Iraq
2014-10-07 22:36:54
5 from 5
"Me gustaría podr disfrutar de esta posibilidad"
Cristina De anchorena, Argentina
2014-10-02 11:02:44
"I LOVE the website, but I'm allow to make a few remarks... The text gives me the impression the writer has spend his time in Amsterdam by entertaining himself in the red-light district and the coffeeshops, INSTEAD of visiting the excellent museum like the Rijksmuseum, Van Gogh, having a walk along the beautiful canals.

This following text is simply NOT true....

Amsterdam's authorities allowed the couples in love to make sex in one of the most popular parks of the city.

Is it possible this writer was smoking some cannabis for inspiration to write this text? : )"
E M, Netherlands
2014-04-24 11:32:04
"Holland=flowers country,so,I love every flowers plase in the world."
kamran nikfarjam, Iran
2014-03-28 17:50:01
5 from 5
"Linda ciudad, sus construcciones antiguas, calles, todo. Pasear por los canales es maravilloso."
Lilia de la Torre, Cuba
2014-01-30 18:20:42
4 from 5
"I lived in Amsterdam for a year and the City is really amazing! and still want to visit the place on the future :)"
Mai Blorecia, Denmark
2013-12-17 16:31:47
5 from 5
"wonderfully, The best what I seen"
peter kirchner, Austria
2013-12-05 22:11:05
5 from 5
"Beautiful~would love to visit and I assure you I would visit for the right reasons
André H, Netherlands I commend you for taking up for Amsterdam and Holland. Many people think Amsterdam and Holland are full of sorted people rolling in public areas having sex while smoking drugs. I think this is a horrible light to shine on Amsterdam and Holland. You are correct others come and ruin your Amsterdam and Holland.
Too bad we can't be more selective of tourists.
Surely there is so much more to Amsterdam and Holland than sex and drugs. Sex and drugs....yawn...very boring....can be had anywhere however the beauty of Amsterdam and Holland is unique!"
Helena Gordon, USA
2013-10-28 22:10:18
5 from 5
"Muito bom recordar vários lugares onde estive.
É pena não mostrarem mais interiores dos monumentos
Vitor Pinto"
Vitor Pinto, Portugal
2013-09-24 16:15:03
5 from 5
"vander full"
sevil fahmi, Iran
2013-08-06 02:36:26
5 from 5
"I was born in in Holland came to the US when I was 25 and now I'm 85 but my heart and soul is and always will be in Amsterdam Holland. It use
to be Ada Posthuma in Amsterdam."
Ada Ogren, Netherlands
2013-07-27 01:22:28
5 from 5
"Have lived in Amsterdam and The Hague for 8 years. All my family still resides there. Left in 1958 for the USA. Have been back just 3 times and found The Netherlands changed and not for the good either. Teveel gesluierde mensen."
Rene Donk, USA
2013-06-15 10:33:19
"Of course you can smoke in your own house. You can not smoke in public buildings like cafe's and restaurants and gouverment buildings. That's it"
Wim Hahn, Netherlands
2013-05-24 23:09:28
5 from 5
"Hace mucho tiempo viví tres años en Holanda, aún la amo
Cuantos recuerdos me han traído estas imágenes.
Nunca olvidaré este pequeño gran país"
Alberto Horro, Spain
2013-05-24 23:08:31
5 from 5
"Hace mucho tiempo viví tres años en Holanda, aún la amo
Cuantos recuerdos me han traído estas imágenes.
Nunca olvidaré este pequeño gran país"
Alberto Horro, Spain
2013-05-23 15:42:52
2 from 5
"good."
reza radi, Iran
2013-05-08 02:03:34
5 from 5
"Unbelievable . Some great work to put all this together."
Henry Walburg, Canada
2013-04-07 23:48:32
5 from 5
"How can I rate higher then 5? Been to Amsterdam about 5-6 times and each time found more to love about it."
Martin Epstein, USA
2013-04-06 18:29:04
"Anna Piano: Wes van der Lee is right, nevertheless!!!"
Gerard Bloemendaal, Canada
2013-03-11 02:53:47
5 from 5
"Very nice. Greetings and love to ERNA from Amsterdam."
wladimiro matos, Netherlands Antilles
2013-02-21 09:50:35
5 from 5
"very nice..........thank you."
bita ponny, Cameroon
2013-02-11 22:04:45
"gRAAG HAD IK WAT FOTOS GEZIEN OVER DE STREEK ROND VROUWENPOLDER EN OMSTREKEN DANK OP VOORHAND"
Martin Haesen, Belgium
2013-02-05 20:56:54
2 from 5
"good.thanks"
reza radi, Iran
2013-01-29 03:20:47
5 from 5
"Was born in Amsterdam 1936 Have ben in the u.s.a. for ever but my heart is still back home Try to go every couple years to visit for a couple mnt This makes me home sick thks u made my day"
Fransca Reesen, USA
2012-12-11 23:14:44
5 from 5
"While on business in Chester,UK I chose to fly to Amsterdam, left Manchester airport 8 AM. London airport was a mob scene all fogged as well as Amsterdam: At midnight three of us drew straws for the last seat. I won. Shortly after landing I met a charming local woman, whom I took to dinner the next few evenings..."
Weston Haskell, USA
2012-11-08 11:54:50
"I was there in april, 2012 ,beautiful town, amazing people.My lost: i was't vizit Anna Frank house"
lelia dima, Romania
2012-11-02 21:48:47
"left Holland in 1957 but I go back every three years . The pictures are fantastic."
Joop Wulder, Canada
2012-10-27 18:14:20
5 from 5
"I find it interesting that a lot of the commentators are Dutch who have migrated to Australia. I was fortunate to travelled on business between Den Helder and Amsterdam in the Netherlands and Sydney and Canberra in Australia. I was always treated very kindly in both countries and wish to thank all of the people I came into contact with in both countries ( as well as many more) for their courtesy. I only wish we Americans treated our guests as well as I have been treated. Thank you to all. These pictures are very special and bring back memories of many coutries I visited."
Joe Garrett, USA
2012-10-23 10:50:58
5 from 5
"Nice too see a small part of my birth country after 50 odd years. Thank you !!!!"
C L, Australia
2012-10-20 11:12:38
5 from 5
"i am a real lover of amsterdam,been back 4 times in 4 years,and planing the next trip for 2013.Amsterdam i love you.Trijnie"
Trijnie Bassett, Australia
2012-10-17 05:12:30
5 from 5
"a wounderfull city in a wounderfull country"
mohamed morsy, Egypt
2012-09-26 19:24:27
"EXTRAORDINARIO SIMPLEMENTE"
EGIDIO tejerina, Argentina
2012-09-22 15:59:19
5 from 5
"I was flying home from Germany in the 70s and had an emegency landing in Amsterdam. We stayed in Noordwich for two days and Holland was beautiful, and the people were wonderful. Would go back in a flash!"
Madison Jensen, USA
2012-09-21 01:25:07
5 from 5
"Cest extremement beau"
G.Raymond Despars, Canada
2012-09-06 22:48:45
5 from 5
Bakulesh Trivedi, India
2012-09-01 12:22:11
""Beautiful. Thank you so much!""
payam farsi, Iran
2012-08-29 03:55:52
5 from 5
"Thank you for the great picturs,thay are breath taken,keep up the good work."
ken middleton, USA
2012-08-24 19:58:09
"What a nonsense in your introduction. If smoking is not allowed you cannot smoke canabis either. The redlight district is very limited these days and caters the frustrated foreigners who live in countries where people aren't allowed a thing. Also it attracts attracts the permanently drunken lads from the UK who spoil every city on the continent.
The gentlemen who thinks arabic is the main language is completely out of his mind. Dutch is the language to use. English for visitors. Minorities usually keep their own language going. And maroccans don't speak arabic.
If you think you can have sex in the Vondelpark you are crazy and will wind up in jail in no time."
André H, Netherlands
2012-08-18 12:19:16
5 from 5
"I found Dam Square and Damstraat on your TOUR MAP, it extremely wonderful. 20 years ago I have been there, buy something at 'AMSTERDAM C, DAMSTRAAT 6, ANTIQUES'. Are they still there?
Very thanks for you!"
Ming Xin Dai, China
2012-08-10 02:03:54
5 from 5
"Enjoyed viewing this beautiful city again! I was just there this year and it is so nice to be able to see Centraal Station, Dam Square, Singel Canal,Spui Straat! :) thanks so much! Great memories!!! Love Amsterdam!!!"
Tana Bouquet, USA
2012-07-30 06:11:56
5 from 5
"I too was born in Holland and long to go back for a visit. Migrated to Australia in 1955 sibling brothers very Aussie but my heart is in Holland. At least is can enjoy seeing the places through this programme. Thank you"
Liesje Lavender, Australia
2012-07-25 05:13:57
4 from 5
"I too was born in Holland, my parents took us to a new life in Australia in 1950, I did miss not having any relations nearby when I was growing up.. No one wants to visit Oz (except my dear 3rd cousin who has been here a few times :) , if I want to see the others I have to go there.. planning a trip for 2013.. second time back.."
Hanny N, Australia
2012-07-23 04:40:18
5 from 5
"Beautiful. Thank you so much!"
Kati Bowen, USA
2012-07-22 11:08:37
5 from 5
"Left Holland 1967 lived in Wormer but went to school in Amsterdam to learn my trade went back in 2010 for the first time with my wife who was born there but left in 1956 her first time as well what a fantastic time not much changed in the cities just grown still plenty of fields for grazing and all so nice and green would love to go back again 2016 saving our pennies now TOP SITE KEEP IT UP"
Gerard Noordermeer, Australia
2012-07-20 18:53:00
"To all you excited people about Amsterdam, the Netherlands. I too grew up there and the memories are great, but.......I for one go back to Holland every few years and at this point just get away from Amsterdam as fast as I can. May I suggest to any one returning there for a visit, do not expect anything to be as you remember it Mc.Donald everywhere and you will be hearing very little Dutch. Arabic is spoken mainly and everywhere.
Once away from the city the country side is still beautiful!"
Hennij van Krimpen, other...
Varvara, AirPano: Thanks for your opinion.
2012-07-19 13:38:40
5 from 5
"I was born in Amsterdam and spent the first 17 years of my life there. Loved it, sorry my parents took me to Australia. Planning to go back in the next 3 years after an absence of 45 years no less. I wonder how I will feel."
Hans Bruitzman, Australia
2012-07-16 03:00:13
5 from 5
"Excellent, Inspirational, Fantastic. A "MUST SEE"."
John Malone, United Kingdom
2012-07-15 10:47:07
4 from 5
Gerhardt Hofmann, Australia
2012-07-15 00:53:21
5 from 5
"You brought back memories of my childhood! My Mom and I would walk down the Kalverstraat to Het Dam and watch the poppet show, I believe it was called Jan Klaazen.
Thank you for the great photography!"
Antoinette Hurkmans Quesada, USA