Hawaii, Oahu Island Virtual Tour
•
360° Aerial Panoramas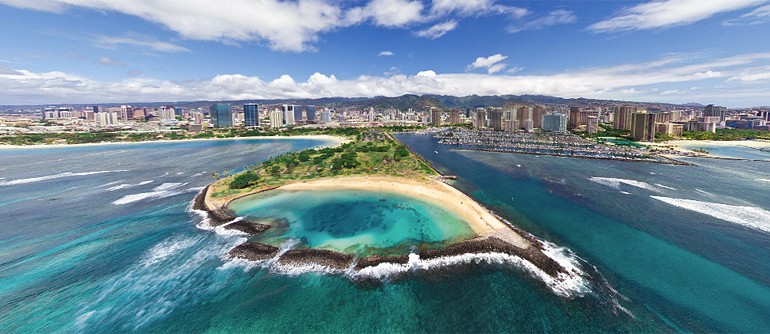 ---
There are 50 states in the USA. The newest state is Hawaii: these are remarkable islands located in the central part of Pacific Ocean, far away from the continent.
The Hawaiian archipelago consists of twenty four islands and atolls, as well as numerous small islands. These islands became inhabitant in VI century B.C., but for many centuries during the legendary round-the-world travel of the era of Great geographical discoveries, sailors passed either to the south or to the north of the islands. Therefore Hawaiian Islands didn't appear on the map for a long time and no one knew about them.

It is considered, that the first European who set foot on their land, was the famous sailor James Cook in 1778. He died a year later in the same place.

The main places of interest on Hawaii are beaches and the amazing nature: volcanoes, waterfalls and national parks. Besides, you can find a rich and extremely beautiful underwater world here. In general, Hawaii isn't called «paradise islands» in vain — it seems that both weather, and the magnificent nature and the beaches of Hawaii are specially created to awaken people's senses.
At present time the volcanic activity on Hawaiian Islands mainly happen in Kilauea: the attached crater located on a slope of Mauna Loa, the second highest mountain. The ongoing eruption of this volcano has been continuing since 1983.
This volcanic eruption is famous for its spectacular fountains of the lava throwing the heated red magma 90 meters up in the air. Such lava fountain can sometimes reach the height of 500 meters. Leaving the crater, lava flows downhill like the bright-red river of basalt with the speed of 30 and more kilometers an hour. It burns absolutely everything on its way, cuts roads, and having reached the sea, it cools down quickly, sending huge pillars of vapor to the sky. For the tourists visiting this tropical paradise these eruptions are an absolutely unforgettable show.
We have already attempted to photograph the volcano eruption, but it's been only partially successful. The day when we have arrived there by the helicopter, lava pipes blocked up, and for the first time in several years the lava stopped flowing into the ocean. Next day the lava has made a new path, and by the time we found the place where lava was flowing into the ocean, a hundred-meter pillar of vapor was already rising there. By that time our helicopter was gone, and we took pictures only from the ground.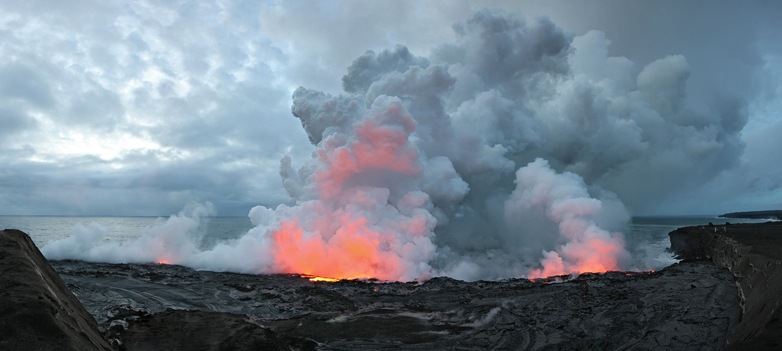 This is the reason why our interest in Hawaiian Islands hasn't diminished for several years.
Last year we met with Dean Karamehmedovich, a wonderful photographer who lives on the islands. He has been shooting the islands for a long time. You can find an interesting virtual tour across Hawaii here.
And today we present to your attention his aerial photo tour of the Oahu Island.

Because it is a first Dean's tour on our website, we would like to tell couple of words about Dean.
Like many other graduates, he has changed careers over the years from Electrical Engineer into Web-Developer, from Restaurant Owner to Photographer. Become adventure junkie, marathoner, triathlete, coffee drinker, traveler, new media strategist, self-confessed geek and motorcyclist he moved to Hawaii in 2000, the land of hula skirts, big waves and scuba-diving which is another one of his passions. He soon established VTHawaii.com. He landed his first big project in 2004 for Hickam Air Force base on Oahu and then became a full time professional photographer and the leading provider of panoramas in Hawaii.
In the year 2008 VTHawaii was awarded a contract from largest Real Estate company to photograph 1200 geo coded locations from the main Hawaiian islands, every community, every beach and every attraction and my ride begin..
In the year 2009 travel continue extensively to Canada and USA photographing hundreds of hotels in more that hundred cities beginning with CA, AZ, NM next to NY, MN, MI, NH, MA, then Canadian provinces like OT, BC, AB, MB, SK, QC, NB, NS and up to PEI and Newfoundland. He was also inspired to start doing underwater panoramas and even start his own marine life tribute website HawaiiMarineLife.com taking underwater images of endemic Hawaiian marine species.
Recently, AirPano.ru inspired him and after few trial runs from the airplane and helicopter the first demonstration aerial project was successful and VT Hawaii.com was airborne.
What's next?... There are many places to go!
Panoramas by Dean Karamehmedovich, programming by AirPano
2 December 2011
Comments
2016-08-28 20:57:13
5 from 5
"thank you for the panoramas"
oussama hocine, Algeria
2015-11-17 17:43:48
5 from 5
"I love the aerial panoramas. I will be out there shooting the aerial panoramas soon. Its an amazing way to view the real estate in the area. We will post the panoramas on PlugRe.com"
Jason Trindade, USA
2014-10-16 21:09:41
5 from 5
"We will be there again in April 2015."
kobra ghiasi, Iran
2014-04-24 10:57:18
"I have beautiful picture of Hawaii, I virtualy loves all of them."
kamran nikfarjam, Iran
2014-03-21 19:27:17
"Holidayed at Maui, Kuai, and Oahu January 1997 and Oahu and Hawaii August 1998. Most beautiful Islands for folklore, music and romance. In the Panorama I could not see the Polynesian Cultural Centre Hawaiian village with lagoons attached to the Morm on University ?. Expect to visit again late 2014 !."
Gregory Ratnayake, United Kingdom
2014-01-30 04:54:39
4 from 5
"Not enough photo spots. I couldn't get to where I could see my house."
Robert Gould, USA
2014-01-06 01:54:42
"Title and picture do not fit. The volcano and the lava are on Big Island, NOT on Oahu..."
Dominique Mary, USA
2013-10-09 01:57:00
5 from 5
"We will be there again in April 2014."
John Phillips, Australia
2013-08-05 01:18:46
2 from 5
Gracie Mowery, Christmas Island
2013-05-15 02:22:17
5 from 5
con juelke, USA
2013-05-04 18:31:09
5 from 5
"BEAUTY AND OUTSTANDING."
Thomas Rodrigues, India
2013-03-26 15:18:46
3 from 5
""Just lovely,Very beautiful and amazing place"
Smk Awan, Pakistan
2013-03-22 21:13:50
5 from 5
"Great Tyvm it helped me pick my destination. I'm sure we will like Oahu."
Dan McKenzie, Canada
2013-02-13 20:16:01
"Muito legal, bom mesmo!!!
Parabéns.
Wilson Perobelli"
Wilson Perobelli, Brazil
2012-12-31 22:26:06
5 from 5
Rebekka Chatzisavva, Fiji
2012-12-28 03:58:27
5 from 5
"Much mahalo for these beautiful sceneries. A real paradise as far as I am concerned and the people are very friendly, with lots of aloha. I lived in Oahu for 5 years (1983-1988), my daughter was born on Queen's Hospital in Downtown Honolulu in 1984. Relocated to L.A. last part of 1988 but I have been visiting families & friends in Oahu since then. Three years ago, my husband and I purchased a retirement home on the Garden Isle and we could not wait to relocate there. We now have a long list of friends wanting to visit us on Kauai once we are there and the list keeps on getting longer."
Letty Dixon, USA
2012-12-02 00:20:43
5 from 5
"Congratulations for your work ! Unfortunately , some of us are left with images , will not ever get there ... Thank's !"
Emil CRIN, Romania
2012-11-22 03:15:29
5 from 5
"I am coming back love it love it"
Shirley Barnier brown, Australia
2012-11-19 19:18:26
5 from 5
merrill sidman, USA
2012-11-04 19:14:12
5 from 5
""GREAT, EXCELLENT, FANTASTIC, WONDERFUL & AMAZING. CONGRATULATION.
THIS IS THE REAL HAPPINESS IN THE WONDERFUL LIFE.
THANKS TO ALL FOR ALL THIS GREAT WORK."
KAMLAKAR PATIL, India
2012-10-07 15:34:23
5 from 5
"This is a beautiful Island and perfect for photo`s,thank you for this beautiful virtualtour."
Arie van Buiten, Netherlands
2012-10-03 23:01:51
"All these places are so beautiful! It is awesome!
Thank you!
Alba:)"
Alba Sosa, Mexico
2012-09-29 21:16:10
"I want Boston Harbor"
Lela Adams, USA
2012-09-22 10:28:44
5 from 5
"This is incredible, beautiful and amazing. Brings back memories from when I was there over 30 years ago."
Jann Easton, Australia
2012-09-19 14:08:22
3 from 5
"Amazing pictures i would like to be there one day"
said azizi, USA
2012-09-18 03:17:38
5 from 5
"I had a short visit to Oahu in about 1960 and am astounded at the difference. We rented a jeep and traveled around the island, stopping for a luaau (sp?) at a spot I can't remember. Had some poi (ugh!)and fresh pineapple (really delicious!)
Thanks for the view. Why isn't the Arizona on the visual tour? I would love to revisit but can't afford the prices now."
Robert Strader, USA
2012-08-23 21:10:07
5 from 5
Nilo Garccia-Colon, Puerto Rico
2012-08-13 23:24:25
5 from 5
"I have visited Hawaii. Stayed on the the big island of Honolulu. I also took a tour and saw the areas on the map. I also saw the volcano which is 'dead" with the war memorial cemetary on top of it. I also visited the Arizona and viewed the Wall of honor. Where I found my cousins name. There was no word of him after the bombing of the Arizona. A truly heart warming experience. I'm only sorry my aunt and other cousins couldn't see it. All I can say is W O W !!!. I'd love to return to Hawaii someday and see the plantations, and other sites."
Patricia Mixell, USA
2012-08-11 16:18:38
5 from 5
"i love this city..."
farzin z.zaman, Iran
2012-08-11 16:17:00
5 from 5
george mason, Iran
2012-08-10 09:24:03
5 from 5
"I never made it to Hawaii while my girls were there, but I'm enjoying the tour now. Wonderful idea. Thank you. I'll be back. Vonnie Jeffers
Puyallup, Wa"
Vonnie Jeffers, USA
2012-08-07 21:54:33
5 from 5
"Thanks for sharing! Absolutely breathtaking!"
Ashley Johnson, USA
2012-08-06 09:28:03
5 from 5
"Lovely! Good job, gentlemen! Getting a feel of the places before actually go there makes this project worths it! Keep up the good work."
Barbara Sian, Malaysia
2012-08-03 06:43:12
5 from 5
"This brings back beautiful memories of my 3 trips to Hawaii. I hope to be able to go again soon."
Sue Alexander, USA
2012-08-01 08:23:39
5 from 5
"This is my life's 'dreams come true' experience! Kudos to AirPano Team!"
Manoj Tudu, India
2012-07-28 09:39:18
1 from 5
"Hello,I was born and raised in Honolulu,Hawaii for 19 years before it became a State. Back then there was hardly any large hotels on the Island, and I used to surf and paddle canoe in Waikiki beach. When I left the Island to So. California in 1959 everything was cheap and then in around August 1959 Hawaii became a state. I visit once in a while with family over in da Islands. Im now 72 years old and dont look like my age, cause I am very religious as a Jehovahs Witnesses. I really wanted to go back to live, but it is very expensive so all I do is visit once in a while. Mahalo fo dis shaka program and pictures. Bradda Wendell Abbey"
Wendell Abbey, USA
2012-07-26 05:40:53
5 from 5
"BRILLIANT IDEA & I AM ENJOYING THE TOUR. MERCI"
LOVELY ORCHID, Canada
2012-07-24 12:58:34
5 from 5
"Nagyon szép. Orákig ellehet nézegetni.

Sziasztok!"
Bela Veres, Hungary
2012-07-20 16:19:13
5 from 5
"Really a new site for me.It's amazing"
Broto Ghosh, India
2012-07-19 22:59:24
4 from 5
"Fabulous to get such a panorama of Hawaii and the islands. We were on Hawaii in '80 and '81, would love to go back again, so much to see, my favorite place for a layed back vacation. Loved it, would even like living there."
Sherry Newton, Canada
2012-07-17 15:49:32
4 from 5
"It has changed a lot since I was there in 1957! I had seven weeks there on a USAF base in the middle of the island and it is just as beautiful today, by these panaramas! MUCH more built up though in Honolulu itself. Not many people know that it was a British island originally and the national flag (when I was there) featured a Union Flag in the corner. Does it now? Yes, I would love to go back there one day - and to Christmas Island (Kiribati now I think) too."
MAlcolm Powell, United Kingdom
2012-07-16 23:44:08
5 from 5
"WAS THERE ONCE IN 1986 AND IT WAS AND STILL IS A BEAUTIFUL PLACE..WOULD LOVE TO GO BACK BUT I AM TOO OLD TO DO THAT. SAW THE COMMENTS OF A FELLOW CUBAN FROM SPAIN BY THE NAME OF CARLOS E.GONZALEZ CASTRO AND WOULD LIKE TO HAVE HIS E-MAIL SO I CAN COMMUNICATE WITH HIM .....I AM ALSO FROM CUBA."
ARMANDO NIETO, USA
2012-07-15 19:41:57
5 from 5
"I enjoyed this I have only viewed Hawaii because my son lives there. I do hope to visit soon."
judy murphy, USA
2012-07-14 22:00:46
5 from 5
"Been and out of Hawaii since 1950. Now days go back to Honolulu to surf at Bellows AFS. Was there in May and part of June. One of the greatest places there is. Anytime I can get on a plane to Honolulu, will go."
Marv Wines, USA
2012-07-12 06:48:39
5 from 5
"This is awesome the tour of Hawaii reminds me of my trip to Hawaii. Absolutely Amazing!"
Marneda See, USA
2012-07-10 22:00:09
5 from 5
"Looked for Honauma Bay, but could not locate. Trips in 1964, 1970,1979, 1981, 1982, 1984. Many fond memories. As soon as you land, the island welcomes you with its music, breezes, and vistas."
Jean Woody, USA
2012-07-09 19:35:01
5 from 5
"Amazing. Great place for photography. My dad has been there, but that was many years ago. I would love to go eventually..."
Jeremy K., USA
2012-07-09 16:47:50
5 from 5
"Visited twice..saving for next trip. Wonderful Hawaii..Pacific Beach Hotel..you have great food,
lovely rooms, best patch of beach on Waikiki, and wonderful entertaining aquarium. Gotta return soon. V & N.."
Valerie & Norman Grave, Australia
2012-07-09 04:08:24
5 from 5
"Very beautiful island and i love to live there specially @ the Discovery Bay, thanks SERCO INC.from San Diego Ca."
romeo veneracion, USA
2012-07-07 09:22:37
5 from 5
"Been there twice,can,t wait to go back,paradise!"
Ronald P Moats, USA