Starry sky over mount Elbrus
•
360° Aerial Panoramas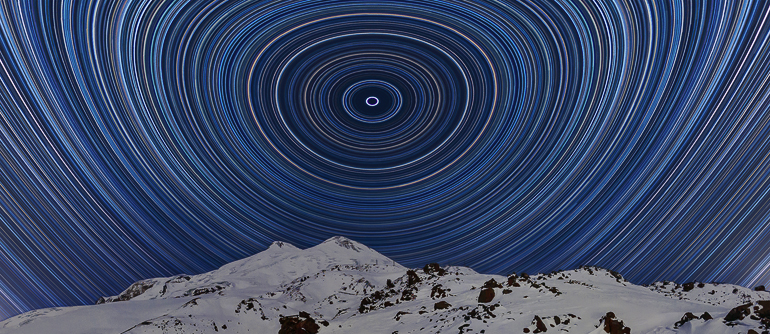 ---
These panoramas were captured during Olympic Games in Sochi. We were in these places while shooting virtual tour of Elbrus. At that time we shot more than 10 hours of the starry sky, which we showed in 360 video earlier. Now we present to your attention photo panoramas of incredible starry sky over mount Elbrus.
Mount Elbrus, the highest peak of Russia, is located north of the Caucasus Mountain Range, on the border of Kabardino-Balkaria and Karachay-Cherkessia of Russia. The twin-peak mountain (5,642-meter and 5,621-meter summits) can also be considered the highest peak in Europe as it is still rather uncertain where the border between Europe and Asia lies exactly. 4,810-meter-high Mont Blanc would be the only competitor for this title, as it is undoubtedly located in Europe.
The last eruption of Mt. Elbrus took place around 50 AC. However, today Mt. Elbrus is not a dormant volcano, but a sleeping one. Considerably high volcanic activity is being recorded inside the mountain: hot lava heats water up to +60ºC, feeding mineral springs of the popular Caucasian spa towns of Pyatigorsk, Kislovodsk, and Mineral Waters.
In 1829, a Russian scientific expedition led by General Emmanuel made the first successful ascension to Mt. Elbrus in human history. A group of British mountaineers first climbed the western summit (the highest one) in 1874. A. V. Pastukhov, a Russian military cartographer, is considered the first person to successfully climb both summits (years 1890 and 1896). Pastukhov was also the one who mapped this area in detail.
Today, Mount Elbrus is one of the most popular destinations for climbing and mountain hiking. The Russian Emergencies Ministry uses the northern slope of Mt. Elbrus for its needs, and the southern slope has well-developed tourism and hospitality infrastructure. There are pendulums and chairlifts, the alpine hotel "Shelter of Eleven" located at 4,000 meters altitude, and the "Saddleback" hotel located at 5,300 meters altitude. Strong winds and harsh weather conditions destroyed the" Saddleback" hotel many times, but it has always been rebuilt anew.
Over 10,000 people climb Mount Elbrus every year. Hundreds of mountaineers depart from the base camps during summer season, which is the most suitable time for ascending. Since Mt. Elbrus was "conquered" many years ago, new climbers come up with all sorts of artificial challenges to make their attempt special: snowboarding down the mountain, motorcycling, and even automobile ascending.
Like other mountains, Mt. Elbrus has taken its toll on its visitors — almost 10 human lives a year are lost. Accidents mostly happen due to strategic mistakes made during climbing. However, you don't have to risk your life or your comfort — you can "conquer" the legendary summits of Mount Elbrus with our virtual panoramas.
Photo by Ivan Roslyakov
29 August 2014
Comments
2016-04-07 05:08:36
5 from 5
"Simply breathtaking! Are the rings shown due to stars passing by in time-lapse photo or is there something natural causing it?"
G West, USA
2015-08-08 01:57:29
5 from 5
"How on earth, and with what equipment did you shot that pano?
I guess it could be done with an equipment which shoots just one 360 Degree picture, like an mirror orb, but those pictures are of bad quality... So I think you could have been using multiple cameras all pointing at different directions?"
Michael Bernhard, Germany
2015-01-14 05:43:44
5 from 5
"I wish the green fascism here would be less hypocritical so we too could enjoy the Majesty of Creation, the stars in the sky after the setting sun, that from which our heat comes."
Sean Ko, USA
2014-09-19 13:39:50
5 from 5
"You are a blessing for the people who do not able to travel around to see the world but we can see the wonder of the world through Air pano eyes.Thanks"
Faruk Hyder choudhury, Australia
2014-09-01 20:40:26
5 from 5
"You capture the majesty of Nature and the folly of man to try and despoil it."
John Wiles, USA
2014-08-31 03:00:38
5 from 5
"áîëüøàÿ ðàáîòà. Ñïàñèáî çà îáìåí."
Rich desomme, Argentina
2014-08-30 06:48:45
5 from 5
"Absolutely fantastic videos! Thank you very much!"
SM Naufer, Sri Lanka
2014-08-29 21:18:59
5 from 5
"Most beautiful pictures"
Sarla Gupta, India
2014-08-29 21:01:00
5 from 5
"Absolutely splendid work on this and your other presentations. I get to travel the world, old and disabled as I am, thanks to you! My heartfelt thanks."
Frank Harris, USA
2014-08-29 19:58:59
5 from 5
"Perfect shots, thank you for the presentation"
Karel Hofmann, Czech Republic
2014-08-29 16:23:15
5 from 5
"These guys are gods of capturing the beauty of the nature. Awesome works Sir!"
Nandan Kella, India
2014-08-29 15:22:01
5 from 5
"One of the best panoramas with a dreaming music piece made me want to be there!"
alex ringer, Israel
2014-08-29 15:12:19
5 from 5
"Thank you, I really enjoy all your Tours and the information.. Realmente interesante."
Adela Segura, Guatemala