Christ the Redeemer Statue, Rio de Janeiro, Brazil
•
360° Aerial Panorama
This panorama can be opened in several different resolutions. High resolution panorama with the best quality is about 7 Mb large and it is suitable for fast internet connections and modern computers. For slower internet and old weak computers we created the smaller low resolution panorama. Some small details have been sacrificed but the size of low resolution panorama is nomore than 2 Mb.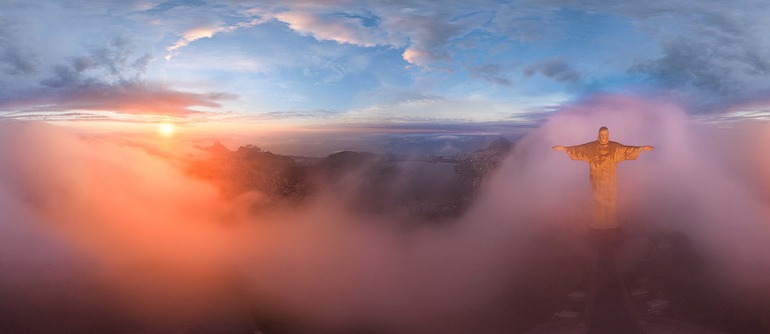 Open Aerial Panorama (high resolution)
After we got accustomed to Rio, my friend Dima and myself decided to visit the Corcovado hill, one of the city's main attractions, with world-famous statue of Christ the Redeemer on the top.
We couldn't get there by car so we had to load all our equipment on the bus. The usual story followed after that: security at the entrance wouldn't let us on the premises unless we had a photo permit from the park's administration. An attempt to take off from the bus stop was also stopped by guards. There were no other places near the statue from which we could take off so that day we couldn't shoot anything.
After we found out the address of the park's administration we immediately rushed in that direction. But we had to look for this address for a long time because there was no exact location on the map. Finally, with a help from local residents, we found our way. It was a very beautiful place: high up in the mountains in the heart of the national park. Surprisingly, we couldn't get any cell service in the area; instead, we had a very good connection via free WiFi.
I'd rather skip the details of our conversation with the administration representatives. Basically, they had nothing against us taking pictures of the statue, but at the same time they couldn't allow the photo shoot without getting approval from the church first. For some unknown reason, the church also couldn't give such approval on a short notice. So after a day of worthless struggle we returned to the hotel without any permits or documentations.
The next day Dima rented a large helicopter to take pictures of the Christ statue. In the evening, without any hope for a positive answer, we decided to call the park's administration. And a miracle happened! An employee in charge of our case was able to get a photo permit from the church representatives. We were allowed to take off from the base of the statue!
The next morning we got up before dawn. It was still dark when we drove up to the bus parking space. Guards at the gate had been warned to let us in on our own transportation.
But as we climbed higher up the hill the expression on our faces gradually changed from happy to gloomy: the top of the mountain was covered by thick fog. All the way from the parking lot to the observation desk we were surrounded with "milky fog". On the way up we met another group of people who were making a film about Rio.
We spent all this time in agony while waiting to see if the fog would clear away. It would have been such a shame to fly halfway round the world, spend so much effort to get here at dawn and not to shoot anything because of heavy clouds.
But we were lucky: during sunrise the wind blew from the ocean and gradually cleared the fog away from the hill, leaving behind fantastic colors. Suddenly a huge heavy cloud floated above our heads became brightly coloured in orange. Dima shouted: "Urgent take off!" And we were on our way!
Over the last year I've seen many amazing sunrises, but I haven't seen so many colors at the same time. Color extravaganza lasted for about 10 minutes. During that time we managed to make 2 short take offs, the results of which you can see in our virtual tour.
And now we would like to give you some interesting facts about Christ the Redeemer Statue:
---
Each great city has its own landmark. Eiffel Tower in Paris, The Statue of Liberty in New York, Opera house in Vienna, and majestic Kremlin towers, famous Moscow landmark. But today we want to tell you about the statue of Christ the Redeemer (Cristo Redentor) in Rio de Janeiro.
On a 700-meter high Corcovado mountain stands a giant figure of Christ, his arms are stretched out towards the city, as if blessing the land. Each year, nearly 2 million tourists and residents climb to the top of the mountain to take a photo besides the monument "for good luck."


The exact dimensions of Christ the Redeemer statue in Rio de Janeiro are as follows: the height of the figure is 38 meters, the height of the pedestal - 8 meters, weight - 1145 tons, arm stretch - 30 meters. It is believed that the idea behind ??the creation of the statue came up in 1922, on the 100th anniversary of Brazil's independence. It appears that the story of the statue goes with its roots deep in the past.
Back in 1859 a Catholic priest Pedro Maria Boss was struck by the majestic beauty of the mountain of Corcovado while visiting Brazil. It was he who proposed to build a monument to Christ on top of the mountain. But at that time his aspirations were hard to accomplish: first the Brazilian Court had no money, and then the monarchy was replaced by the republican government. And since the church was legally separated from the state, the idea of building a monument was forgotten.
The mountain was too striking to be empty, and in the XXth century Catholic organizations of Rio de Janeiro raised the issue again. Signatures were collected, funds were raised and, as a result, this ambitious project was able to get more than 2 million reals ($250,000), a huge amount of money for that time.
Administration of Rio de Janeiro announced a competition for the best design, which attracted a lot of contenders. The winner was Heitor da Silva Costa. He proposed that the posture of Jesus Christ with the arms stretched to the sides would symbolize a cross, and a massive pedestal would symbolize the globe. Thus, the sculpture serves to give people one thought - "Everything is in God's hands."
The final design of the monument was done by artist Carlos Oswald. By proposing a number of corrections, he rejected the idea of a globe. And then, finally, everything was ready for the monument to be built.
The construction lasted for about nine years. For several reasons, first and foremost technological ones, the creation of a giant statue in Brazil at that time was impossible, so all parts, including the frame, were manufactured in France.
Disassembled parts were delivered to Brazil, and then transported by rail to the top of Mount Corcovado. The opening of the monument took place in October 12, 1931. This date is considered to be the "birthday" of the statue of Christ in Rio de Janeiro and is annually celebrated with a lot of festivities.
The statue was repaired twice - in 1980 and 1990, and in 2010 it underwent some cosmetic restoration: it was vandalized with strange inscriptions, such as "when the cat's away, the mice will play" (the meaning of this act remains unclear to this day).
In 1932 and 2000 the system of nighttime illumination was upgraded. In 2007, this famous Rio de Janeiro landmark was chosen as one of the Seven New Wonders of the World.
The statue can be reached by electric train or by mountain road. While being driving to the statue, you can't stay away from the window even for a second because Brazilian nature is so picturesque. Observation desks offer astonishing views of Rio de Janeiro: the famous beaches of Copacabana and Ipanema, "Sugar Loaf" mountain, the Tijuca National Park, the Atlantic Ocean and the Guanabara Bay with a town at the base of the bay.

Not to sound vain, please take a look at this breathtaking sight with the help of our virtual tour.
Photography by Stanislav Sedov and Dmitriy Moiseenko
Comments
2013-04-13 06:58:24
5 from 5
"AWESOME.....!!!!!!!!!!!!!!!!!!!!!"
kathleen greer, USA
2013-03-30 03:22:35
5 from 5
"Espectaculares tomas y desde puntos estratégicos. Se obsrva la magnificencia de Dios el creador."
eugenio duque, Colombia
2013-03-22 20:02:04
5 from 5
"awesome job!!! i love Christ the Redeemer Statue."
margaret maria, India
2013-03-06 10:52:10
1 from 5
"jeleknya bagus bilang hiiii"
shinta dwi aryanti, Indonesia
2013-02-21 18:27:23
4 from 5
"been to rio saw this statue in a very different perspective this is awesome"
Veena Khanna, India
2013-02-19 21:40:50
5 from 5
"I live here and you guys did a fantastic jobs with these pictures!! Great postcard for my city :)"
Conrado Ducommun, Brazil
2013-02-19 15:52:07
5 from 5
"Excellent Pictures. I feel like I should visit Brazil to see "Christ The Redeemer Statue". Jesus Lives Forever"
John Daniel, India
2013-02-05 16:44:45
"Unbelievable views and unbelievable love from Jesus Christ , thank you for that"
peter fawzy, Egypt
2013-02-03 20:09:44
5 from 5
"awesome pics"
nazia imtiyaz, India
2013-02-03 13:03:10
5 from 5
"Airpano, you guys, are raising the consciousness of our planet through your masterful artistic photography enabling us to grasp the grandeur of humanity and the achievement we have made toward a higher expression of our unity as a world civilization. You guys embody the nobler instincts of a unified human race on this tiny planet, Earth. I pray we can put behind us the divisions of sectarianism, racism, and religious dogmatism and freely embrace all of humanity as our one family to care for, and love regardless of our faults and ignorant misdeeds. Lovingly yours, Ron, CA, USA"
Ronald Rapallo, USA
Alina, AirPano: Thank you for such sincere, light comment, Ronald! Much appreciated. Love and light to you as well!

2013-02-02 00:58:15
5 from 5
"WOW! These are all amazing, beyond words. Thank you!"
Tami Hastings, USA
2013-02-01 16:33:50
5 from 5
"Very interesting, very nice. Good ideas. Good work."
Krzysztof Frank, Poland
2013-01-30 21:10:00
5 from 5
"É difícil não emocionar com as belíssimas imagens desse vídeo. Parabéns a equipe da Air Pano!!!"
Neide Diniz, Brazil
2013-01-30 21:09:27
5 from 5
"É difícil não emocionar com as belíssimas imagens desse vídeo. Parabéns a equipe da Air Pano!!!"
Neide Diniz, Brazil
2013-01-30 21:08:07
5 from 5
"É difícil não emocionar com as belíssimas imagens desse vídeo. Parabéns a equipe da Air Pano!!!"
Neide Diniz, Brazil
2013-01-19 04:25:11
5 from 5
"You panaroma should be used for World Youth Days in Rio -coming in the future and organized by the Pope from Rome"
Hanna Szyrmer, Bahamas
2013-01-17 09:21:44
5 from 5
"very very beautiful"
Jack Jim, China
2013-01-17 07:10:05
5 from 5
"very beautiful thank you may God bless you and yours work"
marta Gajdusek, USA
2013-01-16 02:19:14
"is very very nice. I liked your work is criative."
IVANA GREORIO DE SOUZA, Brazil
2013-01-14 00:41:27
5 from 5
"Though I'm Brazilian, I don't like Rio, but your pictures are nothing but stunning! Congratulations!"
Marcos Antonio, Brazil
2013-01-12 10:34:01
5 from 5
"Absolute beauty! I am sharing it..."
Marco Di Lorenzo, Italy
2013-01-11 05:18:26
5 from 5
"These images are breathtaking! Thank you for this beautiful gift and I am sharing this!"
Sharon Frank, USA
2012-12-31 11:04:31
5 from 5
"Excellent!!!"
Masih Sabbet, Canada
2012-12-27 03:30:22
5 from 5
"I`m amazed... love Riooo! Good job Air Pano, keep it up!"
Dione Dorado, Brazil
2012-12-18 13:11:01
5 from 5
"Beautiful, fantastic work!"
Pavel Chonov, Bulgaria
2012-12-17 04:19:13
5 from 5
"There is a very beautiful similar statue in the town of Medellin, Colombia, I believe, or in the capital city of Bogotà. I wonder if it would be possible to display it? Thanks."
Daniele Hawkins, France
2012-12-16 18:23:52
5 from 5
"excellent,thanks."
amene jangi, Iran
2012-12-16 15:10:17
5 from 5
"Well done to all the 'team' at Airpano for the excellent photography, & not just from the lower levels, but the planning is fantastic all through. Must admit though !! The subject alone is jaw dropping. Well done !!!"
Brian Naylor, United Kingdom
2012-12-16 06:04:51
4 from 5
"¡Que belleza!!-adjunto a la majestuosidad del universo!!!excellent!!alimento para nuestro ser-"
Ysabel Magy, Argentina
2012-12-10 18:30:26
5 from 5
"It is very interesting I very want to come :D"
mohammad ali eslami, Iran
2012-12-04 10:05:51
5 from 5
"Wounder full,Great creation of airpano."
Sulekha Mahorkar, India
2012-12-03 13:07:33
5 from 5
"Beautiful, fantastic work!!!!"
Bernd Willinger, Austria
2012-12-02 06:17:10
5 from 5
"THESE ARE VERY BEAUTIFUL AND THE MUSIC IS PERFECT!"
Mary Brown, Canada
2012-11-29 12:02:32
5 from 5
"The christ in Rio symbolizes "the second coming"!!!! by W.B Yeats. Airpano team stay blessed in his hands and keep up ur good and noble work."
Saraswati Panicker, India
2012-11-28 21:47:11
5 from 5
"I myself got amazing color pictures many years ago from the same place (no digital pics yet back there). As I use to say "Airpano Team" means "Boundless Team" for the idea of one world for all of us. God bless you a lot. Brazil on line."
Claudia Santos, Brazil
2012-11-24 18:37:13
5 from 5
"Brazil is very perfect.i love very airpano"
delnia khezraqa, Iran
2012-11-22 21:51:57
5 from 5
Giorgio Foglietti, Italy
2012-11-21 19:21:02
5 from 5
"Best pics! Congratulations! Keep it like that! I'll follow you. Dont't stop.You are great!"
Riza Radu, Romania
Alina, AirPano: We're trying to do our best, thanks, Riza!
2012-11-20 09:21:53
5 from 5
David Selvan, United Arab Emirates
2012-11-19 17:22:46
"Wonderful-Great work by Air Pano team."
ramesh suthrave, India
2012-11-19 09:45:03
5 from 5
"Thanks for your great work."
Mina Minoo, Iran
2012-11-19 02:31:35
5 from 5
"you are dedicated. Fabulous results. V.P.Veluswamy MD"
V Veluswamy, USA
2012-11-19 01:16:02
5 from 5
"Extraordinario trabajo,los felicito."
filiberto pinzon acosta, Colombia
2012-11-17 19:12:23
5 from 5
"it is a great gift to show people the wonderful things in life!"
pierre veldhoen, South Africa
2012-11-17 18:14:39
"veryveryveryveryvery(good)"
farhad jafarloo, Iran
2012-11-17 13:53:57
5 from 5
"excellent ,really good goood work of airpano....thank all of member of air pano......."
Ashish Khokhariya, India
2012-11-17 04:59:27
5 from 5
"We do not have words to thank you enough for the great work you are doing.....it is just amazing--awesome--fantastic"
Munawar Khalid, USA
2012-11-17 04:58:01
"We do not have words to thank you enough for the great work you are doing.....it is just amazing--awesome--fantastic"
Munawar Khalid, USA
2012-11-17 00:09:52
5 from 5
"Awesome,Fantastic,Beautyful,realy I felt happy with this film,congratulations to all the team,Angelo,Tijuana,B.C.Mexico"
Jose Angel Arroyo, Mexico
2012-11-16 21:10:12
5 from 5
"Fantastic, like always. Hope to see this place one day, in my lifetime. Makes you feel on the top of the world. :)"
Fren Bill, India