Maya Pyramids, Chichen Itza, Mexico
•
360° Aerial Panoramas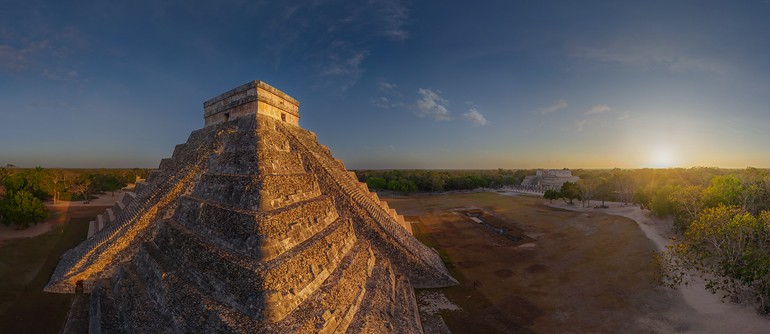 ---
There were a number of great civilizations on our planet. Each of them, one way or another, contributed to the history and culture of human kind. One of the most famous civilizations is Maya. They created a unique written language, art, architecture, and mathematical and astronomical systems before disappearing without a trace.
Remarkable monuments of Mayan architecture are found in Mexico, Belize, Guatemala, and Honduras. Several of these amazing masterpieces are featured on our panoramas. For example, the ancient city of Chichen Itza located in the northern part of Yucatan Peninsula. It is one of the most popular landmarks of Mexico.
Presumably, the city was founded in the VII century AD during the golden age of Mayan culture. One of the key places of Chichen Itza is the Temple of Kukulkan, a 24-meter-high pyramid built for the Supreme God of the Wind and Rain, the "founder" of royal dynasties and large cities. Each edge of the pyramid is 55 meters long, and each side has 9 steps.
The Temple of Kukulkan is a masterpiece of architecture and astronomy. The four faces of the temple have stairways with 91 steps each, which makes 364 steps total. Combined with a base platform on top of the pyramid that unties all four stairways, it comes to 365, the exact number of days in a solar year. The number of sections on each side of the temple is also symbolical: 9 steps of the pyramid are divided in half by a stairway, which equals a number of months (18) in Mayan calendar. Moreover, 52 stone reliefs on each face of the sanctuary represent one calendar cycle consisting of 52 years. There is also a small temple with four entrances for sacrificial rituals on top of the pyramid.
Maya depicted Kukulkan as a feathered serpent with a human head. This is why one can see a "feathered serpent" in the Temple of Kukulkan on every spring and autumn equinox. At about 3 pm on March 20th and September 22nd the sunlight casts a series of shadows against the western balustrade of the main stairway, which creates an optical illusion of a 37-meter-long snake that follows the sun "wriggling" down to its own head carved at the base of the staircase. Such a unique collaboration of nature and architecture puts up an annual "show" that attracts thousands of spectators and makes Chichen Itza the most famous landmark of Mexico and the entire world.
Apart from the Temple of Kukulkan, Chichen Itza preserved seven "stadiums" for ball games, the Group of Thousand Columns forming a giant rectangular, the Sacred Cenote (also known as the Sacred Well), and many other interesting structures. The ancient city is recognized as a UNESCO World Heritage Site. In 2007 it was also named one of the New Seven Wonders of the World. Our photo panoramas will help you get acquainted with this miracle.
---
We've finished to photograph "New 7 Wonders of the World" with publication of this tour. Later we will release a separate virtual tour with "New 7 Wonders of the World".
Photo by Dmitry Moiseenko and Stas Sedov
3 March 2014
Comments
2016-08-27 21:13:39
5 from 5
"beautiful thank you"
oussama hocine, Algeria
2015-08-21 17:12:53
5 from 5
"If I want to buy a pic, how can I do it?"
Sergio Flores, Mexico
Varvara, AirPano: Sergio, thank you for your question. We have sent you reply by email.
2015-01-07 20:47:04
5 from 5
"This was pretty."
shenyah Dillard, USA
2014-03-31 16:13:20
5 from 5
"I really can not find any word to describe it.It is so beautiful"
Narges Bayat, Iran
Varvara, AirPano: Thank you, Narges, for this and many others comments! Hope to see you here again.
2014-03-20 20:27:29
5 from 5
"MAGNIFICAMENTE ESPIRITUAL!"
Jorge Torres, Mexico
2014-03-19 15:21:27
5 from 5
"BEAUTIFUL MEXICO!"
roberto rusciano, Italy
2014-03-17 21:43:24
4 from 5
"Gracias.he viajado sin salir de casa, ha sido un placer"
jose sanchez suarez, Spain
2014-03-10 20:28:48
5 from 5
"Ihave no words to say exept ii love you"
Basel Bibi, Jordan
2014-03-04 22:51:00
5 from 5
"HERMOSAMENTE FABULOSO ! Registro de una de las CULTURAS, mas apasionantes del Planeta. AIRPANO, ARE THE BEST !!!!!......"
German Porras, USA
2014-03-04 05:44:59
"magnificent!"
Ed Uber, Uzbekistan
2014-03-04 04:35:00
"Que coisa mais linda... estou estasiada... muita cultura, conhecimento, emoção...varias descrições."
elaine pinheiro, Brazil
2014-03-04 02:38:32
5 from 5
"Absolutely breathtaking!!!"
Olga Beck, USA
2014-03-03 21:49:13
"Magnifique... très beau voyage. J'aime beaucoup!

Au revoir!

Merc1!"
andrée ouellon, Canada
2014-03-03 20:36:13
5 from 5
"Beautiful presentation, thank you"
Karel Hofmann, Czech Republic
2014-03-03 17:15:25
"My best congratulation !"
pablo valls vidal, Spain
2014-03-03 17:00:44
"Milego ogladania"
Henry Dor, Poland
2014-03-03 16:51:46
5 from 5
"You are lovely team go and surprise me"
Basel Bibi, Jordan
2014-03-03 16:44:52
4 from 5
"Excelente trabajo¡¡¡¡ Gracias Airpano por mostrar lo maravilloso del mundo que de otra manera seria imposible acceder. Cordiales Saludos."
daniel Garcia Rusca, Argentina
2014-03-03 14:26:05
5 from 5
"Nice"
Karthik Reddy, India
2014-03-03 12:17:24
5 from 5
"Trais intéressant ,et trais beau. Continuez !!!!!!"
André BARNES, France