Cannes, French Riviera, France
•
360° Aerial Panoramas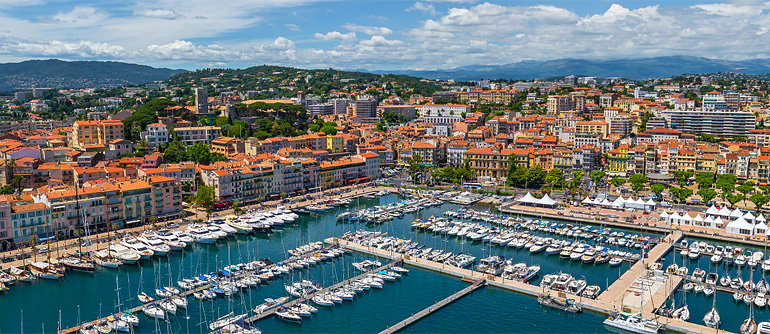 ---
We arrived at Cannes on the last day of the city's famous film festival, when the main passion and excitement had subsided. Nevertheless, everything from the long line of men in suits and women in evening gowns to the steps of the cinema implied that the festivities still continued. A couple of times familiar faces known from movies flickered in the crowd. In the bay yachts are tightly moored, in the streets a reasonable concentration of expensive cars exceed the number of yachts Life boils! However, we did not come to attend the Film Festival but photo shoot the city.
What else, besides the Film Festival, is Cannes famous for?
Cannes is not a large city, only 9 kilometers in length. How did it happen that this small coastal city became known worldwide? Until the 19th century it was nothing more than an ordinary fishing village. In the past there was a fortress on top of the hill surrounded by small houses, and at the foot there was the water front, where locals caught fish. It was an unremarkable village on the way to Nice, where wealthy citizens went to vacation. At that time people traveled to the sea in winter time and not in the summer, as it is done now.
In December 1834 a cholera epidemic broke out in Nice. The British Lord Chancellor Brougham, leaving for vacation, was forced to stay in Cannes because of the quarantine. He was so fascinated by Cannes that he decided to build his winter residence here — Villa Eléonore Louise. His example was followed by his friends, and soon Cannes became a fashionable resort on the Côte d'Azur, often known in English as the French Riviera. A dirt road along the coastline later has become the famous Promenade de la Croisette, a place where gorgeous palaces and villas line up beside one other. Although everything started with the British, soon it became a playground and vacation spot for Russians and French. Prosperity continued until the outbreak of World War I. Cannes returned to its former glory after the International Film Festival in 1946.
The Festival Palace, or Palais des Festivals, was built in 1982, and the locals sarcastically nicknamed this glass and concrete building the "bunker". In front of the palace lies the famous Avenue of Stars with the palm prints of artists and cinematography celebrities. Here is where the Promenade de la Croisette begins. It stretches along the shore for 2 kilometers. Many luxury hotels such as the Carlton, Majestic, Martinez, Grand Hotel, and Casino Palm Beach line up along the promenade. Almost all beaches are private and belong to hotels, with the exception of one free public beach near the Festival Palace. In the evening the Promenade is lit in red, as though continuing the 24-step carpeted stairs of the Festival Palace. It would be wrong to think that everything here is spinning around the film industry. Cannes takes second place in France after Paris in number of events held.
The city is also famous for its museums: Matisse, Fernand Léger, and Marc Chagall. It is unfortunate that we did not have time to visit them.
Preparing for the trip, we assumed that we would face difficulties during the aerial photo shoot, because usually events with lots of celebrities are accompanied by elevated security measures. Contrary to our expectations, we could quite easily fly our drone at the Festival Palace, and even in the harbor bloated with luxury yachts.
However, it was too early to relax. Soon people started approaching us, saying that we cannot fly our drone, that it is dangerous. We were well aware of the danger and tried not to fly the drone over people. Why exactly was it banned? It turns out that earlier Korean tourists had flown their drone. The drone crashed and fell on the beach, which caused a fire. Of course, the event caused a stir and created an unfavorable atmosphere for the flights. However, we successfully completed shooting without any further incidents.
If you find yourself in Cannes and you get tired of secular vanity, pompous palaces, and villas, I suggest you visit Le Suquet hill. Here you will find a well-preserved medieval city with a completely different atmosphere. You will see kids playing ball on the cobblestone streets and few tourists and cats roaming around. The observation deck of Castres Castle offers an excellent view of the city, but it does not gets its buzz. Somewhere below is the busy life, and everything here is laidback, like several centuries ago.
Obviously most come to the famous French Riviera city not to enjoy the silence! If you are interested in luxurious yachts, visit Saint Pierre Port, a harbor near the Festival Palace. You can indefinitely listen to the wind, gaze at the tackles of the yachts parked in the port, and watch the sea. That perfectly explains the existence of a special area with benches.
Conversation about Cannes can be long. Then again, as Prosper Mérimée, who moved here, wrote, "take the turquoise, emerald and lazurite — you will see the sky above Cannes; take diamonds, scatter them — and you will get the clouds over our mountains; and to imagine the sea, take ... No, don't take anything. Just get a train ticket to Cannes so you could see it for yourself!"
Take a look at our panoramic pictures and imagine the sea in Cannes!
Photo and text by Stas Sedov, Sergey Shandin
12 January 2015
Have a look at other parts of Côte d'Azur:
• Nice
• Villefranche-sur-Mer, Ile d'Or and Saint-Jean-Cap-Ferrat
• Saint-Tropez and Sainte-Maxime
Comments
2016-04-06 07:20:24
5 from 5
Ed Nelson, USA
2015-04-05 06:06:26
5 from 5
"Se tiene la ilusi#243n de viajar personalmente a un lugar tan lejano de nuestro hogar. Las im#225genes son de gran calidad. Gracias por compartir estas maravillosas experiencias."
In#233s Ferreyra, Argentina
2015-01-13 02:29:07
5 from 5
" THANK YOU FOR SHARING THIS AMAZING JOB!!!! ITB - USAARGENTINA "
Ines BARRIONUEVO, USA
2015-01-12 17:18:54
4 from 5
"Nice colourful."
DP Bhattacharya, India
2015-01-12 15:56:49
5 from 5
"Nice"
Karthik Reddy, India
2015-01-12 14:47:17
5 from 5
"Fantastic, thank you"
Karel Hofmann, Czech Republic
2015-01-12 11:47:30
5 from 5
"One day I will have a villa here!

Note to myself"
Edin Mujezinovic, Bosnia and Herzegovina