Cancun, Mexico
•
360° Aerial Panoramas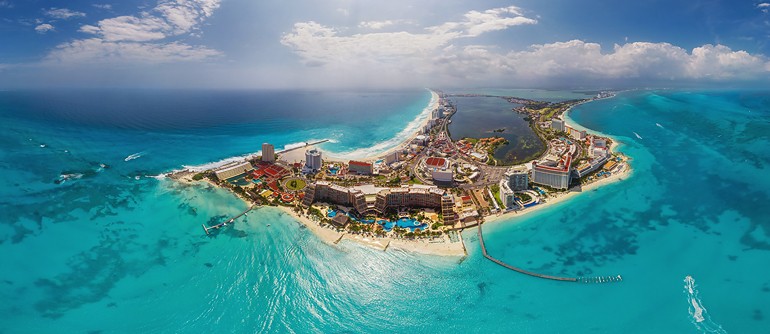 ---
Cancun is one of the most famous resorts towns in Mexico visited by almost seven million tourists every year. Half a million of local residents are involved in tourism industry and work hard to provide guests with high quality recreational experience.

Meanwhile, in 1970, less than half a century ago, only three people lived here, and the only activity they did was looking after a coconut plantation. Total population of the area was only 120 people, including residents of neighboring fishing villages.
However, excellent geographical location and climate prompted a resort. But at the time there were no investors who believed that a coconut farm could be turned into an upscale vacation spot, and the first nine Cancun hotels were financed by the Mexican government.

Cancun is located on the sandy shore reminiscent of number "7", measuring 400 meters in width and 30 kilometers in length. The quality of Cancun's snow-white beaches is so high that not so long ago a wealthy American businessman purchased several barges of local sand for his country residence in New York.
"Seven" divides this resort town in two parts. The smaller part is characterized by a calm sea, because it's cut off from the ocean by Isla Mujeres (Spanish for Island of Women). And the main attraction of the longer stretch of the shore is constant unstoppable waves coming from the open ocean.
Cancun waters attract not only surfers, but also scuba divers: the water here is very clear, visibility in some places is 100 meters. Palancar Reef stretches along the coast, which is one of the biggest coral reefs in the world.
Year after year all of these sights attracted more and more tourists; more hotels were built to accommodate the growing number of visitors. In 2007 the United Nations World Tourism Organization (UNWTO) awarded Cancun a price "for great achievement in development."
But beaches are not the only attraction of Cancun. This location is historically connected with mysterious Mayan civilization: not far from here you can see ancient stone walls surrounding Tulum city, and other monuments of that era. Cozumel Island is another amazing place near Cancun: besides its natural and historical attractions, the island is also famous for its underwater beauty that appeared many times in films of famous explorer Jacques-Yves Cousteau. In 2010 a unique underwater museum was opened in the resort (or rather, in its waters): hundreds of different sculptures were flooded as a base for the future coral reef, and as a museum that can be visited by tourists.
Although some of these sights can't be found in our panoramas, we felt that without this information you wouldn't get the overall impression of Cancun, because this Mexican resort location is way more than just a long shoreline of white sand with a bunch of hotels. It's an ancient land with rich history and carefully preserved nature that wasn't spoiled by tourism industry, but on the contrary, revealed its uniqueness because of it.
Photo by Dmitry Moiseenko
25 September 2013
Comments
2018-08-05 15:32:18
5 from 5
"so beautifull ... thank you so much"
housam shahid, Libya
2018-06-08 17:43:20
5 from 5
"Absolutely marvellous by Airpano....great to view nice beaches through the 360 panoramas as though as I am on a helicopter. Well done and wish to be here someday."
Weng Kong Charles, Malaysia
2014-11-21 04:02:06
5 from 5
"Awesome!! I can't wait to travel to Cancun, Mexico!!"
Portia Moore, USA
2014-04-08 05:07:18
5 from 5
"seeing it first time its amazing. I am Turkish and going back to visit with an American friend and places she wants to see are the mosques, museums, something old and something new. I thank you very much. Ochen spasiba"
hanife ayyildiz, Turkey
2014-01-30 16:01:14
5 from 5
"hello,The best,Photographs were beautiful,Always succeed and be happy"
atoosa hosseini, Iran
2013-12-29 07:12:37
5 from 5
"hi everybody thxs so much sharing these pics and the video amazing!!!! awesome u must continue with more videos from my country ARGENTINA. keep in touch"
MARIA ELENA PEREZ BOTEL, Argentina
2013-12-19 02:15:52
5 from 5
"RAJ"
aneta GRZEŚ, Mexico
2013-11-21 21:05:59
5 from 5
"awsome"
Syed Rakinur Islam, Bangladesh
2013-10-14 10:48:41
4 from 5
Boon Hong Ng, Singapore
2013-10-14 10:05:22
5 from 5
"Gracias por hacer llegar estas bellezas a personas imposibilitadas para viajar. Es realmente una gran labor altruista que nos devuelve el gusto por la vida tan maravillosa que tenemos, pero no alcanzamos a conocer del todo. Es un trabajo grandioso,que ni ustedes imaginan el potencial que despiertan en los que tenemos la dicha de disfrutarlo."
Framira Tamayo, Mexico
2013-10-11 07:25:56
5 from 5
"Very good reviue"
Haroldj Lucè, USA
2013-10-03 07:02:36
5 from 5
"Thanks AirPano, I will go to Cancun someday."
Becky Nguyen, Canada
2013-09-29 23:14:19
5 from 5
"--SIMPLEMENTE, EXCELENTE, MUY AGRADECIDA POR LAS COSAS BELLAS QUE NOS MUESTRAN. UNA DE LAS PÁGINAS MÁS BONITAS.- MUCHAS GRACIAS!!!!!"
azucena díaz, Argentina
2013-09-29 04:11:21
5 from 5
"I AM EXCITED AND THOUGH 82 ,I FEEL A CHILDLIKE TO ENJOY EACH AND EVERY VIEW.
THANKS A LOT INDEED FOR HIGHLY PRAISEWORTHY TASK YOU HAVE FULFILLED !"
Taher K Attarwala, India
2013-09-29 03:47:02
5 from 5
"I AM EXCITED,AND FEEL YOUNG TO VISIT ALL WHAT YOU SHOW.BUT ALAS, I AM 82 AND CONVALESCENT AT HOME! ONLY YOUR WORK HAS HELPED ME. T H A N K S ! INDEED."
Taher K Attarwala, India
2013-09-27 09:03:12
5 from 5
"Nice location... Excellent work by Airpano...!!!"
UmaShankar Reddy, India
2013-09-27 01:49:09
5 from 5
"ABSOLUTELY FABULOUS. HAVE BEEN TO CANCUN, IS GREAT. KEEP UP THE GOOD WORK"
Fanchon Barron, USA
2013-09-26 20:11:17
5 from 5
"Very beautiful! Thank you Air Pano."
Alena Dubecka, Slovakia
2013-09-26 16:53:03
5 from 5
"Super, thank you !"
Vašek Knotek, Czech Republic
2013-09-26 11:31:48
5 from 5
"Ever since i saw the amazing works of AirPano I decided " I havent seen enough of this wonderful world"....so am enjoying travelling even more.You guys are amazing. keep up the good work."
venita kohli, India
2013-09-25 22:50:53
5 from 5
"More than ( 5 ), Fabulous work and videos, go ! Ahead, are the BEST."
German Porras, USA
2013-09-25 20:26:39
5 from 5
"--Thank you 5 from 5"
-Forro- -ANNAMARIA-, Romania
2013-09-25 13:24:49
5 from 5
"THIS IS REALY MUTCH...MUTCH...MUTCH BEAUTIFULL.
tankyou for this great job well done!!!!!!!"
Helio Martins, Portugal
2013-09-25 10:02:11
5 from 5
"Great panorama as always from Airpano. But one things bothers me about this one, and it's highlighted superbly by Airpano; What would have been a lovely natural location has been totally ruined by uncontrolled development. Why no gaps between the hotels with the original trees and other natural space? There is no evidence left of any of the land that was there back in 1970. Your only option as a visitor is to hit the beach rather than stroll in a park or between some trees. Tragic really. They could not get away with that here in the UK where entities like the National Trust and CPRE would monitor such development and ensure it was executed with care through a symbiotic relationship with the developers and local authorities."
Alex B, United Kingdom
2013-09-25 09:51:16
5 from 5
"This is stunning. I love, love, love this website. It is such a blessing for folks like me who don't get to travel. it allows us to experience the beauty of our world. Thank you so much for the work you do and share."
Marty Jackson, USA
Varvara, AirPano: Thank you for your kind words, Marty! Hope to see you here again!
2013-09-25 09:37:30
5 from 5
daniel ventura, Israel
2013-09-25 09:16:02
5 from 5
"thanks to Dmitriy Moiseenko for taking awesome photos..."
Karthik Reddy, India