Beijing, China
•
360° Aerial Panoramas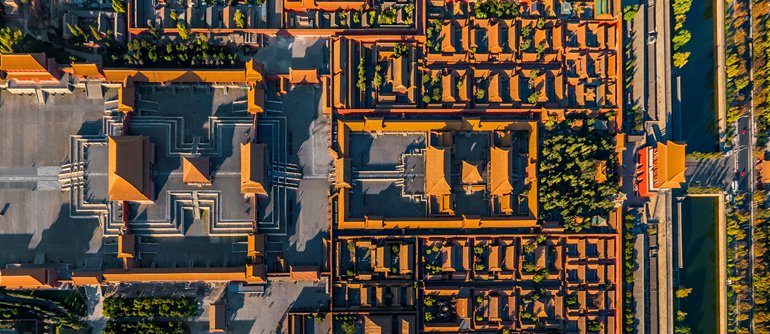 ---
北京空中之旅
The modern city of Beijing (also known as Peking) occupies a territory of 16,808 square kilometers. The population of the city and its suburbs is over 20 million people. Interestingly, the capital of the People's Republic of China is the second largest city in the country; the prize for the largest Chinese metropolis goes to Shanghai.
Regardless of size, Beijing has been a capital city of the nation since ancient times. The earliest notion of the fact is dated back to the Eastern Zhou dynasty, which began its rule in 770 BC. During that period of time, the city of Ji was the main settlement of the state of Yan. This area is now a part of southeast Beijing.
In the 12th century, another area of the modern city of Beijing was the "central capital", and it was called Zhongdu. Here is what records of that period say about the city: "It is glorious and beautiful inside and out: there are many gardens and groves to bring peace to a royal mind, and plenty of animals and birds in nearby mountains to exercise one's hunting skills." In 1266, Marco Polo, the famous Italian explorer, visited the city and mentioned it in his Book of the Marvels of the World (Livre des merveilles du monde).
During the course of its long history, the city of Beijing has lived through countless forays and devastation, and changing of names, governments, and administrative status. In 1421, the city finally received its modern name, Peking, which is a European transcription of the Chinese word "Beijing" (meaning "Northern Capital"). By that time, in the midst of the outside city, which was surrounded by brick walls, people built the world-famous Forbidden City - the sacred territory that belonged to Chinese emperors, the Sons of Heaven according to a common belief.
Only the worthy were allowed to enter the territory of the emperors, and so the Forbidden City was guarded by a 3,400-meter wall and a moat filled with water. One million construction workers, 100,000 carvers, artisans, and other specialists took part in building the Forbidden City.
The Imperial Palace Museum complex occupies a territory of 150,000 square meters and consists of 90 palaces and inner courts, 980 buildings, and 8,704 rooms.
Numerous foreign visitors heard stories about luxurious imperial quarters, but were never allowed to enter - hence the name "Forbidden City". Only in the early 20th century did the city open its doors to foreign guests. In 1987, the Forbidden City was the first of all landmarks of China to be added to the UNESCO World Heritage Site list. Today, it is a museum complex with fascinating architecture and a vast collection of Chinese arts and crafts.
One more UNESCO World Heritage Site of the People's Republic of China is the Temple of Heaven, or literally, the Altar of Heaven (Tiantan). It is one of the symbols of the city of Beijing and is located southeast of the Emperor's Palace. The temple's lower part is a square shape, and its upper part is shaped as a circle. According to the Chinese tradition, the circle symbolizes Heaven, and the square symbolizes the forces of the Earth. For nearly 500 years, Chinese emperors came here during every winter solstice to bring generous gifts to Heaven after 3 days of strict fasting.
Tiananmen Square (440,000 square meters) is another world-famous landmark of Beijing. Until the 20th century, it was the largest city square in the world. The National Museum of Revolution and History of China and the Great Hall of the People are located in the square. There are also a large number of other landmarks and attractions in the capital city and its suburban areas, such as the Imperial Tombs of the Ming and Qing Dynasties (Shisanling) with a Spirit Way (a road, or path, leading to the tombs), the royal residence on Wanshoushan Mountain, and many others.
The highest building in the city of Beijing is Central Radio and Television Tower (Zhongyang Dianshita). Its observation deck is located 240 meters above the ground and features a fantastic view of Beijing's attractions.
You, in turn, are welcome to rise above the city with our 360 aerial photo panoramas!
Photo by Dmitry Moiseenko and Stas Sedov
23 April 2014
Comments
2018-02-20 18:53:15
5 from 5
"This culture looks really different to what I'm and many american's are used to.etc.languages such as English is our main language. From what I've heard you guys speak mandarin. I am In high school and about to take mandarin so lets see how that goes!

I'm no nerd I am actually a cheerleader wanting to get to know the world! LETS GO CHINA!"
cecilia roan, USA
2018-02-04 21:33:30
5 from 5
"exeptionel is China,thank you"
Paul Van den Bergh, Belgium
2017-09-29 07:24:35
"i want to get it , price?"
wupeng temuer, China
2017-06-28 03:27:23
5 from 5
"i love china。But with the exception of official"
撒大家佛 李, China
2017-04-14 04:46:39
"How high is the plane flying?
I took a few panorama in 397 meters of the air,and is not the hifhest?
Looking forward your replay.Thanks so much!"
Sruee Sun, China
2016-12-09 13:21:52
5 from 5
"So proud of my beloved hometown!!!"
Xinyi Wang, China
2016-03-06 12:26:57
5 from 5
"Good!Really!I like."
#24352 #27308, China
2015-11-20 19:53:06
"great#65281#65281I just wander new York
it so wanderful that I must have a look"
luo bin, China
2015-08-17 08:34:46
5 from 5
"welcome to china"
qi yingquan, China
2015-05-21 18:18:59
5 from 5
"#27426#36814#26469#21040#21271#20140#12290#25105#20026#25105#23478#20065#39556#20658 . So proud of leaving in this city ! Welcome everyone to Beijing !"
Haocheng ZHANG, China
2015-04-12 08:49:09
4 from 5
"Fantastic work! But I wonder how you to make such amazing work. Do you use the UAV? Are the UAV banned in the four ring area in Beijing?"
Baker Wang, China
2015-03-24 11:28:48
5 from 5
"#25293#30340#30340#30830#24456#22909"
LIU Iin, China
2014-09-18 10:58:32
5 from 5
"I really enjoyed this aerial shot of our national charm and of my hometown! I too noticed the digits regarding construction workers as still a little bit off, should be 100 thousand instead of 1 billion."
Nancy Lee, China
Varvara, AirPano: Nancy, thank you for your comment! We've corrected the text. Hope you'll enjoy another our panoramas. You can find on our website more panoramas of China!
2014-07-27 00:03:53
"thanks for your job but why there is not any picture from Iran here is many good place to visit. i suggest you to take pictures from Iran.here is some good of them like:TakhtGamshid.BAM ARG .ALIGHAPOO.AAND TOO MANY MORE"
mona hosseinpour, Iran
2014-05-20 10:35:57
5 from 5
"欢迎来中国 北京"
旭阳 张, China
2014-05-18 17:40:48
5 from 5
"Exellent !!!!"
Medo Lukic, Netherlands
2014-05-15 02:01:51
5 from 5
"Every tour is amazing but Beijing is fantastic. Well done -keep up the good work!!"
Graham Dale, United Kingdom
2014-05-13 18:39:11
5 from 5
"welcome to China.welcome to beijing."
刘 克成, China
2014-05-13 11:06:42
5 from 5
"nothing i can say allah is great"
samir wani, India
2014-05-12 19:00:00
5 from 5
"Amazing work"
Basel Bibi, Jordan
2014-05-10 14:28:59
"I cant find any word to explain these pictures but extremely nice."
mahdi ghafari, Iran
2014-05-09 16:58:59
5 from 5
"These pictures is very beautiful~
welcome to china."
Zby zby, China
2014-05-09 04:47:36
5 from 5
"Excellent Work"
Chirag Shah, Australia
2014-05-08 22:51:49
5 from 5
"Fantastic"
Slawomir Maczynski, United Kingdom
2014-05-04 19:14:45
5 from 5
"牛逼啊!"
D5 D6, China
2014-04-29 00:35:13
5 from 5
"JAMAS ! NADIE, habia tenido la oportunidad, de conocer LA CIUDAD PROHIBIDA, EN UNA VISTA AEREA.
De esa MARAVILLA DE LA HUMANIDAD.
Y ciudades de CHINA Y DEL MUNDO. AIRPANO, ADELANTE LOS MEJORES."
german porras, Colombia
2014-04-27 05:19:05
5 from 5
"Incrível, uma verdadeira aula de geografia "in loco". Impressionante, não tem como não gostar para quem gosto de algo bem feito."
José Geraldo Geraldo, Brazil
2014-04-25 23:31:15
5 from 5
"Hello Guys
Long time dont hear from you my e mail was angelitoarroyo@hotmail.com but congratulations for a job well done keep going huges Angel"
Angel Arroyo, Mexico
2014-04-24 13:36:25
5 from 5
"欢迎您来到中国 WELCOME TO CHINA。。。。。。"
xiang gao, China
2014-04-24 00:23:29
5 from 5
"wooooow amazing! well done guys!"
Valerio Castaldo, Italy
2014-04-23 22:16:41
5 from 5
"frumos gindit ,lucrat totutul e disciplina ,e super.......!"
nistor ghiorghe, Italy
2014-04-23 22:06:48
5 from 5
"Amazing, I enjoyed looking around. Great job!
But, I noticed mistake. Population of the city of Beijing with its suburbs,can not be "more than 20 billion (20.000,000.000.)?! Beijing occupies territory of 16.808 square km multiplied with 1.200 inhabitants per sq.km results as 20,169.600 inhabitants. City, without suburb,about 17,4 million inhabitants. I am not sure that detail about number or construction workers is correct as well. I would like to know if it is really so, one billion (1.000,000.000) you mentioned.
Regards!
P.S. Country that you have on your list as mine Serbia & Montenegro does not exist any more. There are two separate counties: Serbia and Montenegro. Please correct this in your country list. Thank you."
Melika Martinovic, Serbia and Montenegro
Varvara, AirPano: Dear Melika, thank you for your comment! You're absolutely right. We meant "more than 20 millions", not billion. It's mistake of translation, we've corrected the text. And we'll correct country list soon.

2014-04-23 21:06:44
4 from 5
alain Dollinger, France
2014-04-23 18:51:43
5 from 5
"Can't thank you enough for all the work you do. I have been to China and shortly will go to Russia and your pictures make us extremely happy."
Nancy Trotta, USA
2014-04-23 18:21:34
5 from 5
"Carry on!Welcome to China to take more of the 3D virtual pictures!"
yi xin, China
2014-04-23 16:36:05
"Excellent work of art"
mojtaba rezvani, Canada
2014-04-23 15:27:18
"Fico maravilhado a cada Email que recebo da Airpano, é incrivel poder viajar pelo mundo através desse sistema fabuloso! Muitissimo obrigado!"
osni Pisani, Brazil
2014-04-23 15:10:28
"nice"
Karthik Reddy, India
2014-04-23 13:50:49
5 from 5
"Maaan !! The pictures are beautiful, the panorama is AMAZING ! Great job guys
Omar TALBAOUI, Casablanca.Morocco"
Omar TALBAOUI, Marocco
2014-04-23 13:20:04
5 from 5
"Incredible, each Tour is very interesting.
Thank you. Adela"
Adela Segura, Guatemala