Ai-Petri in Crimea, Russia
•
360° Aerial Panoramas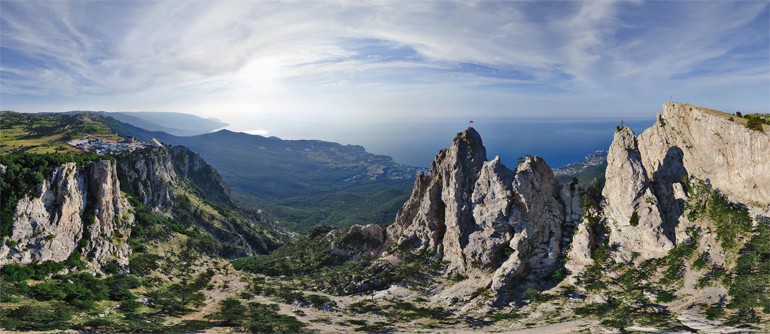 ---
Ai-Petri is a mountain pick and a huge mountain mass with a square of 300 square kilometers spreads 25 kilometers from the East to the West. Its name consists of the distorted words of Greek origin like "agios" (saint) and "Peter" (the name of St. Peter) and in his honor the temple was built there.
The highest plateau's peak - Quail Mountain (Bedene-Kyr) - is 1334 meters high. To get Ai-Petri's jags from Miskhor anyone can use a 3-kilometer aerial cableway. The way up will take about 20 minutes. FYI, this cableway has the longest supportless part in Europe (2 kilometers long from its middle point till the top).
It's hard to imagine now but before Ai-Petri's peak was hidden under water. The case is that 200 million years ago the territory of Crimea was hidden under the waters of the Ancient Ocean. And Ai-Petri itself is not a mountain indeed but a fossil coral reef. Even nowadays its surface is covered with the different intricate fossils look like tubes or branches.
The winds and other geological processes followed the "coral period" and, finally, formed Ai-Petri's actual appearance. Moreover, so named Crimean Grand Canyon also appeared in this mountain mass and goes down 320 meters depth. There is a river in its bottom which flows and makes hollows look like pots or baths. One of these hollows is named Youth Bath. The temperature is almost always stable +11° +14° C (50° 57,2° F) in it. According to the legend, anyone who will bath there can become younger and even get over an illness.
Ai-Petri is not only the mistiest place in Crimea but also all round Ukraine. In average, more than 200 days a year these mountains are covered with mist. Besides, Ai-Petri is the windiest place in that country. Before, there was a wind power plant. Also, on Quail Mountain the complex of radar stations devoted to air and space control was constructed there in the Soviet period. The career pattern of its employees was counted as 1 working year for 2 due to the constant wind...
In spite of the surrounding landscapes are amazing as they are the human beings decided to decorate these places with the handmade places of interest. So, the red flag seen in the panorama marks the entrance into one of the caves which is opened for tourists. It groups three vertical wells and, therefore, named Three-Eyed. This cave causes interest because of its temperature which is like in a fridge not more than +10 С during the whole year. And on its bottom there is a big cone-shaped snowdrift formed of frozen icy snow. They say that the count Vorontsov used ice from the cave to cool his wines, drinks and products. The sawed parts of ice were wrapped up in order to keep them cold, put in the huge tubs and delivered down carried by bullocks.
The total quantity of natural mines, caves, chasms and craters is about 300 on the territory of this unique natural complex. Twelve of them are local monuments of nature.
The next significant place of interest is a wooden cross. It is located on one of the jags. It appeared there especially for the shooting of the film In Search of Capitan Grant (1985). Ai-Petri "played the role" of Patagonia in this film.
And, finally, Ai-Petri is the best place in Crimea to enjoy sunrise...
Our pilot-radio controller and photographer Stas Sedov wants to say a few words about Ai-Petri.
I've always dreamt of aerial shooting in the mountains. Last year I could practice gliding in the unique place near Koktebel (http://rccam.livejournal.com/28021.html). Having realized the flight, I had an idea to shoot the Crimean Mountains with a helicopter model when next time I'm in Crimea.
Well, one June night I was driving along the serpentine from Alushta to Yalta with the purpose of climbing up another, more crazy serpentine to get Ai-Petri. I was in hurry to arrive before the sunrise. I just completely forgot that Ai-Petri is a nature reserve and it's almost impossible to arrive there by car. I had to leave the car near the elevator.
As a result, having taken all my flight equipment on the back, I began to climb the slope almost running to the most visited observation area. It took me about half an hour to get there but I was in time, right before the sunrise.
Then I began to prepare the equipment for the start and understood that I left the sunglasses in the car. And the sun was rising right in the vector of the future flights. What should I do? First, I thought to hide the equipment in the rocks and return back to the car but then changed my mind due to another one morning mountain cross hadn't been in my plans. Finally, I decided to realize the flight without the glasses shading the eyes with a hand.
And imagine: on the edge of the rock there is a man trembling with fear who is afraid of heights. In his shaking hands there is some metallic thing, he almost sees nothing with his closed eyes because of the bright sunlight. There is so much adrenaline in his body that "steam goes from his ears". The first flight is always the most fearful. I had to overcome and force myself to let the machine go up in the air. I could do it.
Later I realized another flight and then another one; I fought against turbulence, understood the best way of flying in that place and on my way back to the hotel I was madly happy with success. But this is another story...
29 August 2011
Comments
2014-03-24 21:53:03
5 from 5
"Extraordinario."
RAMON PARRA, Spain
2013-11-11 04:08:40
5 from 5
"I did no have idea of these marvelous of the World
Have plans to go to Ukraine by next Spring. Your work is great Will like to cooperate with You.
Thanks this chance to knew something really new everyday."
Jaime Munoz Ribadeneira, Ecuador
2013-10-31 18:55:13
5 from 5
"This is absolutely breathtaking. Out of all the 3-D panorama, this is the first one that stood out. Makes me want to go there. Thank you for sharing with us and post more of your work please."
kelly lin, USA
2013-07-25 19:47:50
5 from 5
"Je to úžasné, Krym byla naše první dovolená u moře a o Ai-Petri jsme byli velmi krásně informováni. Pokračujte v této nádherné práci. Miluše, Praha Česká republika"
miluše dvořáková, Czech Republic
2013-07-19 07:17:25
5 from 5
"Excellent!"
Joan Becker, Canada
2013-07-18 10:24:11
5 from 5
"Thanks for your work it allows many to experience these places as cyber travelers.

Yalta is a special place and you helped broadcast that. The air quality is wonderful. That is why there is a school there for children with respitory problems."
Gary Winkler, USA
2012-08-25 13:49:57
5 from 5
"its beautiful and wonderful thanks for every one work in this program"
wajeeh al hamed, Jordan
2012-08-12 10:10:34
4 from 5
"Beautiful view. Thanks for the efforts you have put in capturing the view. superb. God bless you."
Narayana Swamy, India
2012-07-31 19:12:06
5 from 5
"it is so beautiful. iwish to be there. thanks"
arezoo yazidi, Iran
2012-07-31 19:10:12
"it was so beautiful. I wish to be there. Thanks"
samira yazidi, Iran
2012-07-15 04:12:22
5 from 5
"Stunning! Wish I could be there! --even though I am leery of heights..."
Donald Honan
2012-07-15 01:30:38
4 from 5
"Born in Canada, I too wish them a bright, fair and democratic future."
Boris Mospan, Canada
2012-07-14 05:29:45
5 from 5
"I loved it! I was only in Yalta and knew nothing about Ai-Petri. This is breath takingly beautiful. I hope many people go to see the magnificent aura of the locale. Ukraine has many, many gorgeous vistas. I am happy to have been born there and wish a glorious future for all of its people."
irene pyskir-bilak, USA
2012-07-09 20:41:39
5 from 5
"Breathtaking viewing!"
nicholas dudish, USA
2012-06-23 00:16:22
5 from 5
"Excellent ... Human achievements by grace of God."
F.A. KADRI KADRI, USA
2012-06-21 22:40:14
5 from 5
"What a treat to see places I have never ever.
AND to revisit old haunts. Will treasure and save for years."
Mort brigadier, USA
2012-05-29 00:18:38
5 from 5
"Magnificently showed. Beautiful place. I adore Your side internet, EXTRA is. Here it what to look at. I greet from Poland. Dana"
Danuta Domanska, Poland
2012-05-26 15:37:16
5 from 5
一川 谭, China
2012-05-14 20:34:28
5 from 5
"Tam jest pięknie! Byłem i na własne oczy widziałem! Aj - Petri jedno z wielu uroczych miejsc na Krymie! Polecam!!!"
Stan Zygzak, Poland
2012-03-17 09:49:40
5 from 5
"Simplesmente fantastico parabens!"
JORGE MANUEL HENRIQUES DOS SANTOS SANTOS, Brazil
2012-02-01 05:00:40
5 from 5
"It is wonderful seeing all these magnificent places!!!! Thank you so much!!! Keep up the good work!!!!!"
Dina Toulaki, Greece