Angel Waterfall of Venezuela - The World's Highest Waterfall
•
360° Aerial Panoramas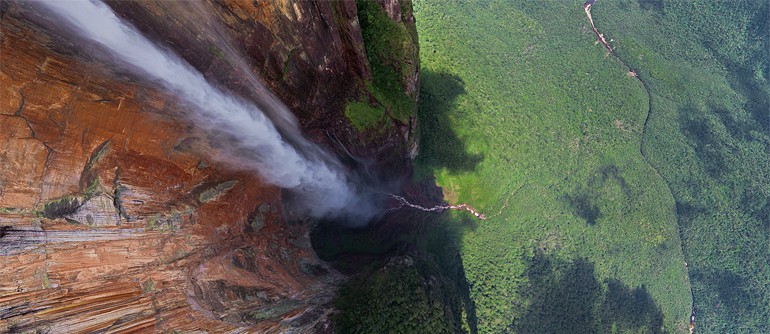 ---
In March of 2011, Dima Moiseenko flew to Venezuela to shoot Angel Falls, the world's highest waterfall. Due to extremely unstable weather conditions that covered the region, a long distance and technical difficulties the photo session lasted for two days. However, all of these difficulties were overcome. Dima managed to shoot Angel Falls and two other waterfalls that flow from the Tepui. He also managed to shoot some spherical panoramas while flying over the gold mines.
First part of the photo shoot (near the waterfall) can be seen here
Now we invite you to a virtual tour: Angel Waterfall of Venezuela — The World's Highest Waterfall
---
During last several years we have shot aerial panoramas of the world's most famous and exotic waterfalls: Iguazu Falls in Brazil/Argentina; Victoria Falls in Zambia/Zimbabwe; Black Waterfall in Iceland...
Naturally, when I came across discounted tickets to Margarita Island (the Mecca of windsurfers and kite boarders) in Venezuela, Salto Angel (Angel Falls) seemed an easy target. It is a well-known fact that Angel Falls is the highest in the world!
The highest point of the falls reaches 979 meters, with water falling from a height of 807 meters. The height of the falls is so great that by the time it reaches the ground it becomes tiny particles that turns into fog.
It should also be mentioned that Venezuela is a unique country. In addition to having Hugo Chavez and the unusually cheap price of gasoline (it only cost 100 rubles to fill up a Jeep), it is also home to the Tepui Mountain formation.
Tepui (or Tepuy) is a strange-looking mountain with a flat top called a "table-top" (because it is flat like a table). These unique geological formations are found mostly in the Venezuelan Guiana Highland in South America.
The word 'Tepui' comes from the language of the Pemon Indians. Tepui means 'house of the gods'. The Tepui formations are completely isolated from each other. The Tepui towers over the jungle making it a home to unique plants and animals.
According to the article in Wikipedia the Angel waterfall was discovered when American aviator Jimmie Angel flew over Tepuy on 16 November 1933 on a flight while he was searching for a valuable ore bed.
Returning on 9 October 1937, Angel tried to land his Metal Aircraft Corporation Flamingo monoplane El Río Caroní; atop Auyan-tepui, but the plane was damaged when the wheels sank into the marshy ground, and he and his three companions, including his wife Marie, were forced to descend the tepui on foot. It took them 11 days to make their way back to civilization,via the gradually sloping backside but news of their adventure spread, and the waterfall was named Angel Falls in his honor.
Here you can also find some of the highest waterfalls in the world. Imagine kilometers-high mountains with steep vertical walls and flat tops in the middle of dense jungles. On these, water accumulates after even a slight amount of rainfall, eventually coming down in numerous waterfalls.
Angel Falls is just one of the waterfalls but it's the highest one since it is almost a kilometer tall. This attribute gives Angel the status of being "the highest waterfall in the world." Other affluent rivers descent from the same Auyantepui mountain, but they are "only" 200 — 300 meters high.
Since mountain waterfalls are fed by rain, travel time needs to be planned carefully. During the dry season, Angel is just a trickle of water. In the rainy season, it is a full-fledged waterfall. However, the weather is so unpredictable that it is possible to not see it in all of its glory, even in as much time as a month...
Although the current season turned out to be dry, our informers reported a recent heavy rainfall. This would yield a full-fledge waterfall — we had to hurry up!
While in Moscow, I researched that there was no helicopter service near the waterfall at the Canaima National Park. Small airplanes that successfully served tourists in this area wouldn't have worked for us. With this in mind, I started searching for transportation on the first day of my arrival to the island of Margarita. Angel Falls is located in the jungles of Venezuela, so anyone can only get there by air or river.
After 3 days of searching, I called a company that services the gold mines with a Bell-206 helicopter. The company is located 100 kilometers from the waterfall. It very well could fly "dear Russian guests" to the coveted Angel Waterfall in the first part of the day.
It took two planes, the Orinoco River crossing, and 8-hours long jeep ride to get from Margarita Island to the company office... But we are ready to go through all difficulties. So soon enough I found myself standing next to the yellow helicopter ready to take off.
The first day we took off at 7 am and arrived at the foot of Angel Falls at 8:15 am. The helicopter landed near the camp, from which a hiking trail led tourists to the waterfall. Our informers did not disappoint us: there was a full-fledged waterfall coming down from the mountain top. Even at a considerable distance, Angel made a strong impression on us. After falling from a kilometer-high distance water is broken in the particles at the foot of the falls. It leaves you standing in a cloud of "water fog" wondering where is this river coming from... It was down there, under a shower of a million tiny water droplets, at where it seemed that nowhere else could one feel the grandeur of the surrounding nature.
So, the final preparations for the flight were made, we removed the doors and the helicopter was ready for takeoff. Although the sky above the waterfall was clear, it was heavy overcast above Mount Auyantepui (from which flows Angel).
I decided that we should just fly to the mountaintop and wait there. We barely found a landing site among the "forest" of rock formations covering the top of the mesa.
It is only from a distance Tepui seem smooth, but in fact it has multi-metered crevices and steep walls ranging from a height of ten floors. It slightly limits your ability to move around the "table" surface. Within an hour blue gaps would open up in the clouds, only to close again. Unfortunately, they happened far away from the waterfall.
Suddenly, within about five minutes, an ascending cloud engulfed us, and we were in dense fog. Within hours, the fog was so thick that the pilot not only refused to do the photo-shoot, but also did not even consider taking off. This kilometer-high cliff and the clouds emerging from down below would excite us at any other time. But now, unfortunately, we were seriously stuck on top of the mountain. The pilot's words didn't encourage us either: he mentioned that fogs like this could last more than a day.
However, we were lucky. By lunch time, the fog started to thin out, so we took off. The pilot found a gap in the fog and we quickly and joyfully flew down to the camp. Throughout the descent I felt something surreal — we were flying through a tunnel of fog that formed around us. I managed to get one shot before the top of the mountain completely disappeared from our sight.
When we reached the ground and started to hang the helicopter doors back in place, the waterfall, as if it were laughing at us, suddenly appeared in all of its beauty. The dense wall of fog had completely dissipated in ten minutes!
Although the high clouds over Auyantepui persisted, I decided to shoot spherical panoramas with the available light. As a result, I was able to capture all the targeted locations during the first day (but with remnants of clouds and fog, and no sunlight).
In the evening, I put together previews of these panoramas on my laptop: unfortunately it didn't give me satisfaction.
I decided to fly back to Angel on the second day. This time we flew out from a village of gold miners simply called "88 km". One hour ride to the waterfall. The sky was overcast. What was the weather like at the waterfall? It is over 90 kilometers away. No one knew.
When we landed at the base camp at 8 o'clock in the morning, the waterfall was not visible at all. Even Auyantepui mountain walls were completely covered with constantly growing fog.
At 10 o'clock, about half of the waterfall became visible. By 11 o'clock, the top started to appear. I decided to go ahead and take off to shoot the cloud in the middle of the waterfall.
I set my second camera with a telephoto lens on a tripod to capture the helicopter with Angel Falls in the background. The camera was programmed to automatically capture the waterfall (shooting in 5 second intervals) with my helicopter in sight.
The sky above us was grey. As we took off and began to ascent, the top of the waterfall disappeared once again in the fog... Never the less, I shot one spherical panorama... On the second lap around, I felt like there was something wrong with the camera. It turned out that my shutter was malfunctioning. We had to go down, change the camera, and once again... wait.
The sky suddenly became clear and by 12:30 it was almost completely blue, but... as 'Murphy's law' would have it, both Angel waterfall and the top of Auyantepui were still invisible.
So, for the sake of not wasting time, I decided to capture the nearby waterfalls. We circled around a magnificent 300-meter high waterfall with a scary name "Dragon". Then we moved to "Salto Cortina" with two cascades of 200-meters each. Still Dragon waterfall was my favorite — located in a very beautiful place and surrounded by the cliffs on three sides, it made one of the best panoramic views.
At the end of shooting the Dragon Waterfall, I saw that the cloud above Angel had lifted. We then immediately flew back. Within just a few minutes the fog was completely gone, and I started shooting Angel Falls from above.
It was one o'clock in the afternoon, only the very top was in the sun and the bottom of the falls was covered in shade. It lasted 15 minutes. I managed to get a helicopter to fly 800 meters from the mountaintop along the falls down to the ground and shoot about a dozen spherical panoramas. It was particularly difficult to shoot at the bottom of the falls. Water vapor completely enveloped the helicopter, so much so that I had to clean the lens after shooting each panorama. While shooting my next spherical photo, I saw that a low cloud at the top of the waterfall was only slowly moving in; however, I made it. On the ground, in the camp, while our pilot fixed the removed doors, I looked back only to see that the cloud had completely covered the waterfall... This is how nature treats us: she gives us 15 minutes in 2 days!
On our way back we spotted surreal red and green colors down on the ground. It turned to be the gold mines!
After a bit of quarreling, the pilot agreed to hover over the mines with a removed door for a small tip. But he warned us that if locals see a man with the camera, they might start shooting. The prospect of running into an angry gold-digger was not the 'gold at the end of the rainbow' so to speak. At the same time I remembered how the pilot exaggerated about spending the night in the fog at the top of the mountain, and decided to risk it.
The most popular association people make with the gold mines is the city of El Dorado. According to the legend, the Spanish explorers of South America encountered many people that wore gold jewelry and used gold products in their daily lives. There arose a myth of a gold city, which according to the legend, was located somewhere on the border of modern Columbia and Venezuela. This story of El Dorado drew the Spaniards deep into the heart of the continent. Although El Dorado has never been found, variations of the legend can still be heard across the land of Venezuela.
Only upon our return home, we found out we were circling over one of the major gold mines. They have open-pit gold mining here, which explains its bright red clay. Gold miners live in the village, located directly at the borders of the mine. It's called Ciudad Dorada. Sounds very much like El Dorado, doesn't it?
And although I did not see the Golden City, I am glad that the flight over the mines went well. Perhaps the miners were tired of working at the 40-degree heat and the humidity of the jungle, or the rain scared them off (the rain that came with a rainbow). Or perhaps our pilot did his job well to earn the tip. But no one even paid attention to us, so we finished our photo shoot in one piece.
On our way back, I finally had that feeling of satisfaction from my finished work. Everything went well. The mission to shoot Angel Falls, the highest waterfall in the world, as well as its beautiful surroundings, was now a success.
Photo and text by Dmitry Moiseenko
12 November 2011
Comments
2012-06-28 15:59:36
5 from 5
"Its truly splendid job :)"
Nagh Raj, India
2012-06-27 22:03:26
5 from 5
"I visited the falls in Feb.1999, flew from Margarita Island to the falls in a Rutuca Airline DC-3 and we made a big loop in front of the falls and like you were at the mercy of the clouds as we just finished the second loop in the canyon and the clouds closed in. Beautiful country, but dreaded the thought of the plane going down in that thick jungle, would never have been found. Seen Jimmy Angel`s airplane at the Cuidad Bolivar airport when we stopped there to refuel."
Gordon Meyers, Canada
2012-06-27 11:36:37
5 from 5
"I found this website by chance and I am so glad that I found it. Great photos, surreal experience and while reading the story I felt like I was there. I have never been to Venezuela, but I visited Colombia back in 1998. The photos of the Angel falls and the surrounding landscapes reminded me of the great landscapes and the emerald green colour that I saw in Colombia landscapes. Thank you Dima for being so generous and for sharing these wonderful photos with all of us. Keep up the great work."
Slobodanka Matakova Lakinska, Macedonia
2012-06-25 15:23:09
5 from 5
"ameiiiii...lindo lugar, sem comparação!!!"
Cleidiano Trentin, Brazil
2012-06-24 22:05:39
5 from 5
"Great photography... We went to Angel Falls in 1999 and trekked up to the bottom of the falls, where we got spray from the falling and splashing waters.. Took a day up the river to base camp,day at the falls and day back... Had to fly in to get the dug out canoe.... After the visit, we barely got back to base camp and it rained cats and dogs. Filled a 50 gallon drum in 20 minutes and I counted 13 falls coming off the tapue - all over 2500 feet.... Wonderful trip... Highly recommended.."
Gerry DeVane, USA
2012-06-24 19:14:03
5 from 5
"Wonderful"
I-Fan Wu, Taiwan Region
2012-06-24 05:28:18
"Irada!!! Um dia chego ai!!"
Bruno Carvalho, Brazil
2012-06-23 06:23:56
5 from 5
"incrível!"
Fabricio Maseto, Brazil
2012-06-23 04:22:42
"eu quero esta nesta paraiso."
luis luis carlos de oliveira, Brazil
2012-06-22 22:15:33
5 from 5
"Parabens! Lindo visual, lindo lugar, emocionante, curti muito.
Obrigado por compartilhar esta sensação com todos nós."
Cristiano Miranda, Brazil
2012-06-22 22:06:56
"SEM PALAVRAS...em breve estarei neste lugar!! A VIAGEM DOS MEUS SONHOS!!"
Debora Peres, Brazil
2012-06-22 21:52:54
5 from 5
"Thank you for this wonder .. gorgeous gorgeous ... perfect .. god only god .. same .. glory"
anderson lima, Brazil
2012-06-22 15:23:31
5 from 5
"excellent. wonder God`s creations. At least we have the opportunity to view from the computer when we will never be able to see in this world!!!!"
ligoury fernandes, India
2012-06-22 11:47:26
5 from 5
"absolutely fantastic and stunning"
shuja mumtaz, Pakistan
2012-06-21 21:31:30
5 from 5
"Excellant photography i have ever seen on any other site so far."
Dr Savji Patel, USA
2012-06-21 20:24:03
5 from 5
"Obrigada por tamanho presente - Bem haja - Que Deus VOS compense com tamanha partilha."
Emilia Maria Mateiro, Portugal
2012-06-21 12:41:20
5 from 5
"Best WEBSITE EVER!!!!!!!"
Rene Nortje, South Africa
2012-06-20 09:18:46
5 from 5
"Oh, dear! Can a country be so green as this?
However, it pains to see bald patches as in pictures 15 to 18."
Viswanatha Karanth, India
2012-06-19 09:50:11
5 from 5
"Amazing, Breath taking..."
Mallikarjuna Raju, India
2012-06-18 12:48:04
5 from 5
"This is awesome...it is good to know that Angel Waterfall is the highest one in the world..your other coverages are extraordinary..Great work guys !!"
Pradeep Bobby Bhatnagar, Australia
2012-06-17 21:17:49
5 from 5
"Fantastic job , I would love to thank the team which has done such a wonderful work to inspire us
Asutosh Sharma
New Delhi, India
Indiantourguide"
Asutosh Sharma, India
2012-06-17 18:49:02
"excellent.very gooooooooooood job.thank you"
sina hossein pour, Iran
2012-06-16 15:51:40
5 from 5
"Wonderful photography. Just like being there myself. The music chosen fits the beauty of the world."
Jody King, USA
2012-06-15 08:23:03
5 from 5
"This is absolutely incredible. The views are breathtaking. The quality of the pictures combined with the story you tell makes me feel like I went with you on your journey!
Thank you."
Tom Parshad, USA
2012-06-14 21:09:16
"good job man
i like it aloooooooot it,s cool pic.
i really loved this panomara
keep the good work"
nasser dohan, Saudi Arabia
2012-06-07 11:37:22
5 from 5
"Too good.. simply amazing.. You people are doing great job."
Vishal Vijayvargiya
2012-06-05 00:51:07
5 from 5
"Incredible energy of your work,it is sublime, thanks"
Maritza Olmos, Venezuela
2012-06-03 17:36:13
"Realmente sensacional.lindo.

Parabéns.

Ildeu R.Silva Pará de Minas - minas Gerais
Brasil"
Ildeu raimundo da silva Silva, Brazil
2012-06-03 13:06:57
5 from 5
"Je suis tombé par hasard sur votre site et j'en ai eu le souffle coupé..;Ces vues sont merveilleuses et je voudrais les conserver très longtemps. J'ai vu quatre continents du monde (Amérique de Sud exceptée) mais n'ai jamais vu en quelques moments de telles beautés naturelles que je n'imaginais plus. Merci pour ces rêves offerts.......René DOLHEM"
Dolhem René, France
2012-06-01 18:54:32
5 from 5
"Very beautiful! Great job! The music you picked to go with it goes right to my heart, I feel like I'm right there. Could you please tell me which song this is and the musician? Thankyou,Gina"
Gina Stass, Canada
Varvara, AirPano: Hello, Gina. It's easy to know following this link http://www.airpano.com/FAQ.php
2012-05-31 12:10:31
"Its Realy Beautiful. if i get a chance for go to venezuela i never missed Angel waterfall"
Alstan Yohan Fedrick, Sri Lanka
2012-05-31 06:09:26
5 from 5
"This is my favorite place in the world! Strangely enough, i only know about it through the Heliamphora ,a type of carnivorous pitcher plant
that lives among the Tepuis. For the longest time however, i never even knew what the Tepuis were like! Through some pictures i finally got an understanding of scale and i learned of Angel Falls. But these extremely high resolution pictures made it feel like i was actually there! Five Stars!"
Ethan Shankar, USA
2012-05-29 19:30:10
5 from 5
"It is beautiful"
Gangadharan Kazhungil, India
2012-05-29 10:20:18
5 from 5
"Awesome, I'm very very like your app. When I watch your panorama pic and listen your sound, it make me imagined like I standing in this place. Cool guys."
Som Tan, Thailand
2012-05-28 23:10:22
"Good&Niiiiiiiice!
بسیار زیبا ودل انگیز"
AHMADI MAHMOOD, Iran
2012-05-28 19:25:57
5 from 5
"Awsome"
shivang gupta, India
2012-05-27 05:20:58
5 from 5
"Interesting story and These shots are 6 out of five."
Richard Miketon, Canada
2012-05-26 22:21:36
5 from 5
"excelente"
amir fallahpour, Iran
2012-05-25 22:51:41
5 from 5
"Beautiful, beautiful photography. amazing falls."
polly holland, USA
2012-05-18 19:26:28
5 from 5
"10+ Finest Photography I ever had the pleasure of viewing. I'm looking forward to viewing and admiring your other works of arts."
Armond Cannella, USA
2012-05-18 11:00:39
5 from 5
"I really loved the photos, but most of all the story of your journey, great work.

I think this photos are a great way to feel so close to this wonderful place"
Jessica Salamanca, Venezuela
2012-05-18 08:48:07
5 from 5
"While recognizing the beauty of these falls, my main thought was how did he do that? Incredible photography."
Herman Borkent, Canada
2012-05-17 07:32:55
5 from 5
"kl;"
pkd dalai, India
2012-05-16 01:14:13
5 from 5
"My congraulations to involved in the Airpano Project, especially the photographer. Having lived in Puerto Ordaz, Ven. for 5 1/2 years while working at the Alcasa aluminum plandt in the late 70's and early 80's I was fortunate to have taken a charteer flight to Angle Falls amd Canaima."
BILL EARNST, USA
2012-05-12 16:38:36
5 from 5
"美轮美奂,棒极了,在摄影家的镜头下,这简直是人间仙境!!!"
杨 宪, China
2012-05-11 11:46:11
5 from 5
"不得不说,是个很不错的网站,我是个学绘画的学生,这些美图对我起了很大的帮助,非常感谢!~"
林 红锦, China
2012-05-08 14:11:53
5 from 5
"Excellent work, Keep up the efforts, respect the nature & local customs/names etc."
Nitin Bartakke, India
2012-05-07 22:15:29
"مناظر تحبس الأنفاس وتشهد على عظمة الخالق
شكرا لأنكم نشرتم نلك المشاهد الرائعة على الملآ فيطلع عتيها
الناس من مختلف أنحاء العالم
Merci d'avoir publié ces prises de vue incomparables qui tiennent le souffle et qui montrent la grandeur du Créateur."
Elias MAKHOUL, Lebanon
Varvara, AirPano: Dear Elias, could you, please, write your messages in English because we understand neither Arabic nor French, unfortunately?
2012-05-06 18:37:33
5 from 5
"muy bellas fotos y un lugar bellisimo pero muy poco conocido turisticamente hablando,los felicito y gracias"
luis galker, Argentina
2012-04-28 00:49:32
5 from 5
"Estoy profundamente asombrado de que haya personas capaces de hacer un trabajo tan completo y tan hermoso como este. Y que además tengan la generosidad de ponerlo a disposición del público de forma tan desinteresada.
Un cordial saludo con mi admiración y agradecimiento. J.Pozuelo (Madrid)"
Juan Pozuelo, Spain
Varvara, AirPano: Le agradecemos, Juan, por su mensaje. Saludos!