Angel Waterfall of Venezuela - The World's Highest Waterfall
•
360° Aerial Panoramas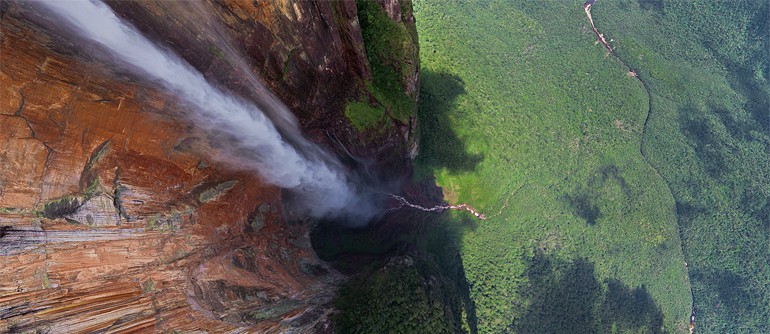 ---
In March of 2011, Dima Moiseenko flew to Venezuela to shoot Angel Falls, the world's highest waterfall. Due to extremely unstable weather conditions that covered the region, a long distance and technical difficulties the photo session lasted for two days. However, all of these difficulties were overcome. Dima managed to shoot Angel Falls and two other waterfalls that flow from the Tepui. He also managed to shoot some spherical panoramas while flying over the gold mines.
First part of the photo shoot (near the waterfall) can be seen here
Now we invite you to a virtual tour: Angel Waterfall of Venezuela — The World's Highest Waterfall
---
During last several years we have shot aerial panoramas of the world's most famous and exotic waterfalls: Iguazu Falls in Brazil/Argentina; Victoria Falls in Zambia/Zimbabwe; Black Waterfall in Iceland...
Naturally, when I came across discounted tickets to Margarita Island (the Mecca of windsurfers and kite boarders) in Venezuela, Salto Angel (Angel Falls) seemed an easy target. It is a well-known fact that Angel Falls is the highest in the world!
The highest point of the falls reaches 979 meters, with water falling from a height of 807 meters. The height of the falls is so great that by the time it reaches the ground it becomes tiny particles that turns into fog.
It should also be mentioned that Venezuela is a unique country. In addition to having Hugo Chavez and the unusually cheap price of gasoline (it only cost 100 rubles to fill up a Jeep), it is also home to the Tepui Mountain formation.
Tepui (or Tepuy) is a strange-looking mountain with a flat top called a "table-top" (because it is flat like a table). These unique geological formations are found mostly in the Venezuelan Guiana Highland in South America.
The word 'Tepui' comes from the language of the Pemon Indians. Tepui means 'house of the gods'. The Tepui formations are completely isolated from each other. The Tepui towers over the jungle making it a home to unique plants and animals.
According to the article in Wikipedia the Angel waterfall was discovered when American aviator Jimmie Angel flew over Tepuy on 16 November 1933 on a flight while he was searching for a valuable ore bed.
Returning on 9 October 1937, Angel tried to land his Metal Aircraft Corporation Flamingo monoplane El Río Caroní; atop Auyan-tepui, but the plane was damaged when the wheels sank into the marshy ground, and he and his three companions, including his wife Marie, were forced to descend the tepui on foot. It took them 11 days to make their way back to civilization,via the gradually sloping backside but news of their adventure spread, and the waterfall was named Angel Falls in his honor.
Here you can also find some of the highest waterfalls in the world. Imagine kilometers-high mountains with steep vertical walls and flat tops in the middle of dense jungles. On these, water accumulates after even a slight amount of rainfall, eventually coming down in numerous waterfalls.
Angel Falls is just one of the waterfalls but it's the highest one since it is almost a kilometer tall. This attribute gives Angel the status of being "the highest waterfall in the world." Other affluent rivers descent from the same Auyantepui mountain, but they are "only" 200 — 300 meters high.
Since mountain waterfalls are fed by rain, travel time needs to be planned carefully. During the dry season, Angel is just a trickle of water. In the rainy season, it is a full-fledged waterfall. However, the weather is so unpredictable that it is possible to not see it in all of its glory, even in as much time as a month...
Although the current season turned out to be dry, our informers reported a recent heavy rainfall. This would yield a full-fledge waterfall — we had to hurry up!
While in Moscow, I researched that there was no helicopter service near the waterfall at the Canaima National Park. Small airplanes that successfully served tourists in this area wouldn't have worked for us. With this in mind, I started searching for transportation on the first day of my arrival to the island of Margarita. Angel Falls is located in the jungles of Venezuela, so anyone can only get there by air or river.
After 3 days of searching, I called a company that services the gold mines with a Bell-206 helicopter. The company is located 100 kilometers from the waterfall. It very well could fly "dear Russian guests" to the coveted Angel Waterfall in the first part of the day.
It took two planes, the Orinoco River crossing, and 8-hours long jeep ride to get from Margarita Island to the company office... But we are ready to go through all difficulties. So soon enough I found myself standing next to the yellow helicopter ready to take off.
The first day we took off at 7 am and arrived at the foot of Angel Falls at 8:15 am. The helicopter landed near the camp, from which a hiking trail led tourists to the waterfall. Our informers did not disappoint us: there was a full-fledged waterfall coming down from the mountain top. Even at a considerable distance, Angel made a strong impression on us. After falling from a kilometer-high distance water is broken in the particles at the foot of the falls. It leaves you standing in a cloud of "water fog" wondering where is this river coming from... It was down there, under a shower of a million tiny water droplets, at where it seemed that nowhere else could one feel the grandeur of the surrounding nature.
So, the final preparations for the flight were made, we removed the doors and the helicopter was ready for takeoff. Although the sky above the waterfall was clear, it was heavy overcast above Mount Auyantepui (from which flows Angel).
I decided that we should just fly to the mountaintop and wait there. We barely found a landing site among the "forest" of rock formations covering the top of the mesa.
It is only from a distance Tepui seem smooth, but in fact it has multi-metered crevices and steep walls ranging from a height of ten floors. It slightly limits your ability to move around the "table" surface. Within an hour blue gaps would open up in the clouds, only to close again. Unfortunately, they happened far away from the waterfall.
Suddenly, within about five minutes, an ascending cloud engulfed us, and we were in dense fog. Within hours, the fog was so thick that the pilot not only refused to do the photo-shoot, but also did not even consider taking off. This kilometer-high cliff and the clouds emerging from down below would excite us at any other time. But now, unfortunately, we were seriously stuck on top of the mountain. The pilot's words didn't encourage us either: he mentioned that fogs like this could last more than a day.
However, we were lucky. By lunch time, the fog started to thin out, so we took off. The pilot found a gap in the fog and we quickly and joyfully flew down to the camp. Throughout the descent I felt something surreal — we were flying through a tunnel of fog that formed around us. I managed to get one shot before the top of the mountain completely disappeared from our sight.
When we reached the ground and started to hang the helicopter doors back in place, the waterfall, as if it were laughing at us, suddenly appeared in all of its beauty. The dense wall of fog had completely dissipated in ten minutes!
Although the high clouds over Auyantepui persisted, I decided to shoot spherical panoramas with the available light. As a result, I was able to capture all the targeted locations during the first day (but with remnants of clouds and fog, and no sunlight).
In the evening, I put together previews of these panoramas on my laptop: unfortunately it didn't give me satisfaction.
I decided to fly back to Angel on the second day. This time we flew out from a village of gold miners simply called "88 km". One hour ride to the waterfall. The sky was overcast. What was the weather like at the waterfall? It is over 90 kilometers away. No one knew.
When we landed at the base camp at 8 o'clock in the morning, the waterfall was not visible at all. Even Auyantepui mountain walls were completely covered with constantly growing fog.
At 10 o'clock, about half of the waterfall became visible. By 11 o'clock, the top started to appear. I decided to go ahead and take off to shoot the cloud in the middle of the waterfall.
I set my second camera with a telephoto lens on a tripod to capture the helicopter with Angel Falls in the background. The camera was programmed to automatically capture the waterfall (shooting in 5 second intervals) with my helicopter in sight.
The sky above us was grey. As we took off and began to ascent, the top of the waterfall disappeared once again in the fog... Never the less, I shot one spherical panorama... On the second lap around, I felt like there was something wrong with the camera. It turned out that my shutter was malfunctioning. We had to go down, change the camera, and once again... wait.
The sky suddenly became clear and by 12:30 it was almost completely blue, but... as 'Murphy's law' would have it, both Angel waterfall and the top of Auyantepui were still invisible.
So, for the sake of not wasting time, I decided to capture the nearby waterfalls. We circled around a magnificent 300-meter high waterfall with a scary name "Dragon". Then we moved to "Salto Cortina" with two cascades of 200-meters each. Still Dragon waterfall was my favorite — located in a very beautiful place and surrounded by the cliffs on three sides, it made one of the best panoramic views.
At the end of shooting the Dragon Waterfall, I saw that the cloud above Angel had lifted. We then immediately flew back. Within just a few minutes the fog was completely gone, and I started shooting Angel Falls from above.
It was one o'clock in the afternoon, only the very top was in the sun and the bottom of the falls was covered in shade. It lasted 15 minutes. I managed to get a helicopter to fly 800 meters from the mountaintop along the falls down to the ground and shoot about a dozen spherical panoramas. It was particularly difficult to shoot at the bottom of the falls. Water vapor completely enveloped the helicopter, so much so that I had to clean the lens after shooting each panorama. While shooting my next spherical photo, I saw that a low cloud at the top of the waterfall was only slowly moving in; however, I made it. On the ground, in the camp, while our pilot fixed the removed doors, I looked back only to see that the cloud had completely covered the waterfall... This is how nature treats us: she gives us 15 minutes in 2 days!
On our way back we spotted surreal red and green colors down on the ground. It turned to be the gold mines!
After a bit of quarreling, the pilot agreed to hover over the mines with a removed door for a small tip. But he warned us that if locals see a man with the camera, they might start shooting. The prospect of running into an angry gold-digger was not the 'gold at the end of the rainbow' so to speak. At the same time I remembered how the pilot exaggerated about spending the night in the fog at the top of the mountain, and decided to risk it.
The most popular association people make with the gold mines is the city of El Dorado. According to the legend, the Spanish explorers of South America encountered many people that wore gold jewelry and used gold products in their daily lives. There arose a myth of a gold city, which according to the legend, was located somewhere on the border of modern Columbia and Venezuela. This story of El Dorado drew the Spaniards deep into the heart of the continent. Although El Dorado has never been found, variations of the legend can still be heard across the land of Venezuela.
Only upon our return home, we found out we were circling over one of the major gold mines. They have open-pit gold mining here, which explains its bright red clay. Gold miners live in the village, located directly at the borders of the mine. It's called Ciudad Dorada. Sounds very much like El Dorado, doesn't it?
And although I did not see the Golden City, I am glad that the flight over the mines went well. Perhaps the miners were tired of working at the 40-degree heat and the humidity of the jungle, or the rain scared them off (the rain that came with a rainbow). Or perhaps our pilot did his job well to earn the tip. But no one even paid attention to us, so we finished our photo shoot in one piece.
On our way back, I finally had that feeling of satisfaction from my finished work. Everything went well. The mission to shoot Angel Falls, the highest waterfall in the world, as well as its beautiful surroundings, was now a success.
Photo and text by Dmitry Moiseenko
12 November 2011
Comments
2013-01-30 19:13:54
5 from 5
"this is such a cooool website i love the veiw"
harriet jolly, United Kingdom
2013-01-21 08:06:42
5 from 5
"In Nov. 1977, I had the priviledge of visiting the Canaima falls for 4 days--While on the way to the falls, flying in a DC3, the pilot banked sharply and flew adjacent to Angel Falls which we viewed in panorama--
While at Canaima I had the priviledge of accompaning the native guide in his dugout canoe--going up under one of the falls--where he had hidden his soap, and showering with him in the waterfall---Your article brought back very vivid wonderful memories"
Richard Yount, USA
2013-01-20 16:33:42
5 from 5
"Thanks for sharing beautiful Venezuela... wonderful pictures & sound"
Kerstin Strauss, Germany
2013-01-17 15:33:11
5 from 5
"AWESOME............"
DEEPA RAI, India
2013-01-16 01:25:08
5 from 5
"I arrived at this site because I was investigating the geography and locations of W.H.Hudson's book, Green Mansions.

What a treat! Thank you so much for your pictures and your commentary. I don't know much more about W.H. Hudson's locations but I almost feel that I've visited Angel Falls."
Jan Burgess, United Kingdom
2013-01-12 10:24:02
5 from 5
"absolutely stunning, breathtaking!! seems like i'm myself part of your team. amazing photography..your perseverance is visible.. thanks a tonne..."
bhuwan saklecha, India
2013-01-12 08:01:41
5 from 5
JOSEPH MIRANDA, USA
2013-01-10 21:39:16
5 from 5
"Awesome...Just breathtaking awesome...All the praise to the team members who brought such magnificent and marvelous material to us to enjoy..I am really spellbound and thrilled...
I am expecting more such panoramic views of some other natural sites
Thanx again.
Good Job"
Jugal Kishore Panda, India
2013-01-07 02:37:26
5 from 5
"Awesome pictures and story.... Left my Venezuela in 1971 and still miss my country and its people, food and the best: gorgoeus area of the world and the gorgeous women....... Now a USA citizen and loyalty to this country the gave me all the opportunities, still I love my VEnezuela aaaaaalex Sivira, Mississippi"
alex sivira, USA
2013-01-04 10:39:34
5 from 5
""This is breathless panorama.So beautiful!!!"
Inhkom Tooulom, Myanmar
2013-01-03 23:09:32
1 from 5
"Wow.... awesome pictures"
Theopertania sgh, Zambia
2012-12-23 06:20:06
5 from 5
"What a fantastic journey I just took!!! Thank you for allowing me to take such a great tour while sitting in my home. Keep up the good work and know I, for one, am a true supporter of your endeavors. Thank you, Thank you."
Ellen Woodbury, USA
2012-12-21 23:50:18
5 from 5
""wonderful & thanks lot of your web site""
hgichaminda chaminda, Sri Lanka
2012-12-20 21:36:44
5 from 5
"Excellent photography and very useful information.Just Superbbbbbb."
Chandrakant Trivedi, India
2012-12-16 09:43:22
5 from 5
"Thank's for exellent image"
parvaneh afshar, Iran
2012-12-12 02:14:03
5 from 5
"what an wonderful sight!!!! beautiful pictures very awesome"
aaron pook, Belize
2012-12-04 22:05:21
"its mot deffenety el epic or la epic"
Jules bacon, USA
2012-11-29 13:19:57
3 from 5
"Very attractively, Absolutly stunning.Very well done and thank you for sharing this beatifull experiance and nice photos."
Ruwan Buddhika, Sri Lanka
2012-11-19 16:11:56
5 from 5
"It's a unbelievably true.
More inspirational nature beauty.
Great job
Do more n more for airpano.com visitors."
sachin solanki, India
2012-11-19 14:08:12
4 from 5
"your efforts are admirable.please try more."
niloo g, Iran
2012-11-12 03:13:06
5 from 5
"Es una página formidable ! Me alegra muchísimo haberme topado con ella. Se los agradezco mucho !
¡ GRACIAS !"
Magalis Rivas, Venezuela
2012-11-05 03:37:28
5 from 5
"Beautiful!!!
Your website is amazing. Congratulations"
Rosa Muziotti, Venezuela
2012-10-30 16:42:45
5 from 5
"wow!amaizing!good job!!! :P"
hannah akhtar, United Kingdom
2012-10-30 10:48:37
5 from 5
"its beautiful..."
shekhar suman, India
2012-10-25 13:01:52
5 from 5
"AWESOME !!!!!
U GUYS ARE REALLY 2 GOOD.NICE WORK BY GOD & NICE PRESENTATION BY U......IF I GOT A OPPORTUNITY TO WORK WITH U I WILL..........!!!!!"
kunal srivastava, India
2012-10-21 07:58:37
5 from 5
"I was astonished when I came across Airpan site. What wonderful gift to web surfers. Thank you so very much!!"
Joy Morrison, Canada
2012-10-20 01:48:37
5 from 5
"A Natureza é sábia. Ela põe tudo ao nosso alcance para sermos verdadeiramente felizes. Com a ajuda preciosa da AIRPANO, que me proporcionou este vislumbre e me transportou para este magnífico lugar através da encantadora melodia que a acompanha, senti-me filha legítima de um Deus Maior. Viajar é o meu passatempo predilecto. Assim que reúna condições necessárias para o fazer, quer em termos temporais quer em económicos, não excluo a possibilidade de visitar este magnífico País, Venezuela.
Encantei-me com o que li no site.Obrigada.
A todos os que me permitiram esta partilha um grande, grande BEM HAJA.
Rosa Costa, Sintra. Portugal"
Rosa Costa, Portugal
2012-10-18 16:40:36
5 from 5
"Nature's wonderful creation"
jagadisan coimbatore swaminathan, India
2012-10-13 21:24:44
5 from 5
"wonderful with gods creation of beauty and mystery with lovely music.
I love it!"
Narendra Pradhan, India
2012-10-13 13:45:27
5 from 5
"I have been living in Carcas from 1957 to 1973 but have never go to visit much far from the capital. Just the north of the country, the wonderfull coast. So this was the happy chance in the last years of my life, to admire Angel Falls. I'll never forget Venezuela. It is my second country and I felt very happy to see so beautifull sights. Thanks to who made so magic work. God bless you."
Fernando Marçal, Portugal
2012-10-07 11:20:12
"so beautiful,so great of the work"
ice ren, China
2012-10-06 16:07:22
5 from 5
"thank you for.....very goooooooooood"
javad sharif, Iran
2012-10-05 21:36:22
5 from 5
"Beautiful"
Sabir Ali saifi, India
2012-09-28 15:42:04
5 from 5
"Fantastic high definition pictures and 360 degree videos. Absolutely wonderful and very enjoyable."
Sat Paul Gupta, United Kingdom
2012-09-26 23:16:18
5 from 5
"Precioso, pero falta posibilidad de traducción al español."
antonio blanco alvarez, Spain
2012-09-25 16:14:42
5 from 5
"Thank you for refreshing my fond memories of this most spectacular natural phenomenon.Even after seeing most of Sth America and all of it's grandeur previously, the first sight of Angel Falls literally took my breath away. Again, thank you."
Sean Downey, Australia
2012-09-24 15:14:04
5 from 5
"Breathtakingly brilliantly beautiful
- felt I was in the plane with you. Thank you! So grateful for this chance to get close up to the waterfall that has always fascinated me."
sally cedar, United Kingdom
2012-09-23 19:09:53
"veyyyy nice !!!!!!!!!!!!!!!!"
amir amiri, Iran
2012-09-21 09:56:27
5 from 5
"Maravilloso y mágico lugar, el fotografo excelente!!!"
Milagros Sananes, Spain
2012-09-10 08:22:13
5 from 5
"awesome!!"
Madushan Adithya, Sri Lanka
2012-09-09 18:46:48
5 from 5
"Beautiful photograph of one of the greatest locations on this planet!! What a beautiful world we are all living in, let us not spoilt this beauty. So serene, so majestic"
Ram Ananthraman, United Kingdom
2012-09-06 13:50:56
5 from 5
"One word I can say FANTASTIC photography"
ANDREW HAMILTON, United Kingdom
2012-09-06 10:41:17
5 from 5
"Amaaaazingg....!! I feel like asking that does such photography really exist..!! :-) Great job..!"
Shruti Dewang, India
2012-09-04 08:06:14
"very very good"
Mohammad Reza Ahmadi, Iran
2012-09-04 04:26:29
"the old guy from up moved there (:"
alexandria king, USA
2012-09-02 03:26:51
5 from 5
"The most beautiful breath taking images ever seen."
Glynis LeBlanc, Canada
2012-09-01 13:53:10
5 from 5
"breathtaking!!! how beautiful the world is..."
sara lotfi, Iran
2012-09-01 05:37:59
"great than ksforall those who work behind it"
kuttiyantavida mamootty, India
2012-08-30 13:56:31
5 from 5
"I spent Christmas, 1957, in Canaima while teaching for Creole Pretroleum in Adaro. and was privileged to see Salto Angel. I remember Rudy Trufino well and have often wondered if he was still alive. I knew he married and had a family. It was a wonderful time in my life, and I thank you very much for the memory."
Barbara Dickerson, (now Porceddu although divorced, USA
2012-08-26 02:11:34
5 from 5
"speechless .... :):)"
gagan bali, India